I am working on getting a brooder setup prepared for when (if) I have success with incubation in April. From perusing through the threads, it sounds like it would be good to have both a regular bulb and a no-light heat emitter so they can stay warm 24/7 and can have light on a cycle?
The following pic is what I used over 10 years ago when my pair of button quail actually successfully hatched a dozen chicks. The quail were indoors in a community flight cage so I had to take the babies out. This is how I set things up not knowing any better. (They all survived!)
Will something like this work with coturnix if I had a heat lamp to go on alternating with the regular bulb every 12 hours? Am I missing something? I keep a spare 150w black heat emitter as backup for my hedgehog. Was thinking I could use that. I also have a 20 gallon tank as opposed to the 10 shown below.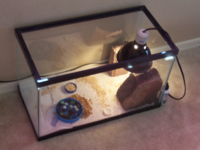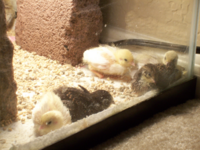 After 2 weeks (16 days actually) I switched them into these - 4 to a box.
Any and all suggestions/ corrections welcome!