Hi everyone, hope you all are doing well. Now that we're going into winter thought I would have you guys look at my coop and see if there's anything I could improve or suggest.
I have 7 Bantam mixes and they are all pretty small and they can fit all comfortably on one roost bar (for now at least). This is a prefab coop I purchased at
Murdoch's
.
I have a bluetooth thermometer/hydrometer in the coop with them so I can keep an eye on the temps and humidity easily. Here's the data from approx. the last month if anyone is interested;
Temp Data
I live in Scottsbluff Nebraska and so far we have had only one very cold, cold snap, and my Roo came out of it with some frostbite on his combs and waddles. He didn't seem much bothered by it and it cleared up after a few weeks just fine. Since then I have modified the coop because I'm afraid it was high humidity in the coop on the cold nights caused the frostbite. I do go out and clean out the poop every day.
Things I've added:
2-3 one inch holes on both the front/back near the roof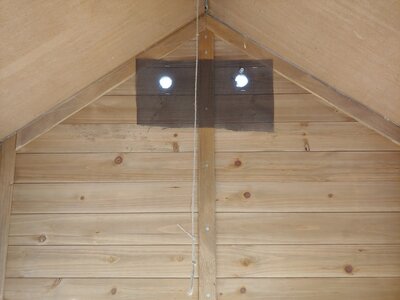 A curtain over the nest box area to make it a bit more secluded if anyone decides to lay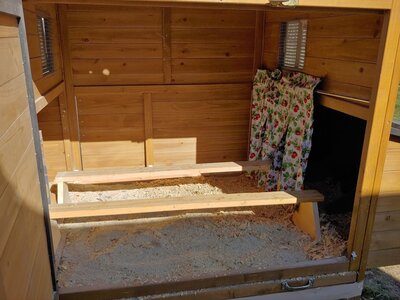 I have opened both side vents of the coop and put a removable vent cover over it to prevent drafts but increase the ventilation, they are maybe 10inx10in openings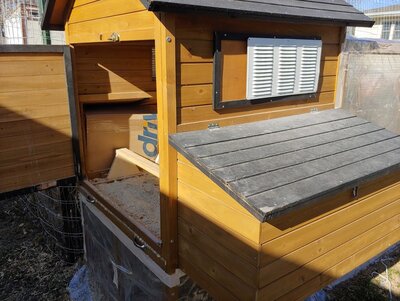 I removed the roost bars the coop came with and made my own out of 1x3 boards, with the edges rounded off, and sweet PDZ on the floor. I sectioned off a few of the nesting "boxes" on the left side of the coop with cardboard and filled the space with pine shavings. I guess my thought was that it would be easier for such small chickens to heat up a bit of a smaller space? Not sure if this is doing any good.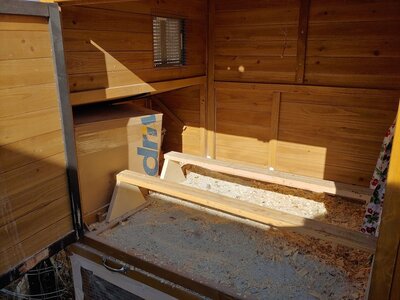 So if anyone sees anything that I should maybe change, please let me know!
Bonus chicken pic of my best boy, so handsome and sweet.