BeakHouse's Mad Chicken Scientist
13 Years
I've posted on this baby before, but I'm not as happy with its progress as I'd like to be.
I got it a week ago from a feed store that gets chicks from McMurray. It was in a sick box Friday to Sunday last week at the feed store, but I thought it looked strong and had decent poos and I couldn't leave it there to die...so it's mine.
Phyllis (hope it's not a boy) is super-sweet and will happily be held 24/7, gets along fine with the other chicks (1wk to 4wks) and does okay getting food and water. Her poos are good and she's very alert.
I think she's probably near 2 wks old, but have trouble telling, since this is only my second brooding batch, and I've never brooded anything but BR.
Issue: she (hopefuly) has always been wobbly, but I noticed her gimping a bit Tuesday. Then she was fine and got around after that. She tends to be sleeping and lying around when I peek in, but that's not to say she hasn't been active quite a bit, and I hadn't noticed a big difference, but some, between her activity and the others'.
Today I noticed she wasn't standing and tearing around like everyone else during 'Free Time' out of the brooder. Because of her unique appearance and super-docile behavior, she has been the one of the 7 chicks the kids have always held the most when out, so it ma have been that she would have do so less previously.
She has callouses (that's what it appears, anyway) on the backs of her hocks. The callous is bigger on her 'good' leg, but is present on the right, as well. The right leg seems to be the one she puts little to no weight on, and her left is more robust. I caught her trying to pick at the front of the right hock, but no visual appearance of any reason for this other than the skin looking pink under the down- that could be FROM the picking- could she be picking because it hurts? Hock injury?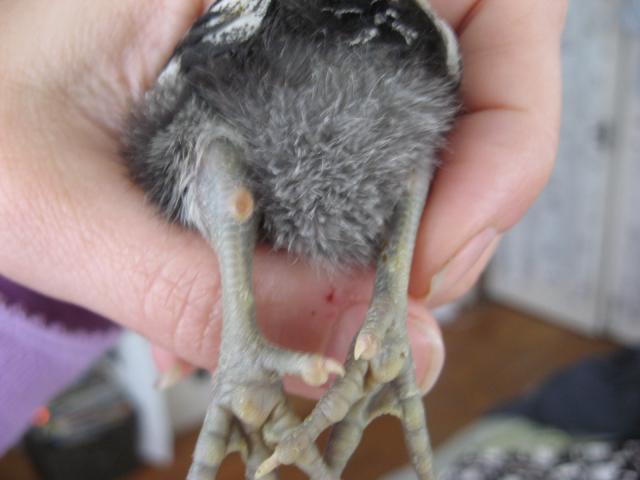 She can stand, but chooses to lie to one side most of the time. She will walk over to eat or drink, but quickly gets behind the feeder when playful melee begins.
She appears to be breathing faster than the others all of the time and is not growing at anywhere near the same pace as everyone else, but is feathering out and preening well. She's bright-eyed and interested. It's as though one leg just is weak and she's not growing as well.
At this point, the Ameraucana chicks that just barely have wing feathers are the same size...and I'm not sure how big a Polish with most of her wings fully feathered ought to be.
I'm sorry this is so long- I talk a lot in general, and even more when I'm nervous! I had to put down our other Polish baby Monday.
Anyone?
**Edited to clarify which leg good, bad.
Last edited by a moderator: