Feb 13, 2011
1,984
13
151
the h3ll day from h3ll lol...
it started earlier in the wk..of course remember this is the wk hubbyis working..so he's no help.. ugh..oh well..at least he has an income..thank you God!
Anyway; so yesterday we go to tell my neighbor about her transformation of her floors/carpet...(remember this is the elderly lady whose floor is falling in and she has
2x4 pieces cut to fit under her chair etc)..so she was overwhelmed, upset, anxious etc..but extremely thankful!!
we showed her, her new carpet, her new tile and we helped her pack up all her breakables and her small things to her other rooms...
we moved out some medium pcs of furniture and then we had the guy who was laying carpet come give us an estimate...well he "estimated"
thjat we dont have enuf' carpet..great...
of course this was later in the evening after the carpet stores had closed!
So, that kept me anxious all night long and I couldnt sleep too much last night..woke up this a/m, had to go to a Pre-k picnic for my dd, went to a small town by here
thinking I can find a remnant in a very similar color to put in the hallway...no go..
so then I call the original store panicking about it, they go ABOVE/BEYOND what they should have done, found me a 12x12 remnant in an extremely similar color & padding for $100 flat..
they wrote off the padding for the original order & delivery too...
so then I had ppl coming over by 4pm today & guess what?? NONE of the youth group kids that were asked to show up..showed up..WTHECK...we have 300+ ppl in our church and EVERYONE
was working? EVERYONE was camping?? Everyone was paintballing?? dont get me started..
so a friend of mine and her 15 yr old son came over, she put a call into her friend who called her 20 yr old son, who called HIS friend and we moved the furniture out and pulled up all the
orange and green carpet...moved out a huge sofa-hidabed thing..grr..we ripped the top of the sofa..so now we have someone coming over to fix that for us..
We are blessed to have a great li'l diner in town who is feeding 12-14 of us for $44 ttl...
we have a lady in our church who brought over fruits, granola bars, donuts for the a/m, waters, sodas, gatorades, chips, cookies and crackers for our snacks..to keep everyone in good spirits
not hungry, carb ladened and sugar highed lol..so they work good...
(happy sugar-fed workers will owrk great lol)
however, it is going to be SLOOWWWW going tomorrow as the floor, the reason its giving out is its particle board!!!!!!! WHO PUTS PARTICLE BOARD DOWN FOR FLOORING??????????????
ugh...
so that just splinters off into tiny pieces..that will take FOREVERRRRRRRRRRRRRRRRRRRR at least several hours for several ppl to sledgehammer it up and shopvac it up..
Tonight I pulled up 90% of the carpet..my arms are bruised...ugh..
all I know is that its going to be hard work tomorrow...
the goal for tomorrow is:
tear out the remaining carpet
Tear out the sticky tile in the kitchen..
tear out the stupid particle board in the living room, dining roo, hallway and kitchen
shop vac it all up..
lay down all new 3/4 in OSB in all those places...
wash all her rugs & drapes
move in the chair, tv, loveseat and ottoman
Then come tuesday morning:
hubby and I hjave to go back at like 8 am to move those pieces BACK OUT of her house...
so the guy can come lay the carpet/pad...
tuesday afternoon/evening we get to move her couch/loveseat/chair/ottomans/tv/hutch/dining room table/chairs, treadmill, small & medium furniture back in..
wed I crash..
Thursday DH/I leave for a mini=getaway while we go to the homeschooling convention..
here is what parts of the floor looked like today as we worked on them:
CARPET: (This is a lady who got her moneys worth out of the carpet and pad..the pad isnt even pad..itslike brown foam..weird..:
these holes represent where her holes were in the floor; but we sledgehammered bigger holes to see if the floor joists were bad (THEY DO NOT LOOK ROTTED PRAISE GOD!!)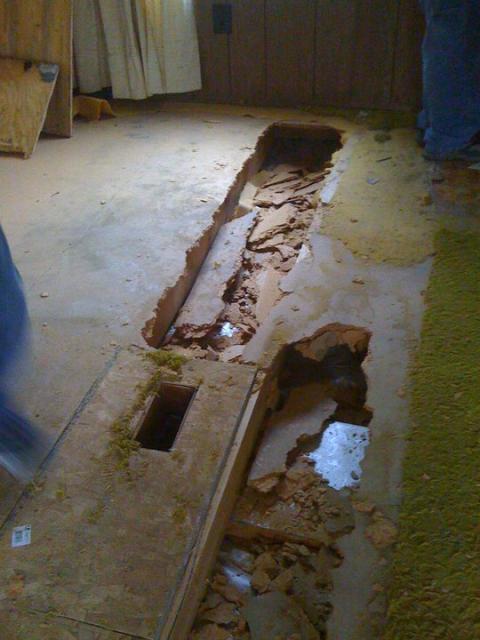 SO PLEASE PRAY FOR US...
Last edited: