Ok....So...I got 7 chix from the fair...they told me what they where when I got them...but I think 3 of them ended up being mixed breeds...I will post the other 2 in question after this one, but this is my favorite - this one spends time inside and outside and we let her tell us where she wants to be.
What is she? She is the size of a pigeon, and was born in June. Her total height is 4.7" at the shoulder and maybe 6" at he head from standing tall. I have attached all the pics I could get of her to help you all help me determine what she is.
I was told when I got her (being the biggest chick in my group when I got her) she was a Barred Rock Bantam. She looks like a Barred Rock Pigeon to us LOL. At this point, she is by far our smallest.
I love her dearly and will keep her inside and outside where ever she wants to be.
UPDATE - SOMEONE PLEASE TELL ME HOW TO USE THE IMG BUTTON SO I CAN POST THE PIC - SO SORRY VERY NEW TO THIS SITE
I think I have it now....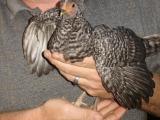 Thank you all for the help in posting

Last edited: