Hi there!
Recent bird mom here.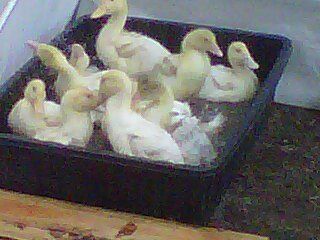 I have 3.5-4 week old ducks and geese (ten in total) as well as a similar number of chicks. I can't keep up with these ducks and geese!!
They were in a brooder box for 2 days before I put them in a barn on straw (with a heat lamp) but now they are soaking that even, and ending up in a pile of poo pretty quickly. They have a full horse stall. I have an outdoor run where I try to swim them, but the chickens have pulled up all the grass, and these clumsy guys try to swim but climb out and roll in the mud from fear of me (trying to find gravel).
And the amount they eat...OMG! They are bigger than my adult hens already. I think they're on track to power through a 50 lb bag of food in a week!
I have an almost complete duck house for them on my 5 acre pond, with an enclosed screen area to go out during the day without free-ranging initially.
My questions are....WHEN can I put them out down there? We had a fox stalking our chick cage outside yesterday, but I've seen families of geese on the pond for a while and those goslings seem to be doing just fine.
My other concern is, these birds HATE me, and I just don't get it. Everyone talks of goslings and ducklings imprinting and being too friendly. Mine nearly kill themselves trying to get away from me, which I see being an issue since I'd like them to eventually free-range! My hubby's boss (vet) is an avid bird keeper and thought the geese were 3 days old when I got them, and the ducks were maybe 2 days. Is that the problem?
Any guidance would be great. I'm doing great with our new chickens, but can't seem to figure these waterfowl out!