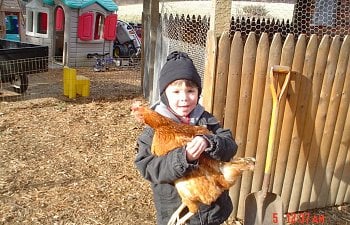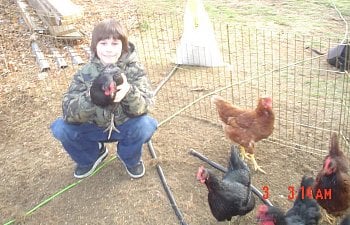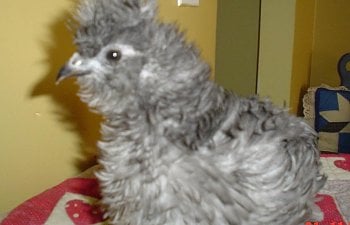 Hello Everyone!!! My name is Chrissie, and I am the proud mom to 2 boys, Caleb who is 9 and Ethan who is 4. We have a Tuxedo cat named Hunter and 2 Lizards named Lizzie and Albert. We also have a snake named Angel- (she got out of her cage 1 1/2 months ago, and my hubby was out cleaning the yard, he moved a barrel, and who was under it??? ANGEL!!!). Now for my big chickens. I have
1 black cochin roo
(Baldie),
5
RIR females(
Pretty Girls),
2 White Rocks
(Spring & Summer),
2 Barred Rocks
(Nina & Pinta),
2 Barred Cochins Bantams
which 1 is a Roo (Puss & Boots),
1 Black Tail White Japanese
(Long Duck Dong-named from the movie 16 Candles),
2 N H Red
roos
(Pecker and his sizter who is actually his brother, yes that is # 2's name),
1 Phoenix
(Hoot),
1 Silver Leghorn
(Princess),
2 Anconas
( Henry & George, both are females, My 4 yr old named these 2),
2 Silver Spangled Hamburgs (
Rose & Daisy, Rose is a roo),
5 Black Star
(theyre all called mother hen),
10 Red Stars
(these are all named mommas good girls)(they were the first to lay) AND now for the babies, 9 wks old~
4 Blue Cochins(
I got them off craigslist when they were 5 wks, only one has a name, due to her darker comb we call her Raven and 1
Easter Egger(Sadie).
Anyway, I am new to this site and already addicted, I LOVE it!!! I think the Hubby is actually getting a little jealous, I am always talking about this web site. I want to add pics., I can't wait to show off our coop made of mostly recycled products( the best part was pulling out the old nails from the 2x4's, ha, ha, just kidding, it was not fun, but cheap. We ended up having to move from our old house and we took our fence with us, so we used that for part of our pen, the 2x4's came from our 1/2 finished basement, we weren't leaving them, the shingles were free, the cedar shakes on the side of our coop were also free. I think the only thing we bought were the hinges. I am going to try to post a pic.