Since we had no intention of raising yard decorations, we didn't have a place for them to live. We didn't want to put them in with the big girls because they are kinda grouchy with strangers. We kept the new birds separate to ensure they were healthy. Meanwhile, I started construction of the Banty Coop.
The coop is 4' x 4' x 4'. It is in a 5' x 10' run. I used the same fence that I used in the big chicken run .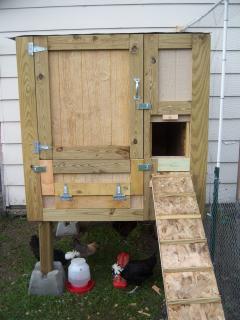 I built this coop with ease of maintenance in mind.
The front has a large door with a lower section that can be opened separately.
This allows for the use of a deep litter system without the litter falling out every time I open the door, yet will allow for easy cleaning as necessary. The floor of the coop is OSB covered with a fiberglass sheet for ease of cleaning. It is insulated with 1/2" foam insulation.


I installed a light for heat and an electrical outlet because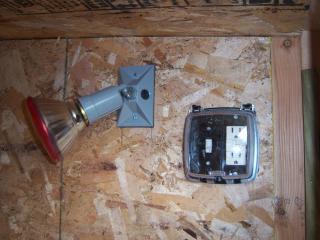 you can never have to many outlets. I put the cover on the switch to discourage unauthorized use of the light.



I have two 2"x2" roosts along the back wall that can be removed, again for cleaning.
I still need to put vents, windows and nest boxes in. I'll update as I go along.