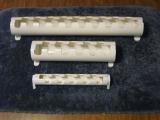 ​
​
Best Ever Quail feeder​
I build feeders to meet everyones needs. My feeders can be used to feed Quail,Chukars,Pheasant, Chickens and button Quail.​
Price list:​
23.5 inch=$11.95​
14 inch=$8.95
Button Feeder=$7.95
Chick=$7.95
My feeders are made of high grade PVC. The 23.5 and the 14 inch are made out of 3inch pvc and the button quail are made of 1.5 in.The chick feeder is made out of 2inch PVC. Price increase on material has caused an increase on feeder prices.
[email protected]