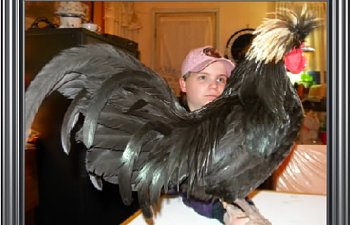 ​
Hi,
I am a hobbyist chicken lover as I am disabled and am normally a home body. This gives me a good amount of time to spoil them. I enjoy sitting and watching them play and grub. We have a couple of house chickens and some really great pets. Some people think we are nuts, but you would be amazed at how much a chicken adapts to sitting on your shoulder or in your lap while you watch TV! Ours really do enjoy snuggles and like being around people. I really enjoy the odd looking or uniqueness of these breeds. My favorite color is blue, so I tend to gravitate towards that coloring in my birds as well. I find the Blues are hard to keep or are not easily found. Another favorite is splash or mottled and even some spangled. I think the multi colors give great contrast.
Right now we have a few of the neatest breeds.
- w/c blue, w/c black, black, golden laced, buff laced.Polish
(standard & bantam) - black, white, splash, red.Cochin
- mottled, black, red, white, partridge.Frizzle
- red, blackSilkie
Bantams - many different colors! Several barn-yard mixes as well.
- a few different colors. *New to this breed, so unsure of the names of colors.Serama
- one lonely young hen that has buddied up with the Polish JR's.Sultan
We have some nice pet quality chickens available. Most of them are young, some being started and I may have a couple adults available.
I am not sure how to ship chickens in the mail, so if you are interested in purchasing or even trading please message me and we can arrange a pick up time and day. Unfortunately, because of my health I am not able to travel at to far of distances, but I would be willing to meet in the Battle Ground, WA., Brush Prairie, WA., Orchards, WA., Vancouver, WA., areas, maybe even over the bridge at Jantzen Beach Mall. We accept cash in hand, trades and Paypal payments.
I hope to meet more wonderful chicken owners and continue to learn about my feathered friends.

~ TopHatChic
She is a sleepy girl. Enjoyed being rocked in the chair and went fast asleep.
​