Hello,
This is my coop I built pretty much by myself - I'm pretty happy with how it turned out. In this pic I still needed to finish the eaves of the roof, seal the inside for drafts. It is finished now and I love it! just need a new picture.
My first pair of pullets were a barred and a plymouth rock and i got them before I even started the coop. They were 12 weeks at the time so i could keep them outside. I jerry-rigged (ghetto-rigged my husband would say) a coop out of the Dogloo that worked realy well temporarily and my 5 young BBS Ameraucanas are in it now in a second run hubby and I put up on Saturday (9/11/2010). I have aviary netting over the run because we do have resident hawks. My dear, sweet and patient husband says I can do whatever I want just so as I keep in mind he does not want another job...Yippee!!!
The coop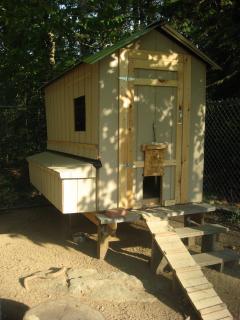 and my temporary doggie igloo coop
a digloop?
This was my initial flock free-ranging in the backyard- I only have 2 of these remaining - the white rock and 1 New Hampshire - The roo went to Freezer camp after he attacked my 2 yr old,
My White Rock started laying 21st July 2010 so that was exciting.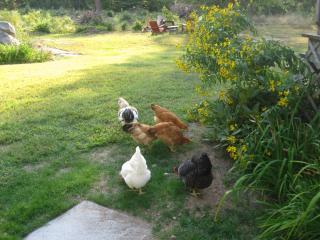 this was my first rooster - he didn't make very good soup -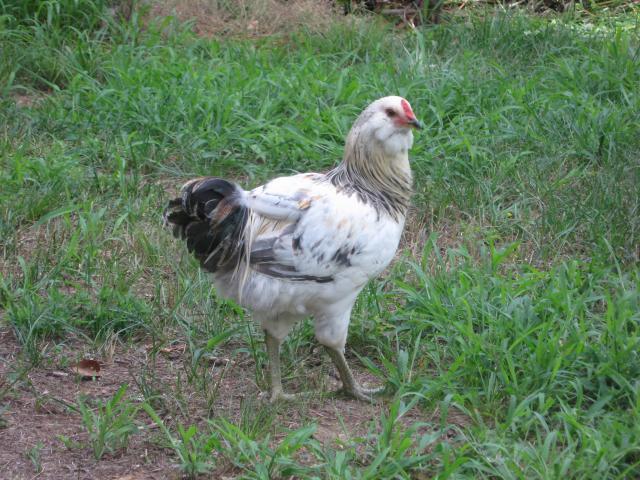 I currently have way too many birds
MARANS
Black Coppers - 2 roos and 3 pullets
blue Coppers -2 pullets
Birchen - 1 pullet
Splash - roo
AMERAUCANAS - juvies
Lavenders - 2 females
Blacks - 1 roo and 2 females
Blues - 1 female
OLDER FLOCK
Blue Roo and Black hen - Ameraucana - culling
Plymouh Rock hen
New Hampshire Hen - culling
and this is my 2 year old's "favorite guy" and the bain of my existence - to keep or not to keep? Not enough space in the coop for everything and I am not buildind another coop until next year.