Morin Family Chicken Hatching Science Project
This is our first attempt at hatching chickens we're using a Hovabator 1602N with automatic egg turner for 13 white Leghorn eggs set in the incubator on June 23, 2011.


Here are our new eggs setting before putting into bator - no they didn't come in the egg carton, they came bubble wrapped from Oregon by way of eBay. The one on the newspaper is laying flat, I couldn't get it to stay on it's pointy end.


Here they are incubating.


The kids are so excited! We are all praying for at least a couple to make it to brooder stage.
Here is my brooder with the first of our pests lying nearby - although I am going to take out the white newspaper and put in papertowel after reading the brooder info on BYC. And I may not need the heat lamp as this is in our east facing foyer and there is a large glass window front door that allows in lots of sunlight for the majority of the day.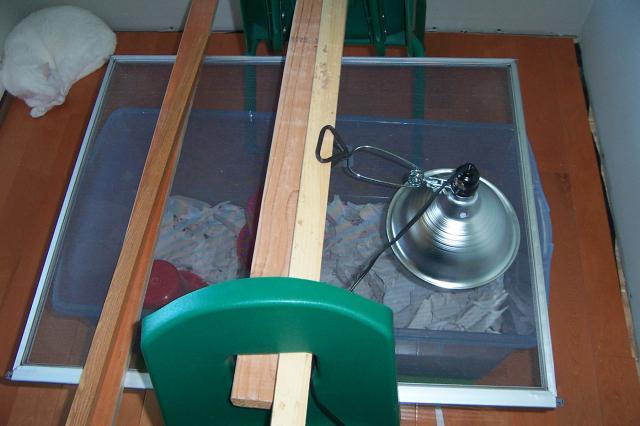 Here is the shed I'm eyeballing to make into a coop/run, it is 14' x 20' with a concrete base. Haven't decided for sure to use it or how it would work - but we were going to tear it down and get rid of it - so at least I'll use any lumber I can salvage from it and maybe the concrete base. I'm kicking myself now because you can see in the pic the remaining concrete from the smaller shed - we had already broke up that one and it would have been perfect size for a coop - it was even barn shaped. Oh well.


Although I'm not sure if it's too close to the house to be troublesome there -you can see in the below image the white shed is on the far left and the blue siding on the far right is our house. It would be maybe 50 feet off the back of my son's room. He may not think that's far enough away - at least until he has to hoof it out there to feed them in the winter time. And the "Southern Livin'" building will be one day overhauled into a 3-season screened patio - so that too is a consideration.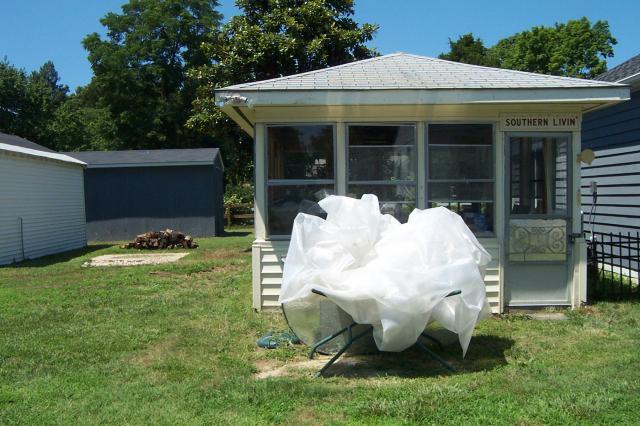 We have alot of options - but I'm too cheap to go spending a ton of money on this - so I'm trying to figure out where to best use our limited resources of time and money. I'm a homeschooling mom of 3 active elementary age kids and hardly have a moment to think, but we know chickens will be a great choice for our family.
Update 7/7/11 - Thank you to all the BYC coop posters for great ideas and now I've decided to make a coop similar to another poster's medium size coop - it's almost exactly what we need size wise - so with just a few modifications I plan on it being a 5' x 10' coop with the above 14' x 22' shed modified to use as a covered run at a later date. I've purchased the coop materials and will start this weekend to build since our eggs are due to hatch on 7/14. Even if we don't get enough girls this time to fill it I'm sure we will be happy to have the room for future growth.
Update 7/12/11 Worked all afternoon in the hot humid weather and this was as far as I got on the coop base.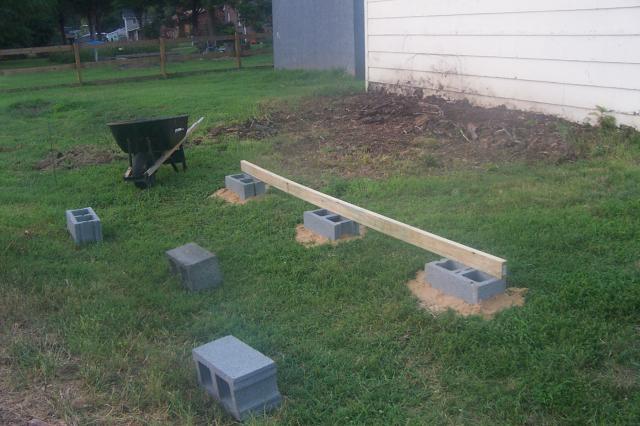 7-22-11 Still working on the coop and have finished the framing. The roofing is happening now - but with 112F heat and humidity - very little can happen each day. Virginia summers are too humid.
The coop and run are about 95% - I don't think you can ever say it's 100% b/c it seems like there's always something to do with it. LOL. Anyway - chickens definitely are addictive and chicken math has hit our family too. We have the 5 White Leghorns we hatched and now 1 Ancona we hatched along with 2 mixed chicks (Black Copper Maran roo and Araucana Hen) we adopted.

Our finished coop - well for now at least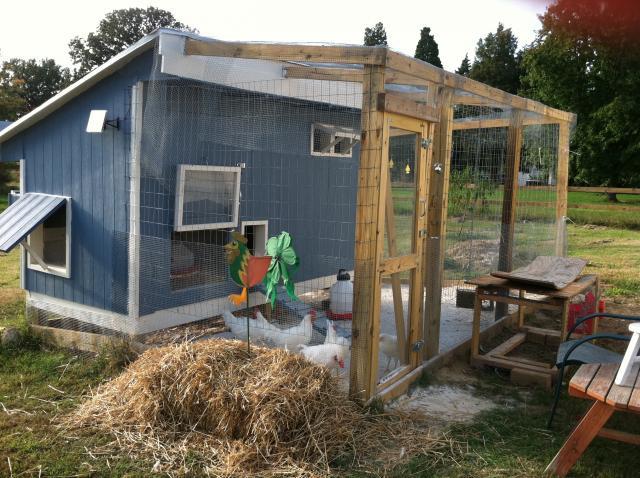 Our happy chicken family - the 3 White Leghorn roosters were given to a friend and we just have Foghorn, Snow White, AC, Smokey and the Bandit.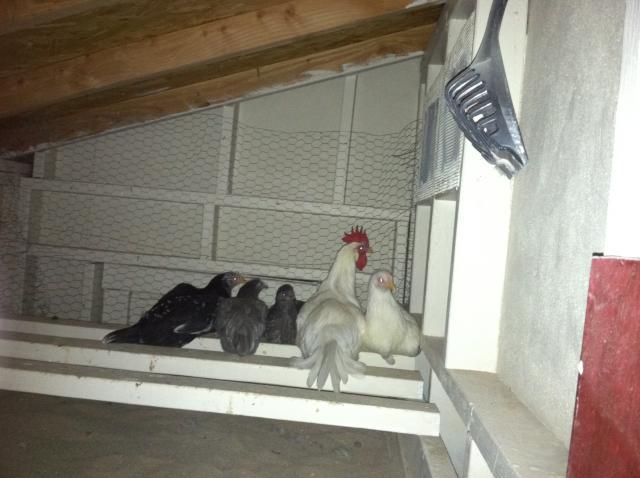 Then we hatched another clutch of 5 Lavender Orpingtons and 3 Silkies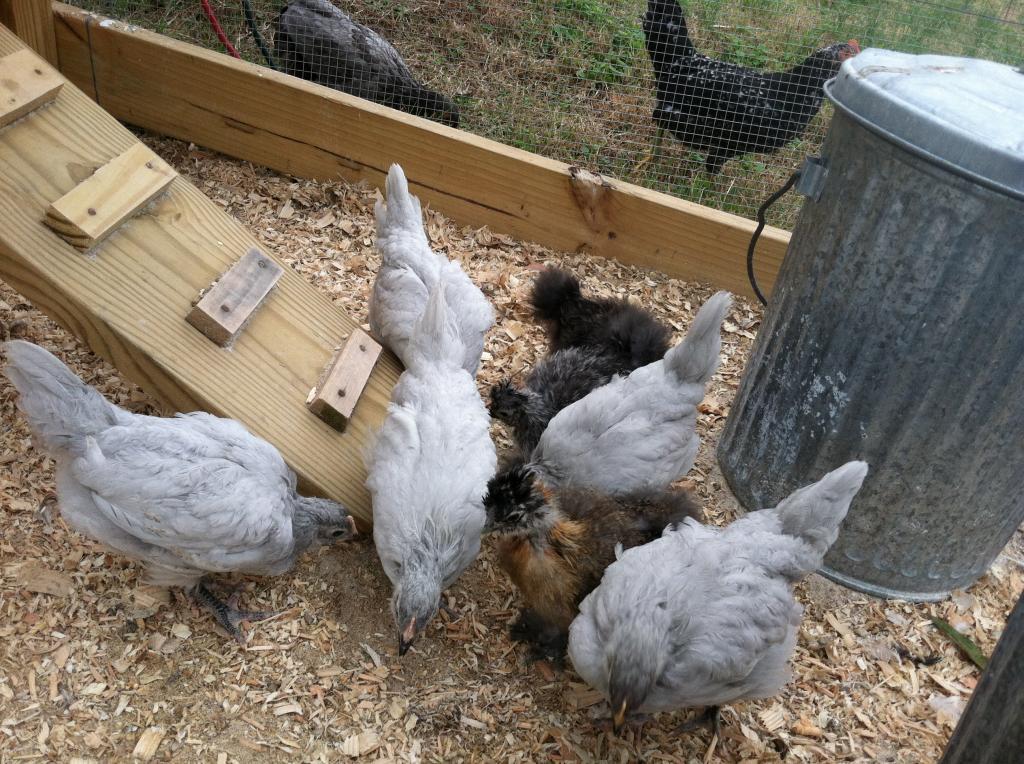 And on Thanksgiving Day 2011 we got our first egg from Snow White! This is what makes it all worthwhile!

My human family.


Thanks for looking at my page!

May God bless you! Bobbie