Brad's Coop & Run
I am using RECYCLED MATERIALS because I don't have a lot of money right now as a college student A.K.A. "Poor"...LOL
, and it is good to recycle things. So I have been looking for anykind of materials to make my coop out of. I have got lucky and found some used plywood and some 2x4s. My mom's friend works at a County Recycle center and got me som free exterior paints (Brands like Porter, Bahr, Glidden, etc.) from the recycle center. I also picked up a bunch of shingles out of the trash to use for my roof! I found some pallets behind our local Sears store and they gave them to me!! So I have some extra wood to work with now. I also have been scrounging around my grandpa's shed for nails and pieces of boards too. He has all the tools I need and I have been slowly working with what little materials I have hoping to pick up some pieces along the way to improve my design.
COOP Materials:
​
Plywood sheets & Pieces - FREE Saved from trash
Paint - FREE from County Recycle Center
Pallet Wood - FREE from behind Sears store
Nails - Free Pulled from boards & found in Grandpa's shed
5 ft. Length of Wire Fence - FREE found in trash (Will use this for making a Chicken Tractor or Cage)​
My plan is to make a nice little coop for my hens with nest boxes. I live in hot Florida so I am making my coop with a slant roof and open on the front side (I am not sure if it is a coop or a shelter with just 3 sides...). My hen have been watching me patiently as I am putting this coop together in my free time and I am making slow progress....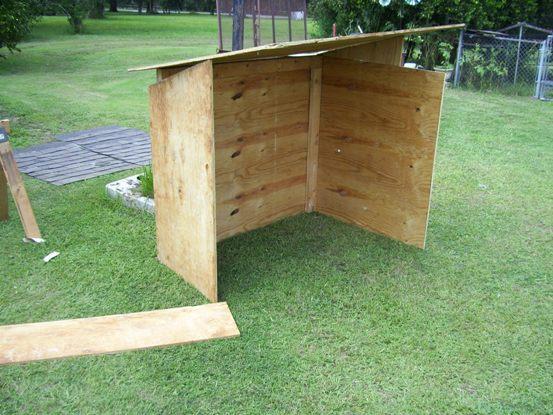 Laying my pieces of plywood on ech other to get an idea of how big the coop will be...nothing put together yet. My shingle are patiently waiting in the background to be nailed to the roof.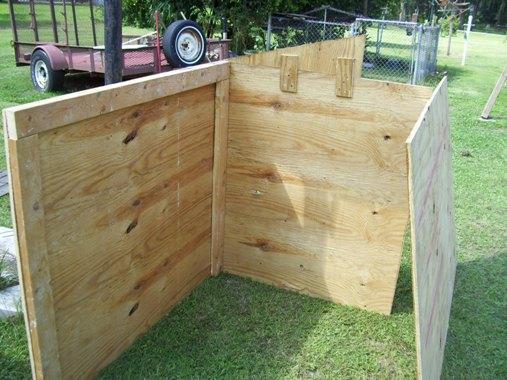 I am using the endpiece of a odd cut plywood piece to give me my roof angle. Now I will have to find another short piece to finish the angle off.


More Photos coming soon!!!
THANKS FOR LOOKING!
​