calico kat's tale
we add chickens to the adventure!
​
I'm Kat, wife to Tim (Oct. 1990), mom to Max (May '93), Ellen (June '95) and Marci (Aug. '98), 5 cats (at least that was the number when I left for work today, we are always getting strays dumped, so this number fluctuates wildly!), a dog, and now 3 hens and 2 chicks.


I got the crazy notion that it would be a great idea to have a pair of chickens, so that I could have fresh eggs. DH indulged me and built a coop just off the side of the barn. I thought it turned out quite nicely!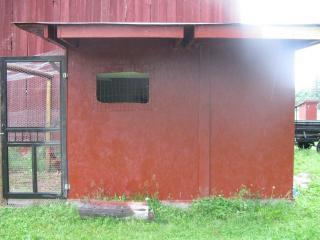 These are the roosting perches - my idea, cheap and easy, and the girls seem to like it! They line up side by side and everyone's happy.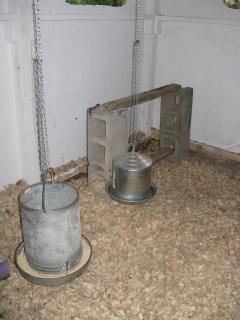 This is the corner for storing feed, extra pine chips and straw. So far they are staying off this stuff, but I won't hold my breath LOL!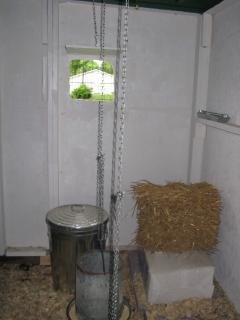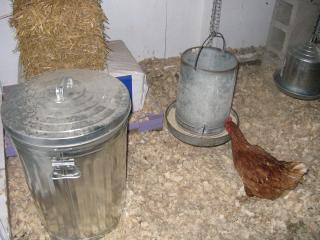 I wasn't thrilled with his nest boxes - he made them out of lattice, and they were more like shelves than cubbies. He kept insisting that with straw tucked in there it would be fine. I took matters into my own hands and found pantry bins at the store. I nestled a pair in there side by side, added some straw and PRESTO! It works!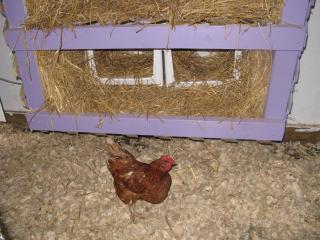 I painted, bought some supplies and happily accepted a pair of hens hand-me-downed from my neighbor Carol. This is Marigold in front, and Hazel (as older ladies, I figured they didn't need little froo-froo chicky names, no they needed stately, old lady names!):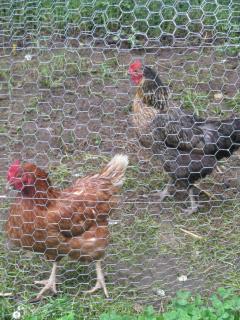 A few days later we caught the hen that had taken up residence with another neighbor's dog. We think it fancied the dog as its' protector, since the rest of its' flock had been wiped out by a predetor in the night. But the neighbors were not enjoying it roosting on their back stoop -- on the freezer! It had been pestering them for weeks - although the dog and chicken did seem to have some sort of special friendship

So I said I'd take it, gee, what's one more? Here is Lillian: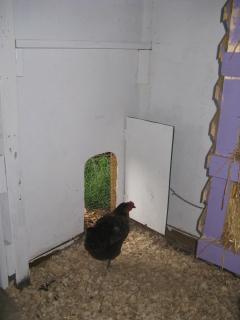 and all three of them together (it was a rainy day, not very good lighting, bummer)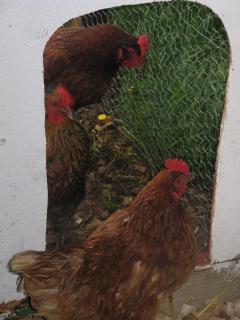 ​
So that's where we are for now.
But something tells me it's only the start of our little farm adventure!​