I made the mistake of taking my girls to the feed store in Spring of 2010 during chick days. Strangely enough, I repeated the mistake several more times. My poor husband still doesn't know what hit him. He was totally against having chickens due to childhood trauma. He has similar prejudices regarding horses and sheep. After a lot of campaigning, he finally agreed, so long as he didn't have to have any part of it. So I conned my father into helping me build a coop. Originally I planned to recycle a bunch of pallets and build the coop on a dirt floor, because I figured the less money spent, the happier my husband would be. That wasn't to be, because the dimensions kept getting bigger (funny how that happens) and my husband thinks everything needs to be built to withstand Armageddon. My basement stairs are framed with welded oilfield pipe.
Once Dad arrived to help, my husband must have become afraid we wouldn't use his tools right, or maybe his conscience was bothering him. He ditched his plans for the day, and between the three of us, we got all four wall sections assembled in an afternoon. The walls were framed out with lumber that we had previously used to support the concrete forms when we poured our basement, and a couple of treated 2x4s that we bought from my brother-in-law.
We didn't do anything more for several months, because putting up hay trumps pretty much everything else. Once haying was over, we turned our attention to the coop floor. After a lot of debate, we finally decided on a concrete slab floor. Being cheap, we decided to mix and pour the concrete ourselves. My dad came out again to help with that (I'm perfectly able-bodied, but there are these pesky kids running around that need constant supervision) and we got the pour done in about 3 hours. We placed several threaded rods in the concrete to anchor the walls, and used a soup can to create a hole in case I want to have a functioning sink. Then we covered the slab with hay to insulate it until it cured.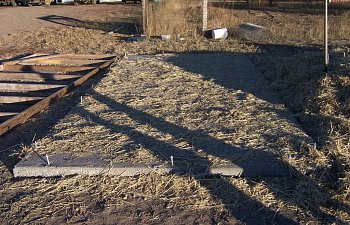 Once the concrete was cured, we spent a couple of hours standing the walls up and bolting them to the slab.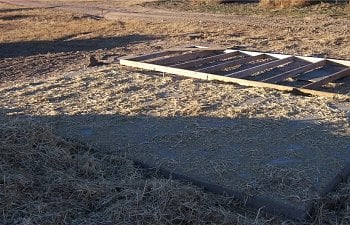 Ranchers get to have such cool toys ;-)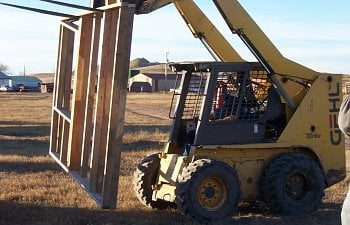 And that is where things currently sit. I've purchased 4 windows and some vent covers from the Re-Store, and we're just waiting for the snow to melt off so we can find the tin siding that we plan to recycle. The building that was blown down by a tornado this summer won't go to waste.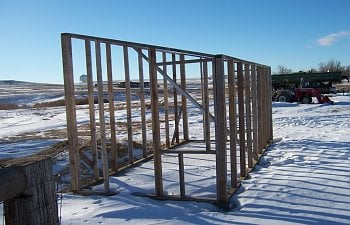 So, the recycling plans didn't quite work out. For one thing, We concluded that the building sections which were still essentially in one piece could probably just stay in one piece, having already withstood a tornado. We further concluded that those sections would make a very fine windbreak on the northwest corner of the chicken yard. So we purchased some vinyl siding for the coop. We recycled some windows that we were given when my sister upgraded the ones in her house. That gave me 5 south-facing windows for the coop, to let in whatever light there is during the winter. We also recycled an old door that was stuffed into one of the outbuildings around here.