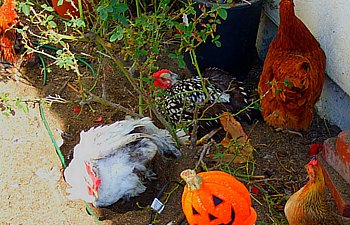 Welcome to the Vasi family of chickens.
In the picture above, the family is taking a dirt bath. woohoo
The rooster,
Tether
, is in the top left corner on the look-out for predetors.
the white leghorn,
paris
, is chillin in the dirt
the silver-laced wyandotte,
Z
, is chillin in the dirt also.
the RIR,
Red
, is looking for some nutritious bugs to munch on.
the oldest member of the family,
Rachel
, is making sure everyone is behaving.
Tether and rachel are the two BB red oegb's in the family.
sadly, Tether got hit by a car (RIP)
We had a whole batch of baby bantees, thanks to rachael and tether
but we had to sell all except
little man(
rooster)and
bonita (
hen)
other than our 6 lovely chickens, we have a large collection of animals. we have 2 dogs--stolie and texas. 4 cats--angel, socks, elvis, and hunter; many finches; a horse--sherman; and an iguana--dino and a goat--daisy that passed away but are still very much in our heart.
thanks for visiting!!​