Hi all!! && welcome to mine and my families little corner of BYC! We are new to raising chickens, but are learning fast. A little info on us: I am married to my FIRST love from high school & we have 3 amazing, handsome sons. Our oldest is 5 this year & is starting to breed and raise silkies for 4-H next year and to sell, our middle son just turned 2 & LOVES our chickens (he even has his own Japanese bantam named Luna that he carries around like a baby!), and our youngest was born in February of this year and was our miracle baby as we call him, we were told the whole first half of my pregnancy that he "was going to have a heart condition" but when he was born there was no problem at all & he even weighed in at 9lbs 1oz!!
Anyways, enough about the human family... Now on to our flock of misfits! <3 We have 2 white silkie hens (Star & Sparkle), 1 white silkie roo (Comet), 1 blue silkie pullet (Athena), 1 blue silkie cockeral (Zeus), 2 EE's (Fionna & Ariel), 3 black australorps (Minerva, Juno, & Pax), 1 white leghorn/EE mix (Foghorn Leghorn), 2 mutts (Thing 1 & Thing 2), 1 BR cross (Mrs Puff), & 1 (but soon to be 2) Japanese bantam crosses (Luna)!!
&& Here is their "Bed & Breakfast"
The beginning (we are using our old dog breeder)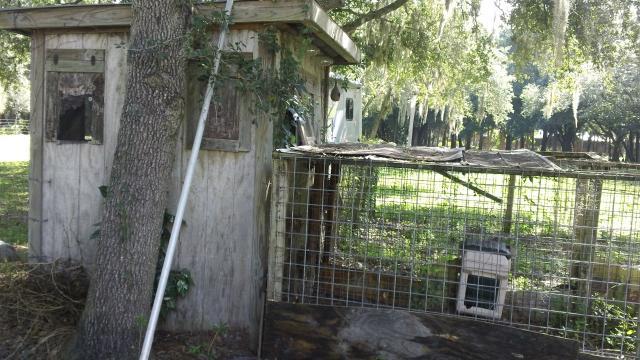 The work in progress...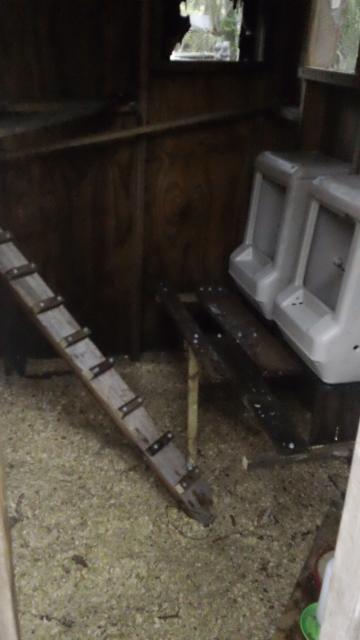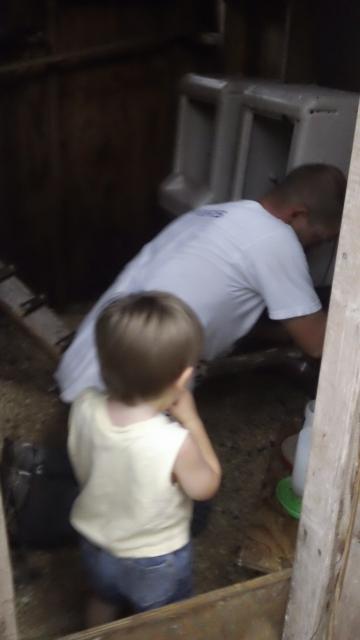 Our progress
&& Here are a few of the chickies name plates...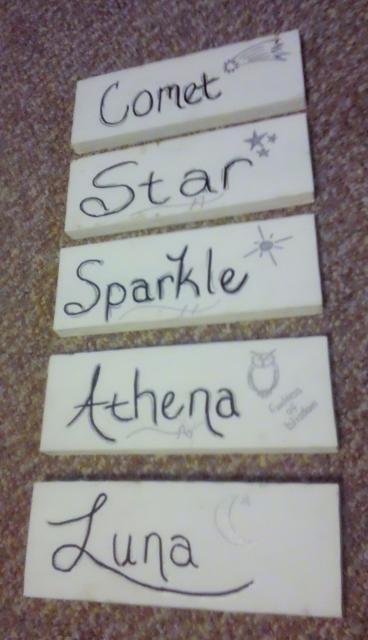 10/9/2011
Today we finished EVERYTHING!! It took a little while for us to get done between me & 2 of our 3 boys getting sick, us having classes, & the rain; but all of our hardwork has paid off! The girls are happy & now have lots of room to run & play!
Here is were we started back up at on 10/8/11: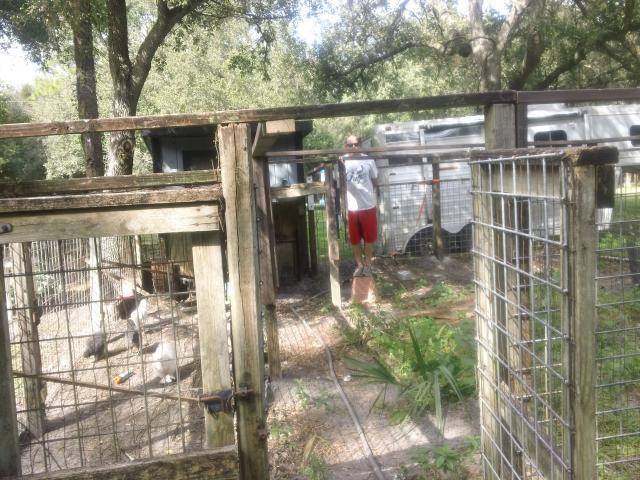 Picking up this morning (10/9) finishing the wire & putting the finishing touches on the girls roosts in the run & nameplates!
Old rusted tin roof that we pulled off & replaced w/ the left over tin from refinishing my father-in-law's barn

Hubby working on the tin shade roof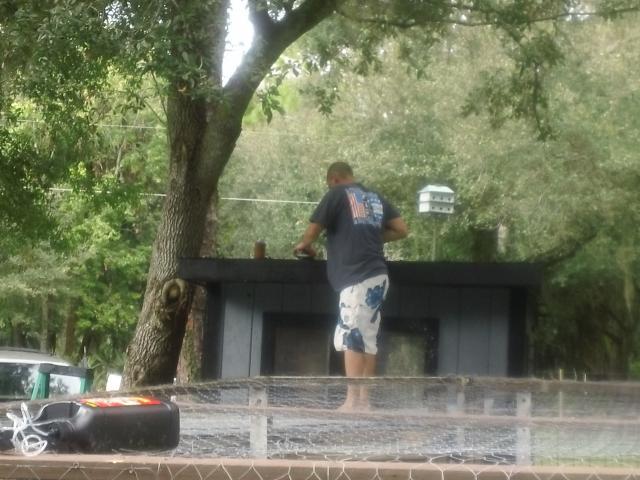 Finished roof!


The doors to the runs... left side is 4x15 and right side is 15x15. Complete w/ tiki torches for our girls & some of their roosts in the right corner.


Some more of the girls goodies: we used an old saw horse for them to roost on, hung some roosts in corners, a water bath made out a 1/2 of a drum, & some mini roosts for our silkie babies!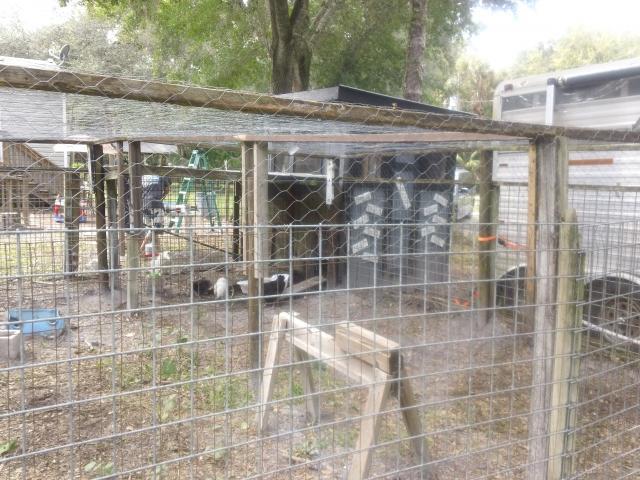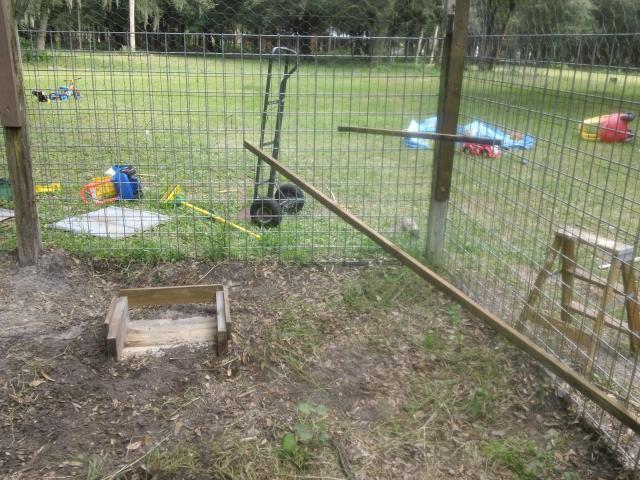 & last but not least, here are their nameplates!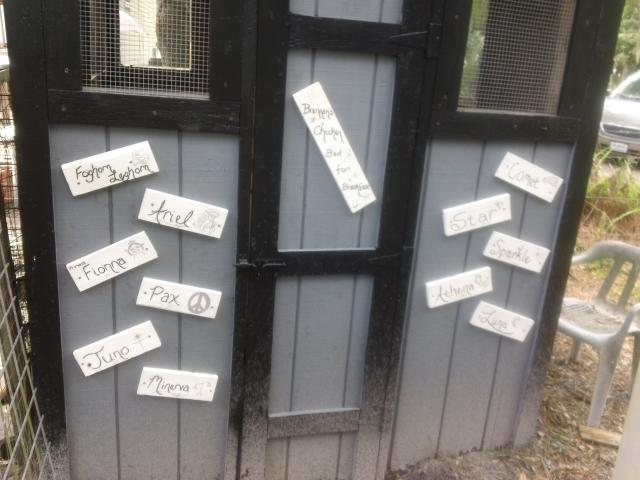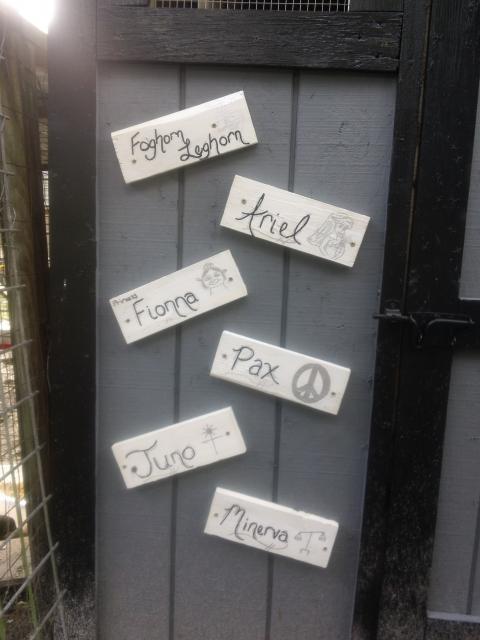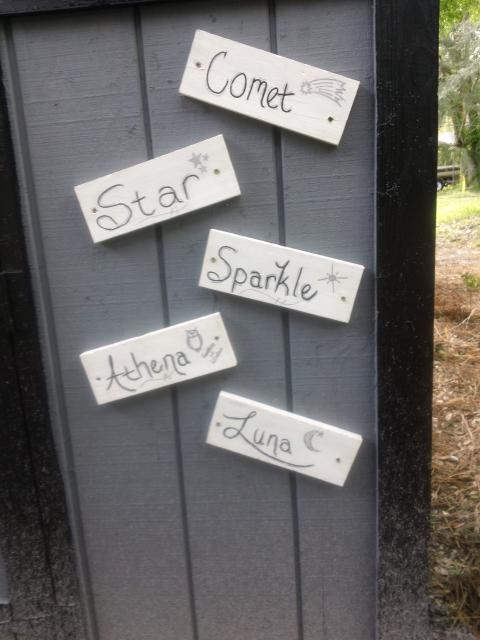 I hope you all like our TOTALLY FREE COOP RENOVATION!! I know we love it & so do our chickies!