Wilczenski's Farm
Coops Done July 2009!
The rain was relentless in June/early July, but we finally did it. Complete with electrical and water hook up, we're off and running. The girls stayed outside for the first time last night (July 15th). They were initially a little anxious (with alot of loud peeping and trying to come and stay at the window we were looking in on them through), but within a couple of hours, they were fast asleep. It was a very satisfying feeling to see them comfortable in our coop. So now I thought I'd start a new page with the finishing touches on the coop and any 2009 chicken adventures.
ENJOY!
​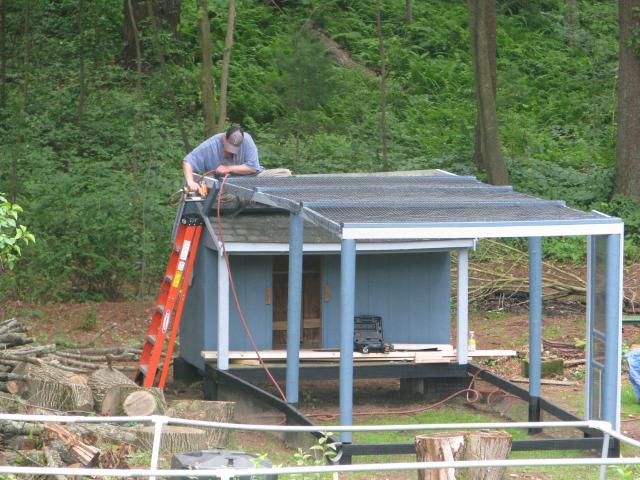 ​
DH put all the chicken wire on the run, windows, door, ramps...
​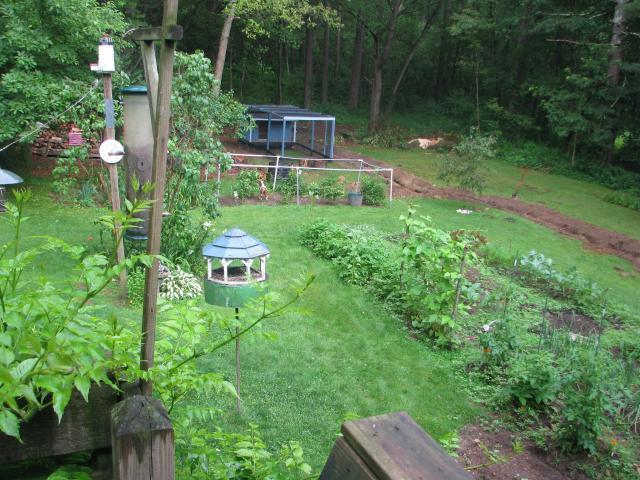 Backyard complete with veggie garden, blueberry patch, chicken coop and the big a$$ trench DH dug with a rented "Dingo" trencher for the water and electrical line.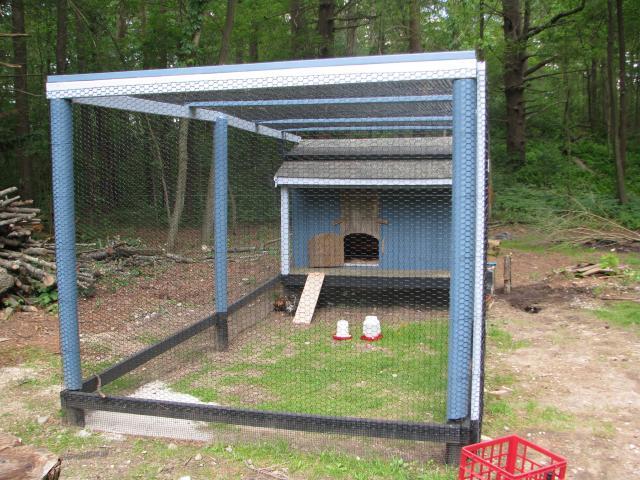 And here it is...close to finished. There'll be other modifications as the weather gets colder, but for now, it's perfect! Electrical outlet and light switch on the back, lights on the right side (looking at it) and you can see the water spigot attached to an ash log sticking out of the ground to the right.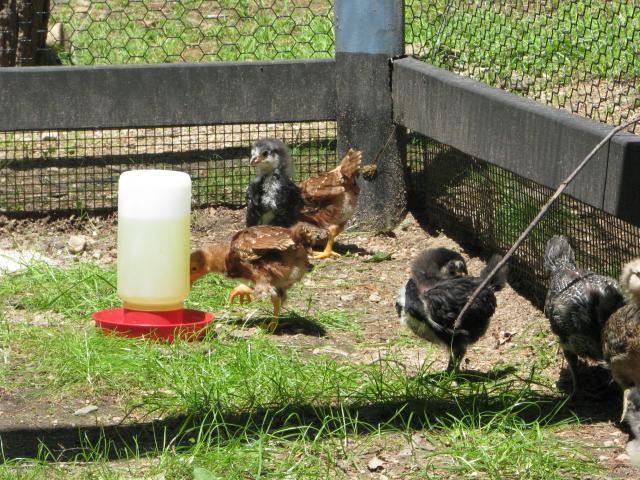 The girls are lovin' it. They are constantly running, flying, scratchin', hunting and eating!
​
This is what I see when peaking through the side window around 9pm.​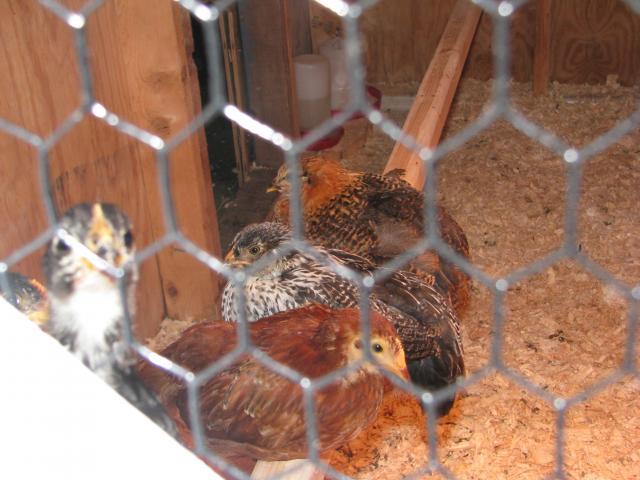 I love it when they peak back at me

​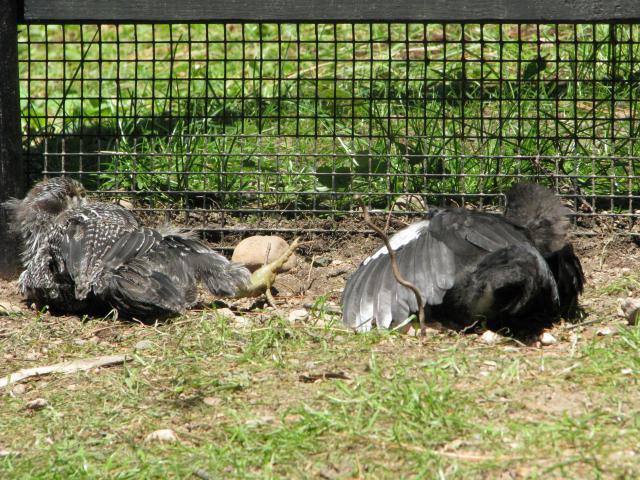 sooooo busy sunbathing...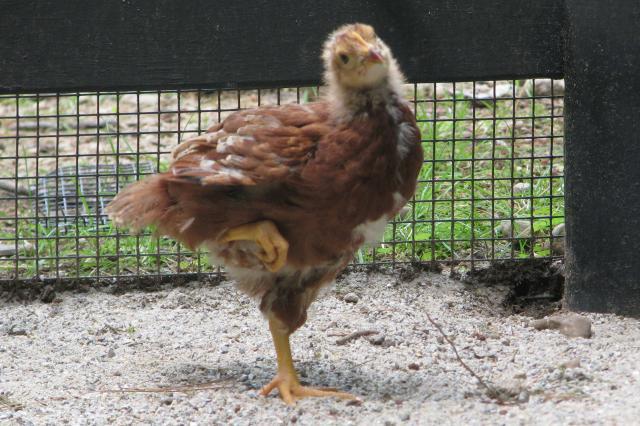 Did I tell you I was a flamingo in a past life?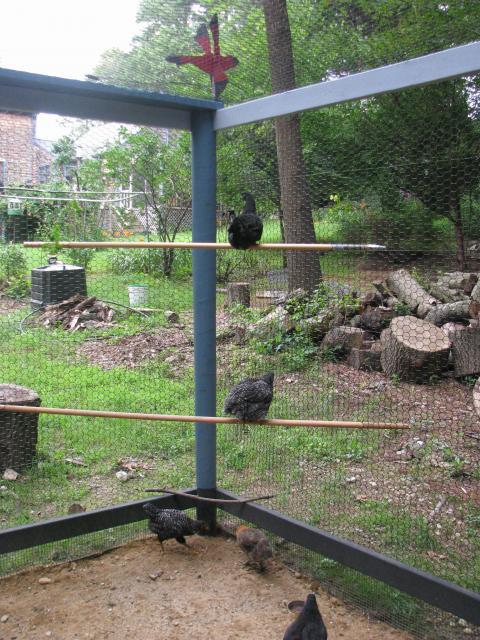 We put a couple of poles through the wire for outdoor roosts. They seem to really like 'em! Now they are the size of a football and are making plenty of big-girl noises....peep, peep, peep, bagaawwwk!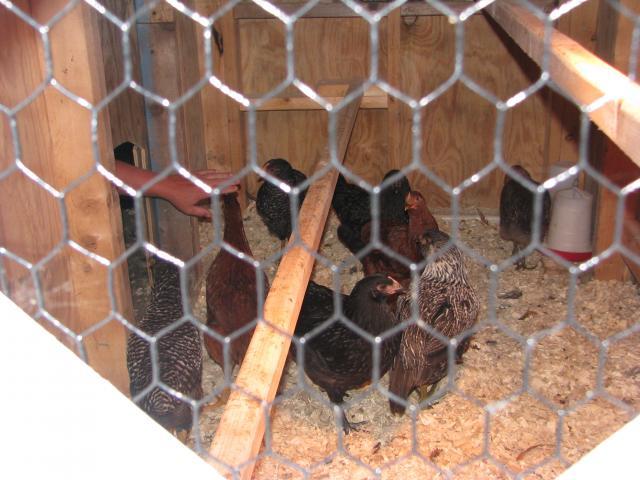 Every night they wait in the coop for us to shut the door. Their light's on a timer, so it shuts off around 10:30pm - Good night Girls!
​