I'm currently working on adding new stuff
​
​
Silkie and or Sizzle eggs
​
6+ eggs (all of either or both, your choice)
​
Eggs only available for swap if offered in thread.​
​
Sizzles are mixed color. There are smooth silver laced grey sizzle, partridge frizzled silkie, black sizzle, white sizzle, blue sizzle, splash sizzle pullet and black sizzle pullet with a White Silkie roo. The White hen and white roo have a few black feathers. The partridge sizzle hen and splash pullet won first place in a show they where in this year. Also the black sizzle hen won first place and the white sizzle hen got 2nd in the show they where in also this year (2013).
​
​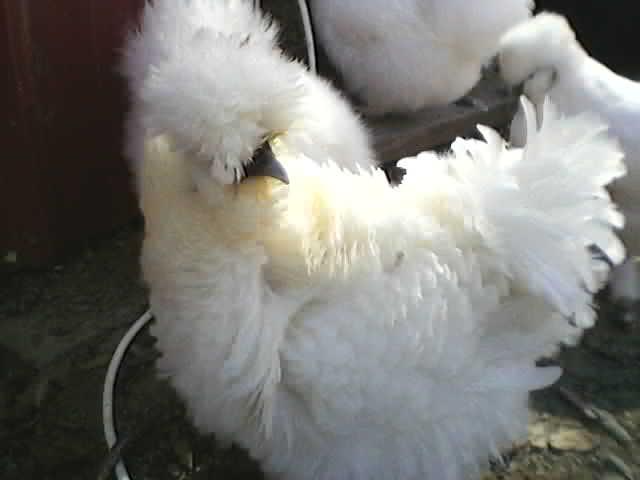 No Name White Silkie roo Elvis Black Sizzle Hen Pricilla White Sizzle Hen
Elvis Pricilla
Goldie Partridge Frizzled Silkie hen Partridge Hen
Moe Blue Sizzle Hen No Name yet Black Sizzle Pullet Squeeker Splash Sizzle Pullet

Some of their Babies hatched this summer (2013)​
I got 2 Silver Frizzled Silkies Blue sizzle and Calico sizzle White Sizzle and the same Calico Sizzle
White Sizzle that I am keeping to add to my breeding pen after I show her a few times. The last pic is of them as chicks. I have more right now and the chicks from the partridge hen have all turned out to be Frizzled Silkies which can be shown as Frizzled Silkies.
This pullet belongs to jnjmanning. She was hatched from
my Sizzle eggs.
I do have permission to use this photo
Splash Bearded SQ Silkies
​
Princess Splash SQ Silkie Pullet and her first blue ribbon
SILVER PARTRIDGE SILKIE​
​
Other stuff pick whatever you feel is fair.​



OTHER STUFF
​
Single swap item
White Iris Tubers. 3 large tubers or 5 small tubers. These are the large bearded iris
(I need to thin this bed down)​
​
3 Blue and white Iris tubors
Not sure of the name of these but they are

These have several names Naked Ladies is one of them
You will get 5
bulbs
. These
start
out as green foliage in
the spring. That dies off and the
flowers
emerge in the
summer. They also multiply every year.
​
Side Swap items I would like
​
​
Boys football and
baseball gear
like baseballs, footballs, batting gloves, cleats
baseball helmet
, gear
bag
etc
Mens carpenter jeans
size 34 x 30
Printer ink
Cannon 40 black and 41 color
Live bird
shipping boxes
Chick
shipping boxes
Chicken water nipples and water cups that screw into a PVC pipe
Chicken/rooster themed items
Men's cloths size L
Womens crocs shoes size 10
Incubator part such as heating elements, thermostats, fans
Outside plants, starts or tubers
Wisteria

Lilac

Elephant Ears

Cannas

Iris

Rose

Peony
Eggs that I would do a side trade for
Show quality only, preferably from show stock
Porcelain bearded silkie SQ
Lavender bearded silkie SQ
Paint bearded silkie SQ (white with black spots)
Buff bearded SQ
​





​