Hi everyone!! Welcome my page, the trials and tribulations of building a pallet coop on a limited time schedule. I work third shift that is more like half of second shift, all of third shift and part of first shift most days. I work 12-14 hours a day, so my weekends are the only time I really have to accomplish anything. My wife has reminded me of that fact during this process ;o) ... Don't get me wrong, building a pallet coop SHOULD have been easier than stick building one had I only followed jjamerb's advice.. https://www.backyardchickens.com/web/viewblog.php?id=29322 The advice was to have all the pallets be the same.... My impatience in our pallet trailer at work cost me untold amounts of time in construction because the pallets were NOT the same. So things didn't quite line up right and required more than a couple "red neck" fixes to deal with them ;o) Add to this the headache of dealing with a part time zoning inspector, yes, here even chicken coops need a building permit and with the nosey neighbor I have, it's best to do everything by the book so to speak.
Anyway, I started by attaching 2 pallets together on top of saw horses, AFTER trimming off any slats that overhang the main body of the pallet, pulling nails that stuck out, and shoring some of them up as they were not in great shape. I got enough joined together to form all my base walls and a couple upper walls so that with building permit in hand, I started construction. This is the stage where I realized following the same pallet advice WOULD have been very beneficial ;o)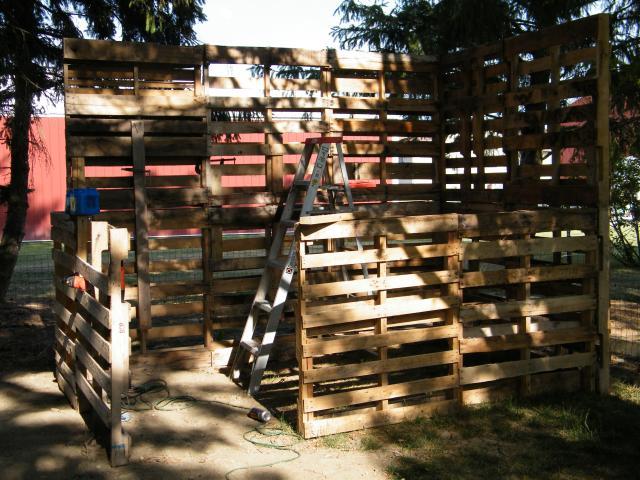 I finally got all the pallets up, having 2 secured together and lifting them into place was NOT fun ;o) I got all of them up except the last 2 when I cut my man door out then I placed the last 2 up. This is what it looked like with all the pallets up and the door cut out.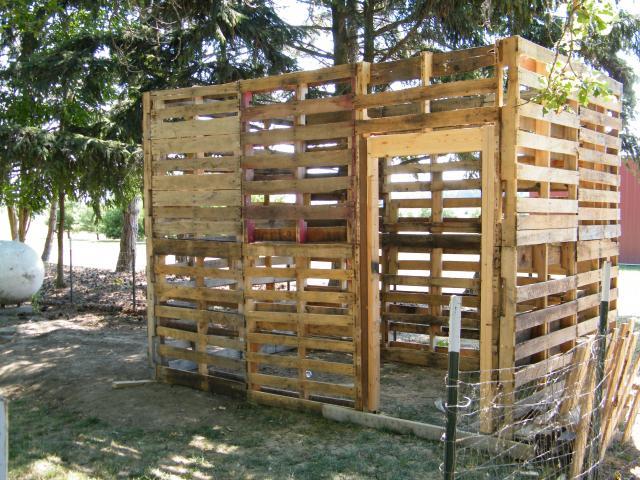 I decided upon a dirt floor so essentially the framing was all done at this point, so I cut my chicken door, and windows out at this point, much easier than doing it with the sheeting already on. I decided to add another window yesterday, and it was a bit of a chore cutting through the pallets AND the sheeting ;o)
I had a friend come over and help me get the sheeting and the roof put up. The following weekend my wife painted it while I put the shingles on the roof at which time I decided to put an awning of sorts up. Unfortunately, I ran out of shingles that matched so, right at the peak of my awning/roof I have hideous green shingles because that's all I had left. I bought no shingles for this project, as we had a pile of them left from at least 2 or 3 previous roofing jobs done before we moved in here.


Thankfully the roof is very sturdy even though I didn't use proper construction techniques to build it, but, hey, it works ;o) i have a beam running horizontally under the "rafters".
The next weekend I cut the windows out and started to put the trim up which really helped make it LOOK like I had an idea of what I was doing ;o)


This weekend I got most of the rest of the trim up and I will be starting on my run. It will be @20' x 40'.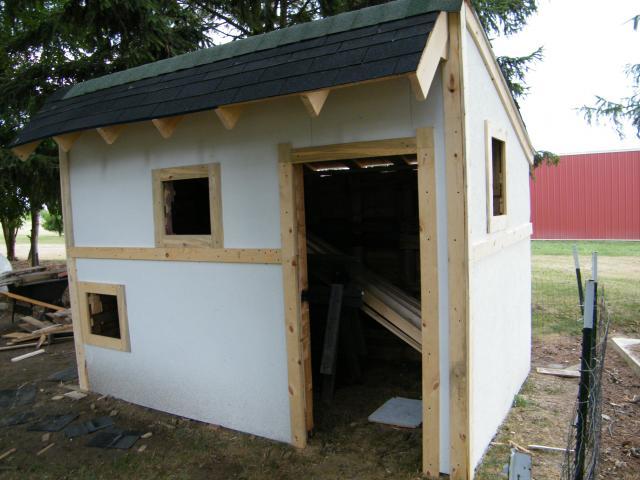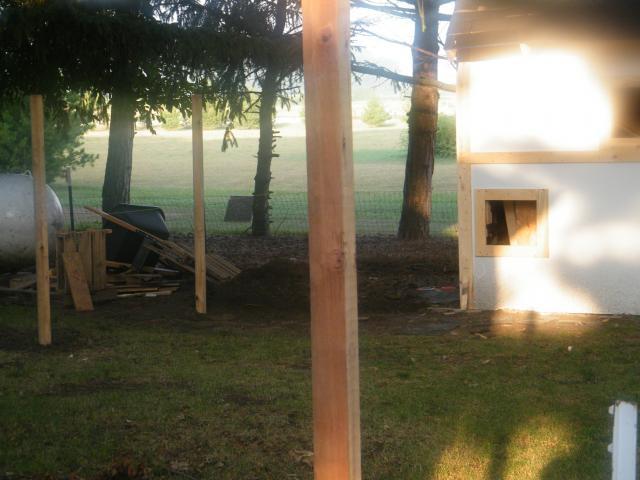 Well this weekend I did get the trim put up as seen in the pics and I got started on the run. I got some of the posts set in the ground. I did not set them in concrete as I am going to span the distance between them across the top with 2x4's to support the welded wire fencing I am putting up top. A buddy of mine and I got 8 of the 12 posts set when our wives called a stop to the work with freshly grilled T-bones, corn on the cob. We did not return outside to continue work as it was later in the afternoon when we ate and the humidity was opressive to say the least... Plus digging the post holes by hand even with the proper tools in clay and tree roots was quite the workout, we were ready to be done for the day ;o)
I am taking next weekend off to spend some time with my wife whom calls herself the Chicken Coop Widow now ;o) Hopefully the following weekend I will be able to get the rest of this thing done so we can go pick up our ladies and our gent.
Well I spent the weekend with my "chicken coop widow", we did some travelling and just plain old spent time together.... We did need it and I especially needed the break from working around our homestead. Since spring I have spent everyweekend but one working on getting the garden in, buliding raised planting beds for our berry bushes, my roses, and my wifes flowers...
This weekend, I got home later on Saturday morning from work (I work third shift @12-13 hours a day) and I was just simply exhausted so I decided to listen to my body and my wife and take a nap.... Well the nap turned into a good six hours of sleep so I got nothing done with the coop nor the yard which needed mowed.
I got up Sunday to get an early start... I loaded all my tools, lumber, etc. into my pick up truck and proceeded to get to work.... I was continuing to dig my post holes for my 20' x 40' run... I got my next hole started pretty good when I heard a metallic sound when I slammed the post hole digging bar into the hole.... Uh Oh! I had our propane company come out and mark where our line was to the house was so I wouldn't hit it..... Well, where they marked the line they marked was not even close!!!! I hit the propane line (luckily I did not sever it alllowing propane to escape) crushed it and had to stop work immediately to call for emergency repairs!!! While waiting for the propane company I decided to finally paint the trim on my coop.


The propane company showed up and we ended up digging my post hole 4 times the size I needed to access the line so it could be repaired. The line was repaired and I was able to get back to work, 4 hours later!!!
I got my post hole dug and got the post set, a couple of fence panels put up, and one of my cross members up that will hold up the chicken wire I'm putting over the top. I had to stop at this point because I still had a yard to mow, a couple of acres, and rain was on the way.... Well, I only got the yard partly mowed before the rain showed up and I had to put everything away for the day. Hopefully I can get the mowing finished this week, (going to be very tough) so I am not wasting any coop time doing yard chores.
After the propane line incident, I soured on working on our coop, especially when I learned it was getting too late in our season to get started pullets from the hatchery so I stopped working on it and focused on the many other things I have to do around here.
Nearly a year later I started working on the coop again and have made good progress. Yesterday my wife and I framed one whole side of the run and was ready to put the wire fencing on it when I realized, far too late in the day that I was out of the 1/2" staples I was planning on using. So this morning, bright and early I'm off to the home supply store to get staples and some PVC pipe to make an automatic feeder. I have 2 more posts to get in the ground to finish the privacy fence side of the run. I got some "post holders?" at the home supply store that are pounded into the ground 36" that will save me some digging.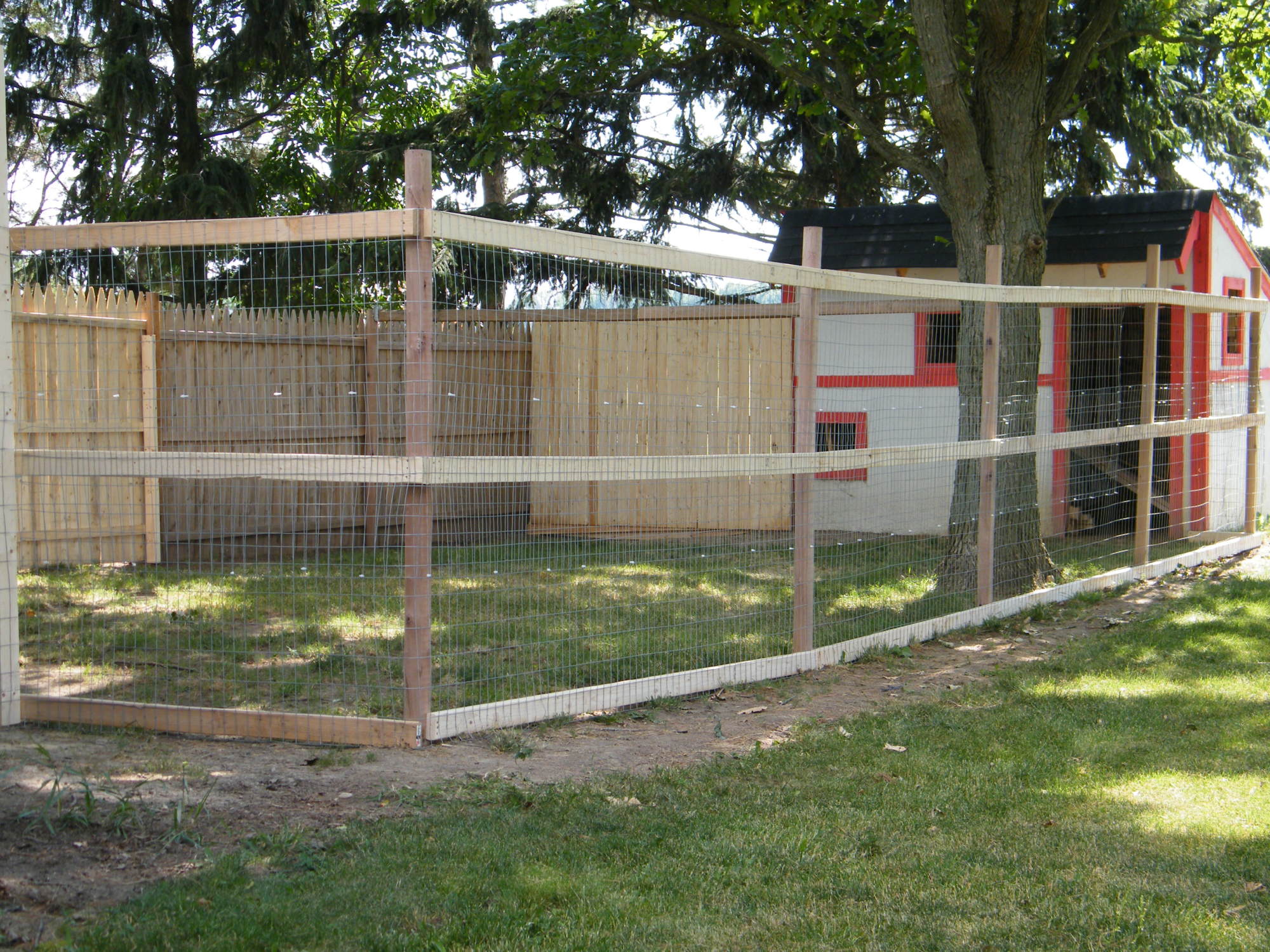 Well, after losing hope for about a year that I'd ever get this coop and run done, it is almost done now. We had a very productive weekend. We got all the wire fencing and all the privacy fencing up. The privacy fencing is because we have large dogs that share the same backyard and they are very aggressive towards other critters. In time we will slowly introduce the dogs and the chickens but we are going to take that slow. As of today I only have the beams to put up for the chicken wire roof (Predatory birds got 6 of my neighbor's hens last summer), I have to build and install the gate and then onto nest boxes, roosts, and poop boards. Our dozen or so ladies and one gent will have a 20' x 40' nicely shaded run.
The post holders I wrote about were a time saver, BUT, they like to twist on their way in the ground AND they are nearly impossible to pound in straight. But as my wife has told me time and again, it's only a chicken coop. I'm no carpenter either so my projects don't usually net the results I'd like but that's life. If I were putting up a real privacy fence, I would NOT use those post holders. Tomorrow I'm thinking I'm going to play hooky from work to get this thing finished up. Now that we are so close to completion, my wife is giddy about being able to go get our ladies and gent.
Well I didn't play hooky from work, I wish I had. But when I got home I got all our windows screened in, got all the supports up and the posts cut for our chicken wire going over the top of the run, I made our PVC feeder and got plans drawn up for our nest boxes and roosts.
This morning while my wife is on her way to get our girls and boy I will be mounting the PVC feeder and our nest boxes so our pullets will be able to move right in.
I didn't have time to get the PVC feeder mounted, but I did get the nest boxes done and an angled board over top of them while my wife was on her way to get our pullets.
My wife returned angry Wednesday afternoon because the hatchery she contacted and purchased our pullets from gave her 1 day old chicks as started pullets. Now I have read that technically chicks can be considered pullets but I have also seen many more definitions that state a specific age range for started pullets and 1 day old chicks are definitely not that. So my wife decided that she'd take the day old chicks and then get the feeder, waterer, heat lamp, etc. for them on her way home thinking that it would be a "good" experience for us as we do indeed plan to raise some chicks next year as meat birds.
We raised our chicks inside an upstairs empty bedroom as our basement is far too humid for chicks.

We kept our chicks upstairs until they started outgrowing the "brooder" we set up for them. They actually started pulling each others tail feathers out and pecking at the bare spots. We doused those injured with blue lotion and set about to getting all 17 girls and the boy outside into the coop. Unfortunately since work had been keeping me from finishing the overhead protection for our run, they chicks were forced to stay inside the coop unless mom or dad was able to sit with them and keep an eye on things. After a couple weeks of chick sitting I decided to take a friday off work to once and for all get the top of the run covered. I got almost the whole top done when the skies let loose and forced an end to my work for the weekend. A little note here.... Chicken wire sucks to try to put overhead by ones self!
Since I wasn't able to continue working on the run I decided to tag along with the wife to Tractor Supply, just because, well, I love that place. There, I found some deer netting that I figured could be used to finish off the top of the run. I was a bit leery of it though because it seemed a bit lightweight, If a hawk or other large predatory bird landed on it they may well go through it. I only had the very center of the run to finish so I decided to give it a try. That stuff went up MUCH easier than the chicken wire and so far, it has proven itself to be quite durable. It does sag considerably when covered with leaves, but a quick session with the leaf blower and all is well again.

I used privacy fence on one side of our run because we have 4 dogs, 3 of them large and very interested in catching and eating small prey, we've some gifts deposited at our feet by the back door.... I did learn a valuable lesson one day I was working in the run..... Let my wife know when I'm in the run with the gate UN-LATCHED. I did not, my wife didn't realize the gate was un-latched so she let our dogs out...... I heard the gate open thinking it was my wife coming into the run. I hear squalking and clucking like crazy. I turn to see our biggest dog chasing after one of our hens, the dog had feathers in his mouth but the hen had gotten away. I got the dog out of the run and set to checking on the hen. She was limping but otherwise seemed to be in o.k. shape. We watched her for a bit and decided to segregate her from the others by putting her in a kennel we had for our Pug. We kept the hen with the others, just seperated by the kennel. Three days later she showed no signs of injury at all and she was allowed back out with the flock.
To date we have not lost any of our chicks that started off as day olds. Our roo is really starting to come into his own. He's crowing like mad and doing what roos do with 17 hens to choose from

)
Our hens, who are 5-1/2 months old are already giving us 7-10 eggs a day some of which are double yolked monsters.


Our handsome roo.
Some of the girls expecting their string cheese treat.