Well we were getting a little nervous. Day 19 came and went with no pips, then day 20 and no pips, and finally on day 21 we got our first pip!! Before night fall we had our first little chick, #19 dubbed Tumbleweed, because of his great gymnastic skills right out of the shell.
#19 - Tumbleweed​
​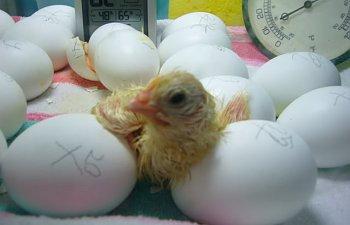 Ladybug has discovered the Chicks!!!!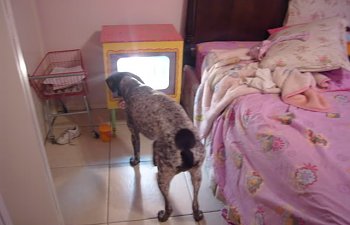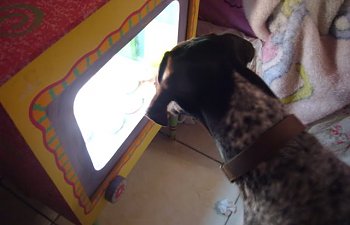 And now there are 3!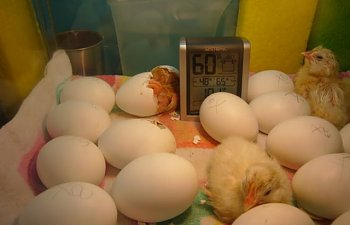 Okay, so we were a little backwoods on everything we did, from the cute but bare bones incubator, to the candling everyday, even in the final 3. It has truly been a great educational experience for my kids. I know our percentage of hatching probably would have been higher had our temps and humidity been controlled more closely and we hadn't handled the eggs so much but I really wanted the kids to see the process step by step as much as possible. Our hatchers were a bit late, probably due to the temps, but we now have 9 little yellow fur balls and today is number 24 day and we have one more pipping! Day 22 was our big day with 8 hatchlings. Needless to say, we are hooked!
My entrepreneur son has big plans to build our little "Live TV Bator" and sell it on
EBay
, along with our farm fresh eggs to our neighbors! I don't want to discourage that drive!
Sadly we must report that we lost one on day 23. I think it was due to a dried out membrane. I thought it was doing fine and 15 minutes later I went to check on it and it was to late. My children insured it got a proper burial, complete with the sweetest little prayer from my 4 year old.
Well we will post more photos of our our new little fuzzy friends later, along with our cute little brooder!
​