JACOB'S COOP
________________________________________
Jacob is a normal 11 year old boy that loves chickens. He lives one road over from Vicki and I with his mom and 8 siblings. Jacob and Katie are the children of their mom, Rebecca. The other 7 precious ones that range from 2 years to 9 years are all either fostered or adopted.
Rebecca is a wonderful mom to all of them (don't know how she does it), and never asks for anything. Jacob, being the oldest, has many responsibilities. One of those is the care of the flock of chickens that provide eggs for 10 hungry mouths. Bless his heart, his little coop and run left a lot to be desired, and dogs got in and almost wiped out the entire flock.
LTCM answered the call to help this family. In one day, all the money to purchase materials was raised, and a work day was planned. Come along with us as we build Jacob's Coop. You may contact me if you would like a PDF of the plans. I will be glad to email them to you, free of charge!
A Few Pictures
The coop is built similar in construction to a "portable building", with the floor being the most substantial portion, and built on 4x6 skids. This way if the owners ever have to move, the coop can be moved easily. Also the chickens have a 28' x 28' run made with 2"x4" wire and T-posts.
Thanks to all who donated funds, and to all who gave up a Saturday to make a boy's dream come true. The workers in no specific order were: Larry, Phillip, Matt, Gene, Rex, and myself.
In the picture below you can clearly see the framing method used. Everything was built on 8' construction. All panels were 8'x8' with the exception of the rear wall and side walls. The plans above will note the difference.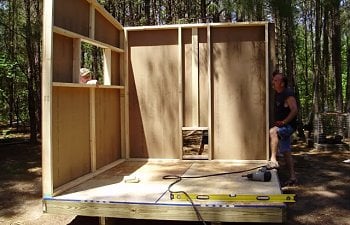 ​
Thanks for stopping by! Also, I have detailed plans for a 4'x 8' Chicken Tractor free upon request.
Remember Vicki and I in your prayers as we endeavor to live out our faith by taking care of widows and orphans wherever we see the need, and hear the call!