GUSTY ACRES​
YOU ARE ABOUT TO VIEW MY COOP WHICH I NAMED GUSTY ACRES DUE TO THE STRONG WINDS THAT WHIP THOUGH MY PROPERTY. THIS COOP HAS BEEN MY OBSESSION, SUBJECT OF MOST OF MY DREAMS AND NIGHTMARES AT NIGHT, PRIDE, AND SOURCE OF COMFORT. PLEASE TAKE A MOMENT TO EXPLORE MY VERY OWN POULTRY PARADISE!
Front of coop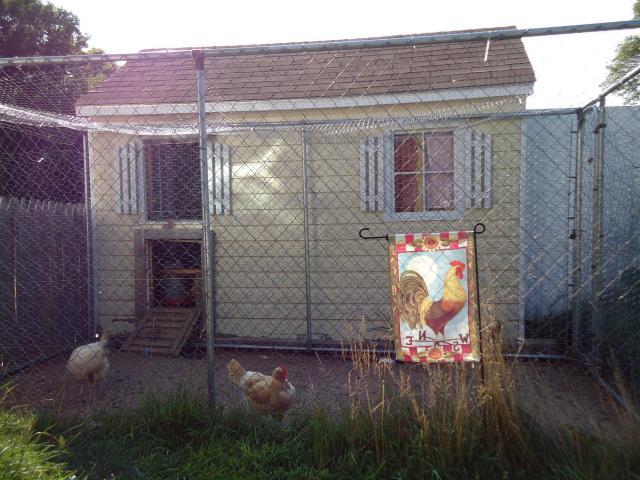 The front run is 7'6" by 13' chain link fence with chicken wire on the lower part of the fence as well as over the top.
Left side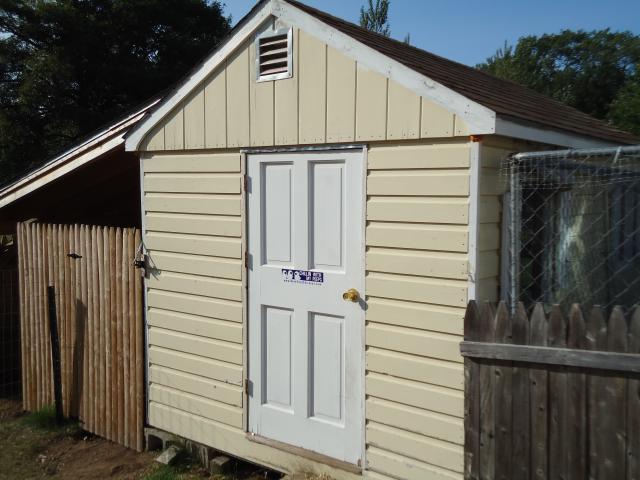 Both the coop, back and side runs can be accessed from the left side.
Chillin with my peeps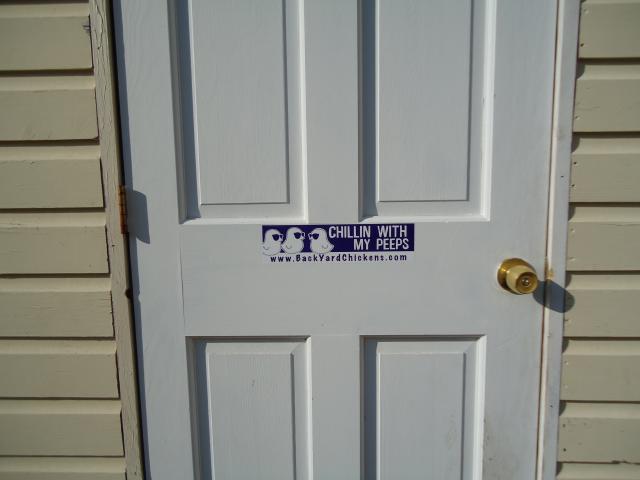 I just HAD to place my BYC bumper sticker on the coop door

Right Side - covered run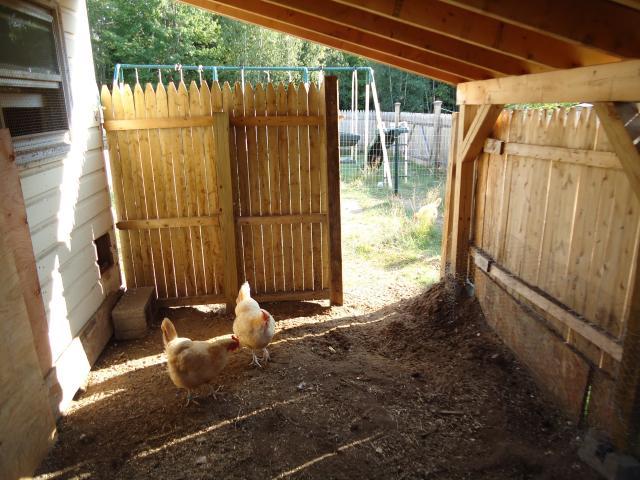 The back run is completely sheltered. This roof has been a great help with keeping the girls cool in the summer! It also allows them to get outside during the winter. A must have for any coop in my opinion.
Back run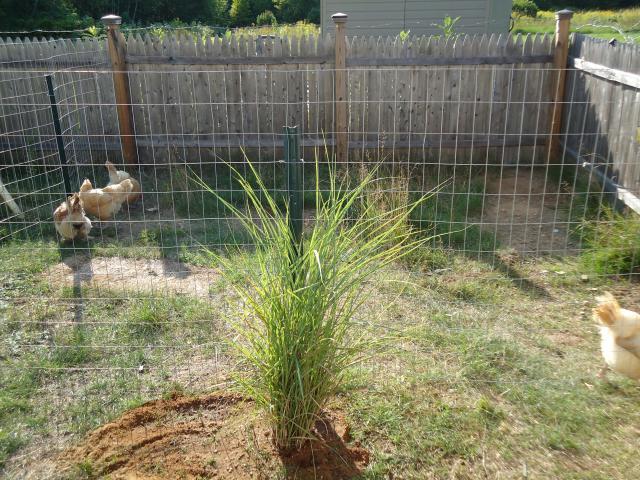 The flock enjoys this run for sun-bathing and people watching

Inside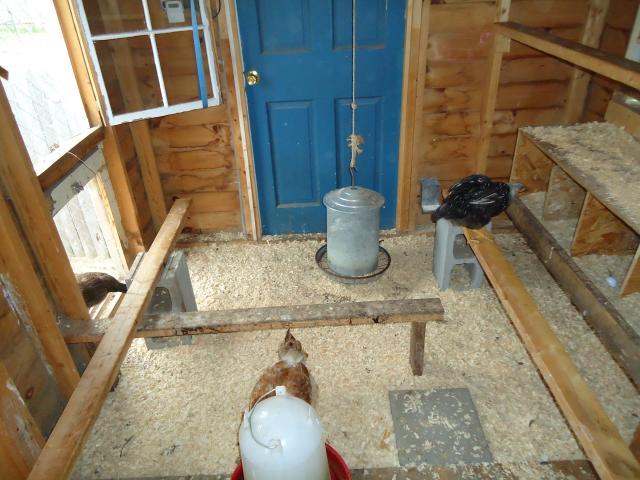 I opted for long movable roosts on either side of the coop. This gives me the freedom to change my floor plan as needed. If you look closely to the upper left of this photo you'll notice that my coop has electricity. In the winter I hook up a heated base to keep the water from freezing. I also have a light so that I can work out there at night if necessary.
Nest boxes - to the right of photo is my supply "breeze way".
The nest boxes are rather low to the ground enabling the girls easy access. Above the nest boxes are two more roosts. The majority of the flock sleeps on these roosts at night. I cover the top of the nest boxes with shavings. Every morning I scoop up the soiled shavings on top of the boxes and put clean shavings down. This keeps the coop nice and clean. I HATE A DIRTY COOP! It only takes a few minutes each day and I think it's well worth it.
I have one last roost stretched across the very top of the coop. Only the young and lighter birds seem to be able to roost here. But the ones that do LOVE it.
Supply Breeze Way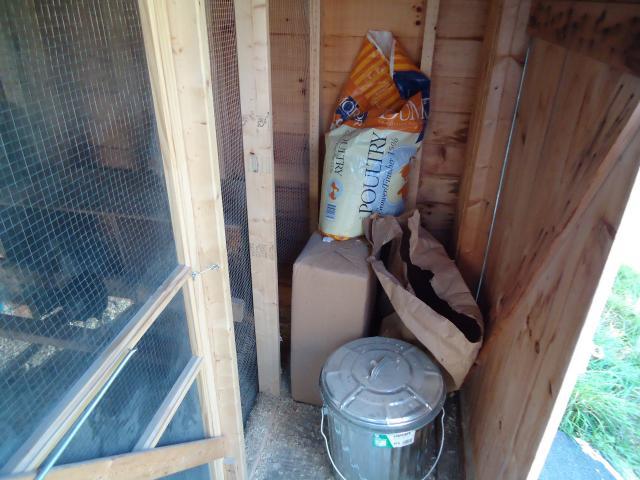 The supply area has been wonderful! Recently I was able to use it to keep an injured bird separated from the flock while it healed. I just cannot imagine what I would do without it!
Solar Panel to operate automatic chicken door:
Now this is my newest addition to my coop. The solar panel powers my "Pullet-Shut" automatic chicken door. I was a bit nervous about the installation but it was remarkably EASY! The whole thing (panel, battery, and door) took well under an hour! Really!!
The Pullet-Shut automatic chicken door
I ABSOLUTELY LOVE THIS DOOR!!!!! It has afforded me the luxury of peace of mind. I plan on getting another to replace the pop door in the front (in the spring of 2011). The door is the safest design that I have found. SO EASY TO USE too. If you are looking for an automatic chicken door the "Pullet-Shut" door is the one to get...trust me

This coop is a modified 8'x 12' garden shed. I used salvage wood and I purchased some materials from Lowe's as well as Habitat for Humanity. It has taken quite some time to finally get the coop to fit my needs.
Originally I used only half of the shed for a coop (when I had only a few birds). Now my flock has increased and so did my coop. Much to the surprise of my friends and family I made the entire shed into a coop. They think it is unbelievable that I would use such a nice shed for chickens....oh well! I'm happy and so are my feathered babies.
Things that I would change:
1. The location of the coop. As I stated previously the coop was originally a shed. Therefore it is located closer to the house away from any trees. I have to be mindful of the weather in order to plan ahead for hot days. Opening some doors while covering the windows with sheets in order to control the coop's temperature. I plan on planting a couple of trees in the spring of 2011 to provide my flock with shade.
2. The pop door in the front of the coop is too large. It swells when it rains making it harder to close at night. I will be purchasing another Pullet-Shut automatic chicken door to replace it in 2011.
Other than that I am satisfied with my coop. Thanks for checking it out

​