Personally, I think that I've gone round the bend. I'm bonkers. Absolutely certifiably mad.
​
However, as Alice say, "All the best people are."
​
My name is Krysia and I am a mom of 3 little girls, currently aged 10, 3, and 10 months. I have a wonderful husband. I am also mom to a mastiff mix boy named Oz Ozeransky, a male Tuxedo cat named Pounce, and 6 little chicks. 3 Buff Orps named Chatterbox, Tiny, & Fluffy; and 3 Barred Rocks that are named Blanche, Xerxes, and Consuelo. (Yes, there is a theme among the names of the pets.)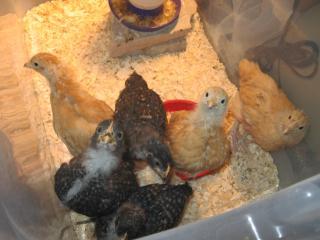 ​
Anyway, I also own a home daycare, so on any given day, I have anywhere from my 3 kids to 8 kids running amok in my house.
I think all these think qualify my aforementioned statement.
I'm new to raising chickens. I was raised in the mountains of Colorado off a dead end road millions of miles from anything in a wee, tiny town called Divide, before the town was developed or even had a stop light. I know how to feed and care for dogs, cats, spouses, and children, plus the occasional llama. However, chickens are new to me.
I actually HATE birds. The only thing that convinced me to raise my own chickens was due to the fact that I researched how commercial chickens were raised and how our chicken and eggs are handled on their way to the grocery store. As I raise my brood, I find that I want to feed them things that are more natural, foods that are local and better for them because they are fresh. Well, I can't get eggs any more fresh or local than my own backyard. So, my husband & I decided to invest in chickens. To my complete surprise, I like them. I like to watch them, they are so funny! I can't stand the smell, the added noise to my already symphonic household, and the expense of feeding the darn things will put us in the poor house, but I know they will start paying themselves off when the egg production is in full gear. My chickens are to be working chickens. For a household that goes through 3 to 4 dozen eggs a week (we are all on high protein diets,) we will utilize every egg that our little girls produce.
So, yeah, I need help. I'm a total noob and don't know what the heck I am doing. However, I hope that all of you lovely people on this most excellent forum will assist me with my endeavors to humanely & healthily raise all of my kids, be they human, canine, feline, or bird.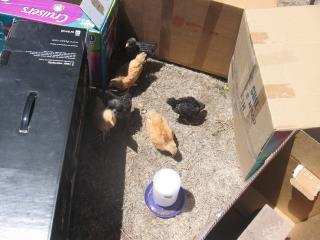 ​