Documenting construction of
La Maison des Plumes
​
April '09: Construction commenced approximately 2 or 3 months ago in my driveway. I began by framing the four walls and applying and fastening hardware cloth to all the sides.

May '09:
- A human size entry door was assembled and fitted into the frame. It features spring loaded hinges so the door will automatically shut unless resistance is applied.
- The four walls were moved into the backyard and attached to one another. Success! The structure stands alone! The top of the coop is covered in its entirety with 1/2" hardware cloth. Anything to thwart the raccoons!
- Dad assembles the gabled roof and covers it with thin, white corrugated PVC panels.
- We begin cutting plywood to form the roosting box/nesting area on one end of the structure. One side has been made into a door - opening up all the way for easy cleaning.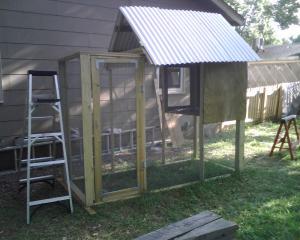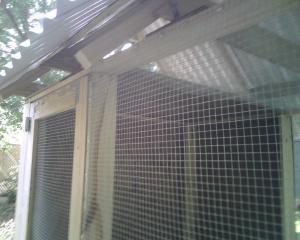 I removed the back panel and cut a rectangle out of it to provide ventilation. This was a horrible cut. Hopefully, I can apply trim and make it appear to have 90 degree corners. You can also tell from the last pictures that the coop was painted ("Spray Rose" by Valspar - part of the Martha Stewart Paint Collection).
Above: You can see that we decided to leave one side of the roosting box open - at least for the summer. Also take note of the ladder the girls take to the roost box and the slim, box fan I've placed inside to keep the air moving during the night.
This is the most recent picture taken. Steps to be completed shortly:
- hang up thermometer
-affix wheels on the heavy end
-handle-like things on "light" end
-finish putting up trim
-install a locking mechanism of side door to roost area, however, at present it has swelled with the humidity and is staying in place
-the roof of the roosting box is covered with 1/2" chicken wire and plywood but I'm just not happy with it-find something suitable for laying box and put in
-figure out what to do with the open side of the roost box area
-make an awning of sorts to go on far, rear ventilation rectangle to keep out late afternoon sun but not impede with air movement
More pictures and commentary to be posted imminently.
​