Me and My Little Garden
I am a homemaker, artist, school and church volunteer, scout troop leader, and complete garden "nerd." I love gardening and any kind of edible landscaping. Southern California has the ideal climate to do it year round.
I have a blog with my chickens, garden projects, plants, insects, urban wildlife, and more of my practices of permaculture at http://hanburyhouse.com/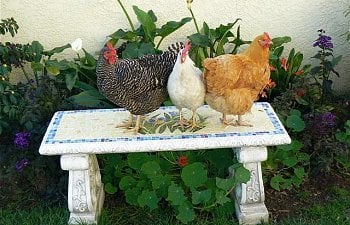 I have been passionate about organic gardening since a friend gave me a copy of "Organic Gardening" magazine more than 15 years ago. My front yard has most of my ornamental plants and my backyard is generally drought tolerant shade plants or edibles.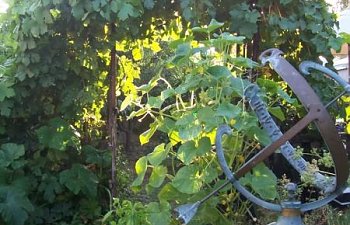 The Perlette Grape vine at the back side of the veggie garden last summer. The grape is about 5 years old.


This is the outside view of the veggie garden, April 2009. July 2009, I rebuilt the gate and fence taller and with more narrow spacing between the pickets to keep the hens out. It is now classic white like most of the garden's wooden structures.
The little city lot is filled with 12 + low chill varieties of dwarf, semi-dwarf, and standard fruit trees, raspberries, blackberries, blueberries, lots of veggies, 5 varieties of grape, and a low chill kiwi plant.
We get a lot of wild life around since we are close to the San Gabriel River and a long park that connects to it with a duck pond. One of the chickens had a near miss with a Praire Falcon this summer. The local wild life includes Coyotes, raccoons, 3 kinds of hawks, American kestrels, wild parrots, oppossums, egrets, cormerants, lizards, squirrels, lots of butterflies, hummingbirds, and more.
We are regularly visited by ducks from the pond across the street. They nest in the front yards of our neighborhood, and they can do some damage to the front flower beds in the spring while eating the slugs and snails. However, they are fun to watch so we live with the minimal damage. Here they are crossing the driveway as they make their rounds down the culdesac.
This hummingbird had a nest in our Chinese Elm. It was sitting on a tomato cage watching me water the veggie garden. I was surprised it stayed to let me run in and grab the camera and come back to take the photo.
Each Spring we get large numbers of Morning Cloak Butterflies laying eggs in our Chinese Elm. One year, for the kids science project, we brought the caterpillars in the house and had butterflies emerge from their chrysalis in our kitchen. We learned that Morning cloaks are fruit eating butterflies and one of the longest living, up to a year. We let them go after a few days.

My yard and garden are always changing and evolving as my interests change.
Thanks for visiting my little garden.
If you would like to see or read more about my garden and home, please visit Hanbury House.