Ok so here is my chicken coop its not much but my girls seem to be likeing it. Its 10'x4'x36" It also has a home made perch or roost what ever you may call it.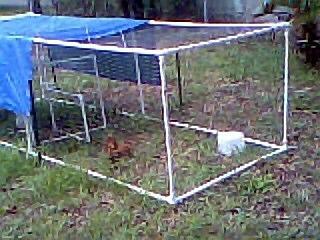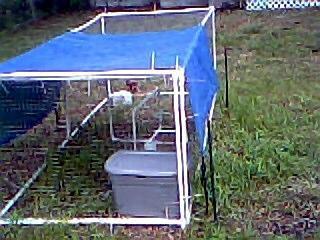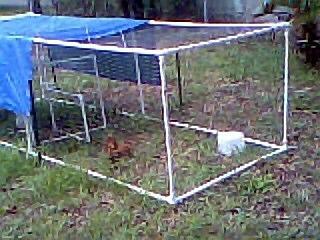 \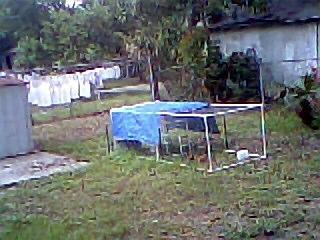 its made from pvc pipe and some fittings.
I began with 7 pvc pipes 3-1/2" x 10'
4-3/4" x 10'corner's and T's and every thing i needed and you might was bought at HomeDepot all for about $100.
although you can get the pricer pvc pipes its up to you. mine is 40p at $1.06 and up.
I also made a door that swings up over the top so the kids and or i can get inside to put fresh water and food and even wash down the perch if needed since its all made from pvc pipes its easy to be cleaned and wont rust. The fencing is stanard poultry netting so they cannt get hurt and also has a long life without sharp things to get cut on..AFTER ALL SAFTEY IS ON THE TOP OF OR LIST. I haven't made a real nesting box yet but i seen this on youtube.Its a bin i bought at walmart cut a hole on 1 side as the door and a few very small holes 1 on the back and 1 on each side to let the air vent.Also i made a few little hole on bottom the let any water out that might get inside. though you cant see it I aslo added a few peices of pvc pipe to the bottom so its not right oh the ground (i will add a few pics of that as well) The perch or roost is made from lefted over parts of the pipes..As well as its all glued togather I used clear fasteners to hold the netting on.Its light weight and there for it can be moved around the yard.I have a trap on top for sun and weather cover.OH yea since it is made out of pvc pipes i AM useing fence steaks to hold the trap on and sercure it the the ground AS WE DON'T WANT THE WINDS TO CARRY IT AWAY. LOL I keep 2 waters in it 1 at each and the food feeder in the nesting box so when it rains it dont get soaked (not sure it i should but until i make a wooden house its works)
​