Received a
Brinsea
Mini Advance just before Christmas. I really bought it to hatch my Khaki Campbell duck eggs, but heck, I needed to test it out, right? Found someone to take the chicks as day olds if the hatch is successful. Even made myself a candler and have been examining all my eggs for the last 3 weeks. All my eggs have a lovely bulls eye, the sign of fertilization (but don't tell my son he has been eating fertilized eggs for the last several months)......
Spent the last week collecting eggs. Of course it is the coldest January on record (-11c at the time of writing) so I limited myself to only setting aside the eggs that were still warm to the touch (had my hand pecked a few times snatching them from under the gurls). Sure hope I didn't mix any frozen eggs into the selection...... I wonder what temperature eggs freeze at, and how long exposed before freezing actually happens?
(pic- some eggs for incubating)
(pic- bulls eye. My photographer friend critiques that I should not photograph an egg on a patterned dish......)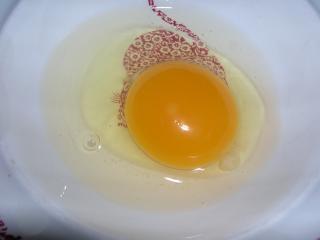 Friday Jan 21, 2011
4:00 p.m. Powered on Brinsea and allowed to run for an hour before checking settings, modifying angling for auto egg turning. Temp holding nicely at 37.5C (99.5F) Set my high and low warnings.
5:00 to 7:30 p.m. candled, candled, candled. My son worried that I would crack the eggs messing with them so much (I did, but again, don't tell him!). We both made choices of eggs: his based on shape and colour, and mine based on how well I could see inside the egg.
Egg #1 Columbian Rock 68.5 g
Egg #2 Columbian Rock 69.1 g
Egg #3 Columbian Rock 72.1 g (this egg was dirty but I just flicked off what I could and left unwashed)
Egg #4 Barred Rock 65.2 g
Egg #5 Black Sex Link 66.1 g (this hen lays in the duck pen, 60 yards away from the coop- little nervous it may have been frozen, but the kid chose it)
Egg #6 Red Sex Link 69.7 g (very, very round, kid choice)
Egg #7 ? I don't know who laid it 73.0 g (elongated)
8:00 p.m. Eggs on turner
8:15 p.m. low temp warning PANIC!!!!! How to turn the horrid sound off? Quick grab the manual. Phew sound off. Oh, oh what's wrong?????? Haven't a clue, oh dear!
8:30 temp climbing back up.....
8:45 still climbing. Maybe a draft?
9:00 p.m. temp back to 37.5C phew. Ok analyze why? Best guess is that the eggs were room temp (20C) and they brought the temp of the incubator down, while they warmed up? Make sense?
(edit) Found this explanation:
When eggs are placed into an incubator operating at the proper temperature, the temperature will drop. Do not adjust the thermostat upward during this warmup period.The time that the temperature in the unit will remain below normal depends upon the temperature of the eggs and the capacity of the heating unit. This temperature lag period can be reduced by warming the eggs to room temperature before they are placed into the incubator
Saturday Jan 22, 2011
6:00 a.m. no warnings on monitor so everything went well during the night- yeah!
7:00 a.m. back from looking after the birds. Found my crazy black sex link in the duck pen. Obviously she spent the night there, no worse for wear. Wonder if the ducks let her cuddle????
2:00 p.m. changed the turning angle from 10 to 9. My X & O's don't seem to be turning very far..... Learning!
2:19 p.m. crazy chicken back in the duck pen. She manages to scale up 8ft and wiggle her way in at the top of the gate. She can't figure out how to get back out again....
5:30 P.M. Asked for advice from backyardchickens.com about the turning angle on
Brinsea
Mini Advance. Have now set for 15. Will monitor and see what kind of rotation I get!. Yes, 15 for chicken eggs works!
Sunday Jan 23, 2011
6:30 a.m. Uneventful night- no monitor warnings. That means
Brinsea
WAS a good choice for this first timer. Eggs are rotating beautifully now thanks to a peep on backyardchickens.com
7:00 a.m. Arctic conditions outside! Snowing, blowing, with windchill it's -20C. BRRRRRRRRR. Flock and ducks seem to be surviving. I made them flock block last night and they seemed to be enjoying it
9:00 a.m. topped up the water in the
Brinsea
, really not much to do with the incubator. Straightened up the elongated egg, but pretty easy to keep my hands off them. No interest in candling them until they are further along.
10:30 a.m. Kitchen scraps out to the birds- they were happy to receive their morning Gift. Not sure if they have any for me yet- hen on favourite daily laying nest and I didn't want to disturb her. Thinking about their nests, one day they will all take turns in the old dog house, next day they all seem to wait for the cave under their steps, then they go up a level to the nesting box that is roost high. And of course crazy black hen, treks across the field and lays in the duck pen!
1:00 p.m. Went out and bought a hygrometer from the reptile section. $9.00 (
Petsmart
) calibrating. Seems to be 70%, so I will add 5 to the readings.
4:00 p.m. Watered and closed up coop. Went to duck pen to water and feed. Guess who was in there???? She walked through a foot of fresh snow to lay her egg in the duck pen! Picked her up (and her egg of course) returned her to the coop and locked up again. 8 eggs from 10 hens today. -15c with windchill -23 Celsius. Thinking maybe crazy black hen wants to be a mamma. When it is spring I will leave her clutch and see if she has any desire to hatch them. Wouldn't it be cool to have chicks following mama around the yard? Well maybe not with the hawks and the dogs.
7:00 p.m. Temp has dropped outside. Vineyard frostbusters are noisily running. Hope my chickens and ducks survive this bitter cold night! Wouldn't it be just awful if the power went out????
Monday, Jan 24, 2011
6:00 a.m. Oh this is the coldest day yet! BRRRRRRRR! Amazes me when I find all my chooks and ducks still alive when I stumble out in the dark to their coop/pen. Frostbusters were still running- I guess it moves the air and keeps the birds warm too. But tomorrow it should be more seasonable temps of just about freezing.....
7:00 a.m. Hygrometer calibrated to 70% overnight. Not bad for a cheap reptile monitor. Measured Humidity in incubator- 45% so we're good. Temps are steady and tonight I will weigh the eggs and graph.
5:00 p.m. Only 5 eggs laid today. Geesh. Yesterday there were 8 eggs and it was colder! My Frizzie wanted to snuggle so I stayed out in the coop and gave him (her?) some treats and fresh water. The rest of the gang were already high up on the roost. Poor Frizzie is my only bantam and I think he is very lonely. I have a silkie cross, but she is twice Frizzie's size. I hope he is a Roo and nails one of those big, nasty gurls!
6:00 p.m. Humidity 50%
Weighed my eggs and am now going to see if I have any mathematical skills to calculate decrease. Noticed they were really warm to the touch! See, I've been keeping my hands off of them!
fiddled with the settings and changed turning from every 45 minutes to every 60 minutes. No reason, I just felt like adjusting something! And the sound distracts me.
8:00 p.m. humidity 52% I haven't added water why has it gone up over the last 2 hrs??
According to
Brinsea
, I need to get my humidity down - see charts further along in the blog. Glad I bought the hygrometer.
Eggs lose moisture through their shells and the rate of evaporation depends on the humidity levels around the eggs and the shell porosity. During incubation eggs need to lose a fixed amount of water which corresponds to a loss in weight of around 13-16% depending on species. By weighing eggs periodically during incubation it is possible to monitor and, if necessary, correct humidity levels to achieve the correct weight loss.

January 25, 2011
6:00 a.m. Humidity 47%, just a little water in the well. Think I will leave as is and check tonight after work to see if more water required. Happy News! The temp has finally warmed up at it is just at freezing Yeah! Took left over spaghetti out as a treat this morning, and the compost pail. Chooks were very happy with the offerings. We are supposed to see the sun again today, so maybe they will get out of the coop and enjoy the yard. I wish I didn't have to go to work today, I would like to dig out their coop. The deep freeze interfered with my husbandry duties bigtime! Poop frozen everywhere!
7:30 a.m. Witnessed crazy black hen fly straight up 8 ft to the top of the duck pen. She then drops straight down where the tarp is not connected to the frame for a couple of inches. Told my son to let her out in a couple of hours.
(pers com. My son went out mid morning and the hen refused to leave the duck pen. He found 3 of her eggs in there but decided to leave them)
4:30 p.m. Crazy hen knows how to get out of the pen as she wasn't in there when I got home. I found two eggs- one I was pretty sure was frozen as it cracked when it met the warmth of my hand. I smashed it on the ground and it looked hard boiled. I guess that's what the deep freeze does to forgotten eggs! Gave the chooks leftover spaghetti and locked them up for the night. It's only supposed to be about -4C tonight!
5:00 p.m. Humidity 42% temp 37.5. Sniffed suspiciously at all the eggs (no smells) and added water to the well as it was almost dry.
8:00 p.m. Kid wanted to candle the eggs so I gave in. The good news is, we have life in 6 of the 7 eggs!. I could see nothing in the barred rock egg, but she is new to our flock and I don't think Roo has nailed her yet. Her shell is dark and speckled so maybe in a few days we can see better. Stay Tuned. Humidity is 55%- wonder if I should wick some water out? (I did, 50% now)
Thursday Jan. 27, 2011
6:00 a.m. Humidity 47%. Heck too early to tend to the flock so I decided to weigh my eggs this morning:
2:30
Brinsea
on Facebook is wonderful. They noticed I was weighing my eggs and suggested I lower my humidity to keep my weight loss in target for 13%. Heck they are even helping this math challenged lady work it out!!!!!!!
5:15 p.m. Walked in the door and noticed the flashing light on my coffee maker- Oh no, the power had been off! Ran to check the incubator, temp was back at 37.5 and the P was displayed. Power was out for 1 hr sometime this afternoon. Shouldn't be an issue.
Brinsea has advised that I get the humidity down per my weight chart. For those of you who are math challenged, this is the formula using my figures from the Brinsea Egg-Ecutive:
The ideal (target) weight loss is 13x3/21=1.85%
13% total weight loss multiplied by the day of incubation and divided by the total number of days.
Your day 21 is day 0 for us and your day 18 is day 3 for us (3rd day into incubation).
The actual weight loss is 69.1-68/21x100=1.6%
Average weight at day 21 minus average weight at day 18 divided by 21 times 100.
Hygrometer registered at 47%- with only a 1/4" of water in one well (25% filled). I have wicked it down to 1/8" to try to get the humidity down lower. At least I know when I incubate duck eggs I'll be able to meet the higher humidity levels.
I have taken all the water out to see what that does! STAY TUNED!!
Todays Eggs:

At this time of year, I usually get 6 -8 eggs a day with weights averaging between 65 to 73 grams. Today I only got 5 eggs. The smallest was a pee wee weighing in at 54.9 g. The largest weighed 97.6 grams. That poor hen!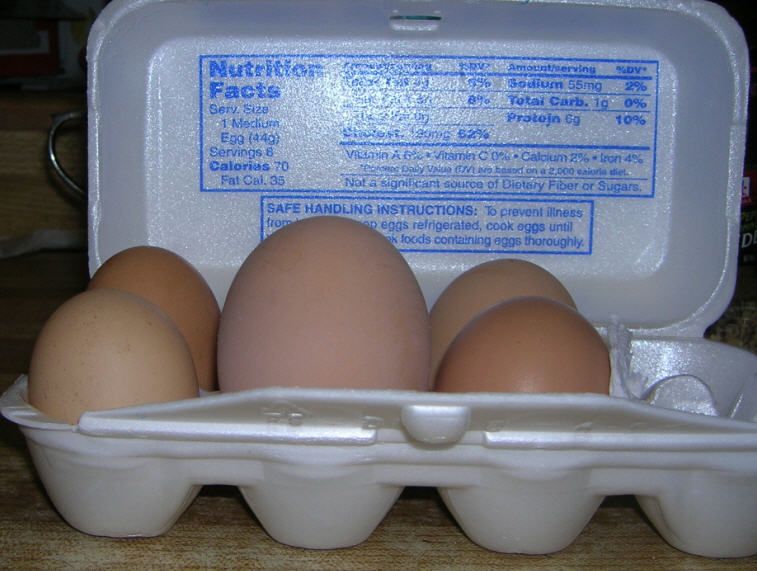 Thurs Jan 27, 2011
6:00 a.m. Humidity 42%. Ran the
Brinsea
dry for awhile last night and then just added a couple of drops of water for the night. Still a drop of water in there, so my eggs must be created their own humid environment. Temp steady at 37.5 C (I also recalibrated my hygrometer overnite - same result)
6:00 p.m. Candled all the eggs tonight. Air space looks appropriately sized and life in all seven eggs. It was pretty cool looking at the little blob with the spider like veins and watching it move! My kid will never eat eggs here again now that he knows they are fertilized. Sigh. Oh Well, you win some, you lose some.
Fri Jan 28, 2011
6:00 a.m.Still struggling with getting the humidity correct 38% this morning added some water (drops)
7:00 a.m. Humidity 45%- how can a few drops raise it so much?
Need to do the math! If I've calculated correctly, weight loss by Day 7 should be 4.3% and I'm still a little low (4.1%). I guess I won't have problems getting the humidity up for lockdown!
5:00 p.m. Humidity 42% I am running the Advance with no water in the wells and monitoring. If it drops below 40%, adding a few drops brings it right back up to 45%
8 eggs collected today- no jumbo's. My son found the blog and wants me to remove two hens to seclusion away from the Rooster as he WILL NOT eat fertilized eggs.
Sat Jan 29, 2011
6:00 a.m. Humidity too low this morning so I added a little water, and of course it went too high. I know that it is not the depth of the water that matters, but the area. So I added some marbles this morning and my humidity is at 42%. My goal is to maintain that figure all day today! I will weigh the eggs again tomorrow, and maybe candle, and see how we are doing.
9:00 a.m. I can't stand the deep litter in my coop. Winter sucks! I am one of those peeps who rake their coop out every day from Spring to Winter, and do a thorough cleaning once a week. This winter has brought both frigid temps and snow, so I decided to try the deep litter method. All the litter is gone this morning and I DE'd everything and put in fresh shredded paper and straw. The snow was too deep for me to move the used litter to the compost pile, so I ended up just dumping it outside the coop. Well the birds were thrilled with that and are merrily scratching their dirty litter from the neat pile into a mess! I still can't feel my feet an hour after being in the house, and I have to go clean out the ducks when I thaw. I'm pretty sure my Frizzle is a Roo. While the flock and Barred Rooster were outside messing with the dirty litter, he tried to climb on the barred hen's back! He's too little to accomplish the deed, but it was amusing to watch him try! Collected 3 eggs after I finished cleaning the coop- there will be more later!
11:00 a.m. Guess who was hungry and ate an omelette even though they swore off fertilized eggs!
7:00 p.m. Great day for my war with humidity! Maintained at 42% all day!!!! I think the marbles broke up the "area" and helped me keep the humidity in line. Woot! Guess I better not Woot too much until I weigh and candle them tomorrow. Only 6 eggs today and I didn't get the duck pen cleaned out. Tomorrow.....
Sun Jan 30, 2011
10:00 a.m. Humidity 41%. I will weigh the eggs later and see how we are measuring up to keep the humidity down
11:00 a.m Woot girls already laid 7 eggs. -5C beautiful sunshiny day. Took some pics of my flock which I will include here:
These are two of my black sex links: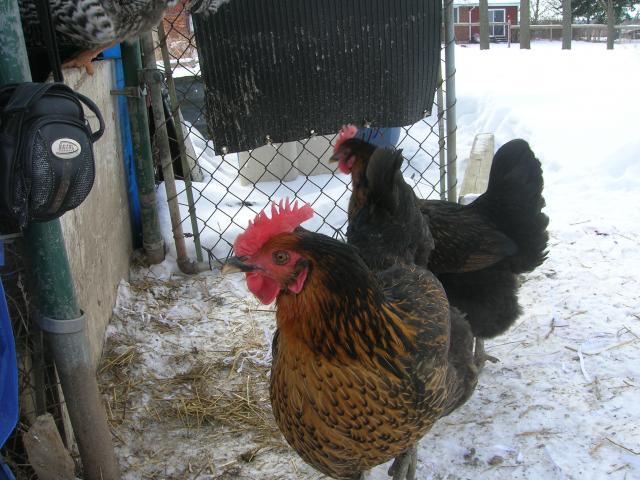 Mixed flock view:
Red & black sex links and Barred Rocks on dirty litter pile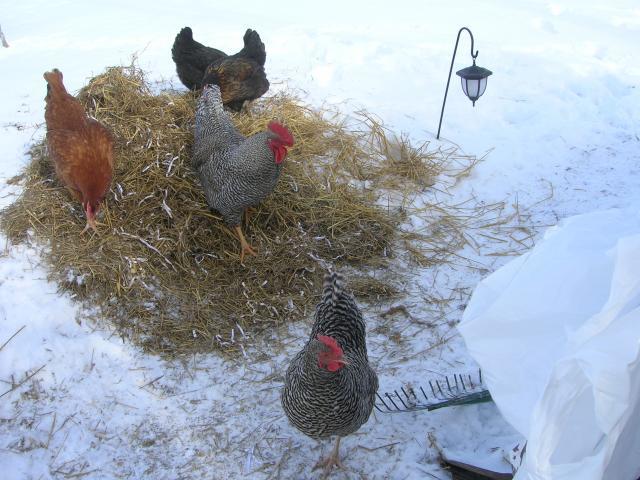 And my Frizzle​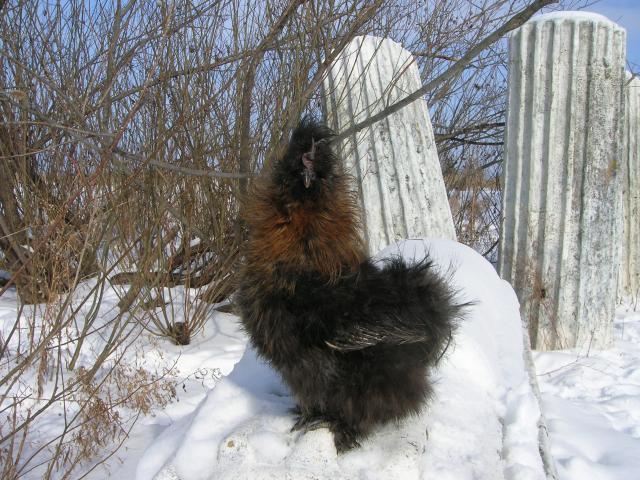 2:00 p.m Weighed my eggs! Target weight loss by Day 9 5.57% Actual weight loss............5.65% By Jove I think she got it!
Weight chart moved further down...
3:00 p.m. Posted Frizzie's pic to BYC and he is a Roo! Thank you BYC peeps! UPDATE: Frizzie's breeder had this to say about his breeding: Yes he is a 3rd gen. off a cochin frizzle. He came from a blue slikie and a partridge silkie cross. Original 2 gens were buff silkies coming from a buff or red cochin
8:00 p.m. Candled the eggs. Our eyes kept playing tricks on us and it seemed so dark in there. I will try again in the morning!
6:00 a.m. Took my time with candling. Air sacs all looked to be appropriately sized. I could see movement in eggs 1,2,3,4 & 7. I'm not sure about eggs 5 & 6, so I will recandle tonight. My temp and humidity are great! I hope my earlier trials with humidity didn't affect any development. If I had this to do all over again, I would have been relentless with the humidity the first 5 days. I'm so glad
Brinsea
noticed my weight chart and intervened

UPDATE FROM
BRINSEA
:
humidity is cumulative over the incubation period. You can adjust it as you go so long as the eggs loose the right amount of weight by hatching day you're fine. It's not like temperature which has to be very precise all the time
.
6:00 p.m. Wow we had light until 6 tonight- spring must be just around the corner. And the gurls co-operated by laying 9 eggs even though it was -9C !!!
8:00 just recandled. Movement in all but Egg 6- I will try it again tomorrow.
Wed Feb 2, 2010 Happy Ground Hog Day!!!!!!! Early spring predicted
Humidity on target! Sad to report that I'm still not seeing what I want to see in Egg # 6. I suspect it died a few days ago, but since it doesn't smell, I'm leaving it in there just in case.
Due to Blizzard conditions, I have taken today as a snow day. Cars and coop dug out. Put in fresh bedding and DE'd everything possible including the girls. Had to keep the door shut to keep all the snow from blowing in so I scattered bird seed around the fresh bedding to give them something to root around for. 8 eggs by 10:30 a.m. so they are not taking a snow day! Kid is home with me and expects to be fed- geesh!
9 more days to go before my chickies should hatch. Washed and sterilized the brooder and I have to fetch the heat lamp from the coop. I had used it for a few nights when it was -20C. My barred roo shows signs of frostbite on his comb and some of the girls do as well. I tried vaseline but maybe I was too late.
Sat Feb 5, 2011
Not much to report. Temps and humidity are bang on. Candling just shows dark blobs, veins, some movement. 4 more days to go before LOCKDOWN. Here's to a successful hatch!
Monday Feb 7, 2011
Things are pretty quiet at this stage of the game. Just dark blobs inside the eggs! Humidity & temps have all been steady. Weight loss chart: We seem to be bang on the money I just need to have a drop or two of water in one of the water wells to mainatain my humidity at 44%. Wonder what will happen when I go into lockdown and fill both the wells? I'm afraid it might shoot way too high!
Weather has been pretty decent the last few days and the flock has been laying 8 eggs a day. My mom (88) wants me to make her some egg nog so I guess I should root around for a recipe. She kept (pet) chickens as a child (taught them to walk on the clothesline) and was remembering how wonderful the eggnog was her mom used to make. She thought it was eggs & milk & nutmeg. Anyone have a great recipe?
Today is Day 17 and we go into LOCKDOWN on Wednesday. Guess I'll weigh the eggs one last time and maybe try to see if there are any beaks sticking thru the airholes. You can bet I'll be sitting around the bator a lot this weekend!
Tues Feb 8, 2011
Trouble in the henhouse! The snow and ice build up collapsed the roof on the run. Fortunately the roost supported the weight before breaking in 3 places and none of the hens were hurt although my Frizzle was totally covered in ice. Reminder to clear your roofs off if they have any low spots! I was able to prop the roof back up after clearing the ice and snow, but could not replace the roost, so I made temporary smaller ones. Then my male weim went thru a window after my neighbours bitch in season who was running free. Off to Emergency with him for lots of stitches and they are keeping him overnight as he was not moving at 7:00 p.m. Can't get the wndow guy out till tomorrow so have plastic sheeting up.
Wed Feb 9, 2011
LOCKDOWN this evening
Here we go 7 little eggs all ready for Lockdown. I used two papertowels on the bottom and two layers of shelf paper for the base. Now that the turner is out of there, I have room for the hygrometer! Lid is on, two water wells filled, humidity is currently 65% temp 37.5C. I forgot to weigh them one last time, so my lockdown column is not complete

Next posting I hope has news of 7 pips!
OH OH, while admiring the eggs before bed I noticed a hairline crack in Egg #7. Consulting BYC as to whether should pull it, leave it, grab it-waxit-return it?????
Thurs Feb 10, 2011
BYC peeps suggested I leave the egg as they have had a successful hatch with cracks, dents, etc. Going to give it a try
Humidity 67% Temp 37.5 C
Jeremy and I made a bet as to the order of hatching

before I noticed the crack)
J- 7,3,5,4,1,2,6
H- 6,5,1,2,3,7,4
So it's been a horrible week on the personal front, it sure would be nice if the eggs hatched!
7:30 p.m. Was that peeping???
8:30 p.m Egg # 3 (Columbian Rock) has pipped!!!!
10:00 p.m. We have 3 eggs pipped now 3,2,1 all Columbian rock Going to Bed not staying up to watch!
Fri Feb 11 Day 21
6:00 a.m. nothing happenned overnight
6:30 hear peeping
7:00 a.m. Egg laid in duck pen # 5 by BSL has pipped
7:40 a.m. Egg # 4 Barred Rock has just pipped- didn't hear peeping this time, but I was probably out of the room!
Two columbian eggs have now hatched. Pips in 3 other eggs. Had to go to work so I'm hoping the chick factory produces while I'm not there. Pictures will be posted later! It was really cool to watch them get out of the eggs. The humidity really started to rise after they left the shells, so it will probably be all steamy when I get home. wow, every kid and adult needs to experience this!
OH OH- I THINK THE PERSON WHO AGREED TO TAKE THE CHICKS HAS BAILED ON ME!!!!!!!! ANYONE IN THE NIAGARA REGION NEED CHICKS? Hoping to hear back from her soon......​
UPDATE!!!!!!!!
Arrived home to find 5 fuzzy butts in the bator, and Egg # 6 pipped! Egg 6 was the one that I though was a late death but I feel very encouraged now. I'm hoping it's hatched by tomorrow morning and I can move the chicks to the brooder. Not sure about Egg # 7, the one with the hairline crack. I think I'll give it another 24 hrs on it's own after I move the chicks. Jeremy is dying to do an "eggtopsy"
And here are pics of the hatchlings:
Here I come! I am Egg # 3 laid by Columbian Rock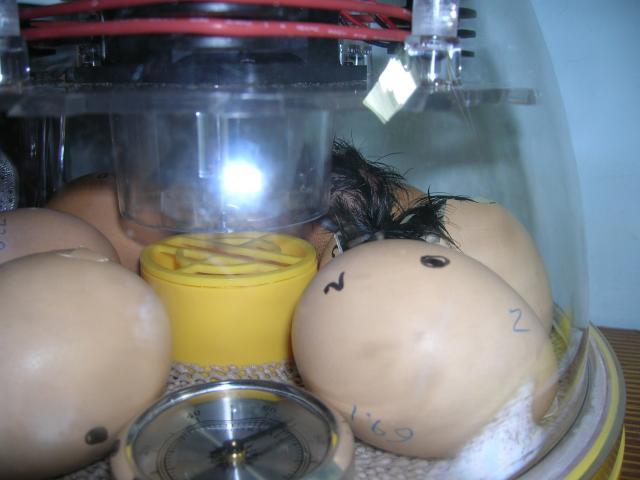 And here I am fully out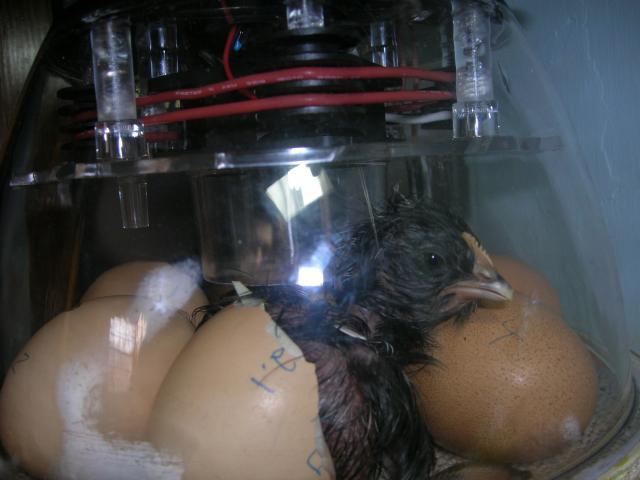 The next chick to join was Egg # 1, also laid by a Columbian Rock As you can see, it really steamed up after #2 hatched!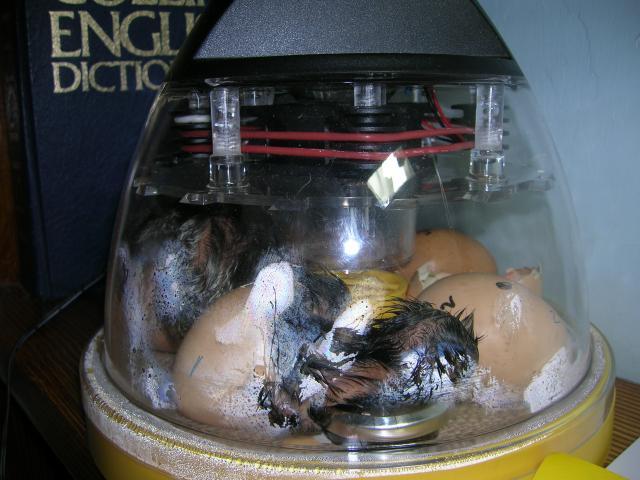 And here are the 5 chicks I found at 5 p.m. when I arrived home from work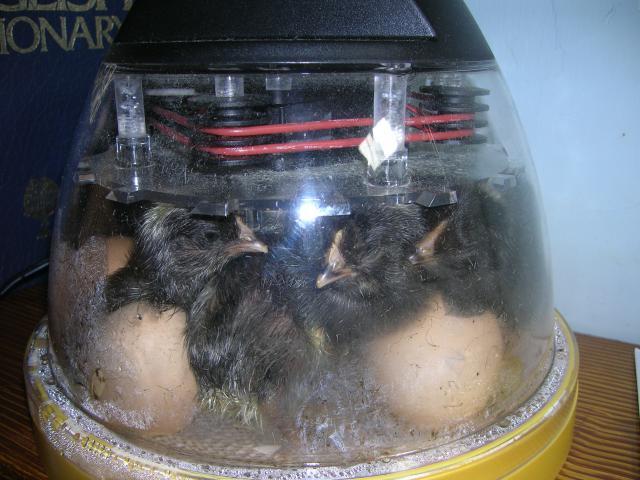 Once I get them moved to the brooder I'll provide better pics.
10:00 p.m. Decided to move the 5 chicks to the brooder. Steamed up my bathroom and did a quick grab of the 5 and as many shells as I could manage. Heard peeping from Egg # 6!
Saturday Feb 12 Day 22
6:00 a.m. chick # 6 was there and all dry so I moved to the brooder. Egg 7 may have a pip....
Here are 5 moved to the brooder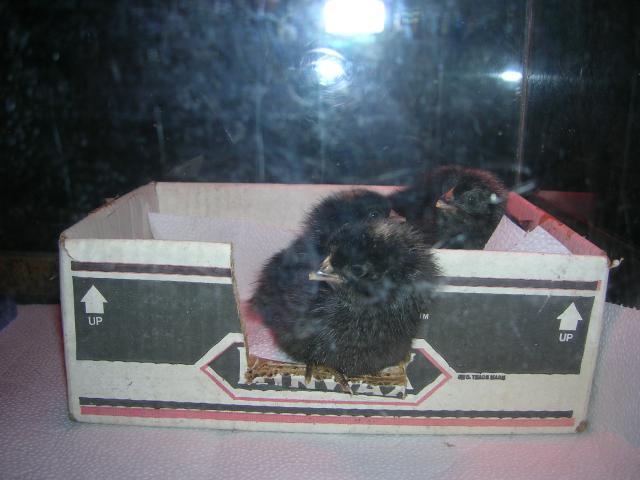 Here ae what the inside of shells look like after the chicks have hatched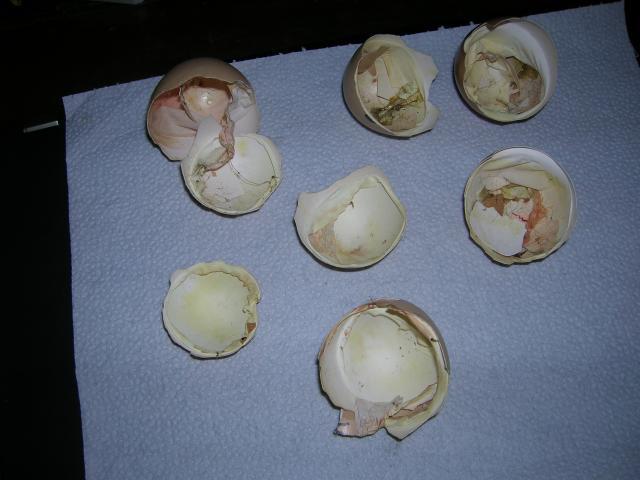 And here are two fuzzy butts
They are pecking at the chick starter and I have dipped their beaks in water, but haven't seen them take a drink on their own yet.
Group pic
One lonely egg sitting in the bator - the question is, will it hatch? Need positive thoughts to make it hatch tonight, otherwise the kid wants to do an eggtopsy. EEEEEEW!
Day 23, Feb 13, 2011
Did the float test, but first I carefully examined the egg (# 7) no pips, couldn't find that crack!!!!
Give Eggs A Full 24 Hrs Overdue Before Float Testing. It Works On All Bird Eggs- Period! Takes Very Little Equipment Or Time To Do And Is Easy To Perform.
Start With A Bowl Of Sufficient Depth To Allow The Eggs Your Testing To Float Freely Or Sink. Add 100 Degree Water To The Needed Level And Allow It To Settle( Quit Swirling And Calm Down)
Once Settled Take The Egg Or Eggs To Be Tested And Gently Lower Them Into The Water With As Little Disturbance As Possible. You May Need To Wait A Few Minutes For The Water To Settle Again After Adding Egg/ Eggs. Then Just Watch....
Eggs Are Judged By Observation With Results As Follows:
1. Sinker= Dud, Never Developed
2. High Floater (like A Fishing Bobber Without Weights) Say 45% Or More Of The Egg Above The Water Line= Dud, No Development Or Fetal Demise, Likely Rupture Of Internal Membranes Causing The Egg To Dehydrate.
3. Low Floater= Viable Egg, Development Full Term
4. Low Floater Rockin And Rollin! This Is The Live Embryo Moving Inside The Egg= Definate Viable Egg!
Once Test Results Complete Take Viable Eggs And Gently Pat Dry And Replace In Hatcher. Duds Are Best Discarded At This Time
Just a little above water (air sac amount) and it was rockin so I put it back in the bator!
The six chicks are doing well- they are eating and drinking and I should get some cute pics of them! Here's a pic of a two day old chick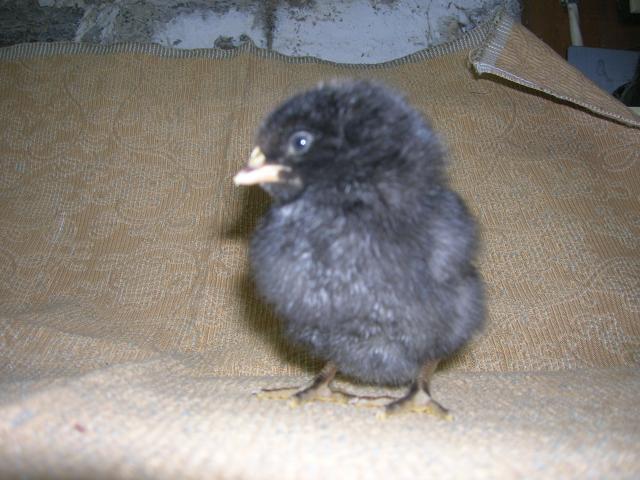 I am happy to announce that the 6 chicks have gone off to their new home this evening! I have loaned my brooder and heat lamp so they shouldn't notice the change in venue!
As to Egg # 7, we performed an eggtopsy- late death. So, 85% hatchrate on our first try........
Anyone need some chicks incubated? That was fun!