11-9
- Busy fall!!! We designed an extra winter covered run, that will let our girls have more dry, open space. We built it to withstand wind, rain and snow (increasing in Boise). We decided to use as much recycled materials as posssible, total cost was $20.00. We got free some old windows and shower doors, got the tohers cheap, used recycled wood. We decided at keep the run to the end of the fence, from the coop. Then we can pull down in the spring for the veggie garden area to be planted. Here's what we built-



Girls exploring the new digs!!!

9-15
What a busy summer! The 2 new girls have blended in really well with Rosie. Have gotten big, and still growing. Ellie still loves being handled, Buffy is shyer, but getting there. No eggs yet from them, but soon I'm sure. The 2 newbies sharing some cukes on a hot day below and Rosie on the right. Their favorite treat is crushed ice on an old pie pan in the heat...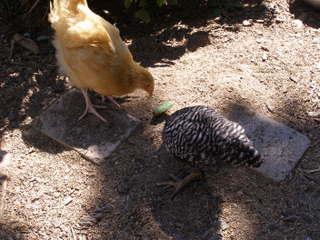 7-19-
The "babies" are getting bigger every day! Ellie has figured out she can fly, and perch on, the top of the big feeder in the coop (where Rosie can't bug her). She fell asleep on my shoulder this afternoon, poor kid was tired! I put them both in the coop for "naptime". They're using the perch more. Now they're starting to rest/nap in the doorway of the coop...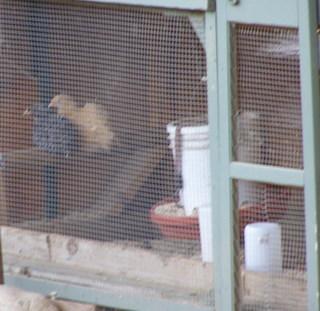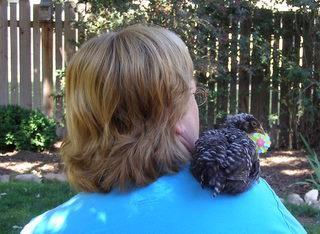 Ellie snuggles!
7-15- The 2 "babies"- Ellie (black) and Buffy (buff) have transitioned out into the coop full time. Rosie, our hen, has been a bit twitchy about it, but is finally calming down. The babies are pretty funny, and entertaining! Ellie (named for Ellie in "Contact") seems to find worms fast, then Buffy (named for the "vampire slayer", & she's a Buff Orpington) who's MUCH bigger, chases her around to take them.
Ellie:


Buffy: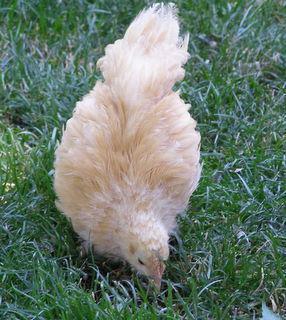 One of my favorite thrift stores finds, just gave it a coat of clear exterior spray. My new garden gate decor!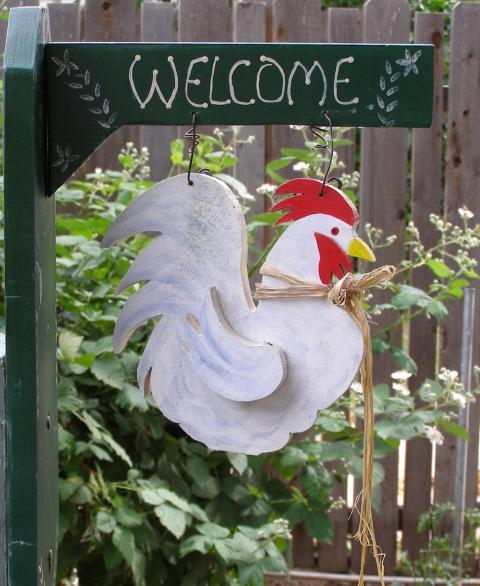 6-20-
Wow, did I score this weekend! We had gotten rid of our chicken tractor. Lost 2 hens, so we got 2 new babies. I had built my tiny chick tractor, then I found this- at a thrift store warehouse I spotted what looked like a folded up play pen. It was a "baby crawl space ", a play pen without a floor. Folds up accordian style, about 28" x 36" sections. Can make any shape you want. I did need to flip it upside down so it's flush with the ground. Works great! Nice and big, and I can put bird netting over the top if needed. The girls had a blast. It's a bit beat up, but hey, for $2.00, it works! And it folds up quick when not in use... and right now, supervised field trips only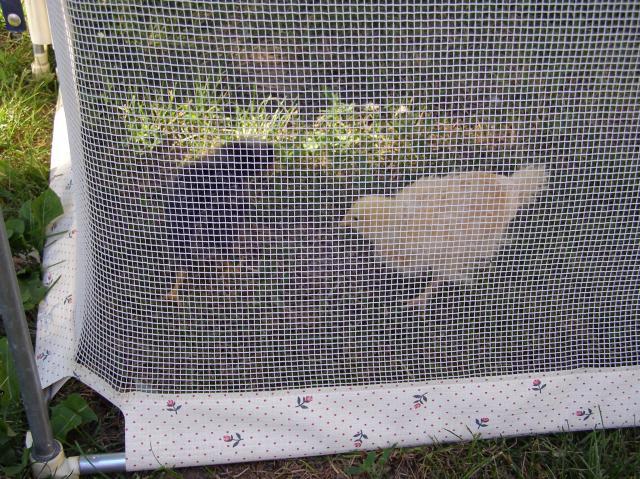 6-17-
Since I had 2 new babies, almost 3 weeks, and it's finally warming up, I kept thinking about how to build a portable, temporary chick tractor, to last a month or so. AND, this is SUPERVISED only!!! I sit in a chair right next to the 2 girls. This is merely a way to get them used to being outside and be able to see and be on the ground. This is not for protection (my job), but to contain them. Here's what I came up with- I created a frame using a cardboard box. Cut out the bottom and 2 "windows" on 2 sides. Covered the sides and top with garden bird netting (NOT aviary netting). Stapled with regular staples on the outside of the box. Went over the top, and cut in an opening large enough for me to easily reach in. All done! Here's some photos of Ellie and Buffy's first field trip, they loved it!!! Took a dust bath and pecked happily, and Rosie, the hen, checked them out too! new, enclosed garden area too, for free ranging...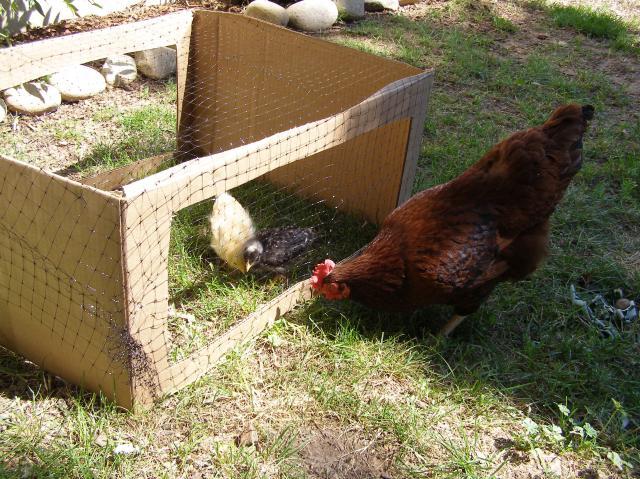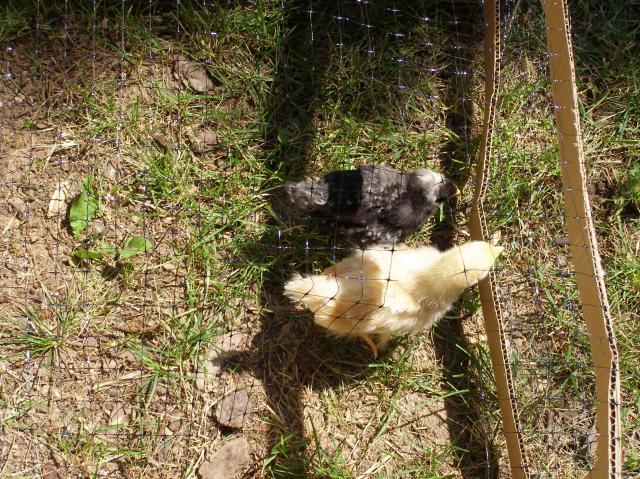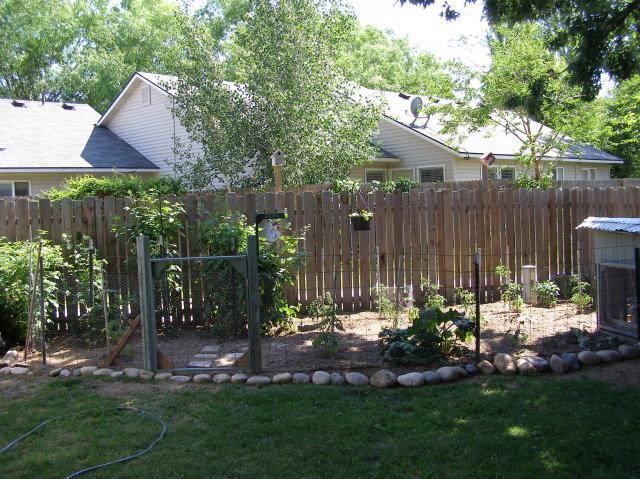 6-12-
The babies are growing, feathering out a bit, and napping more-
NAP TIME!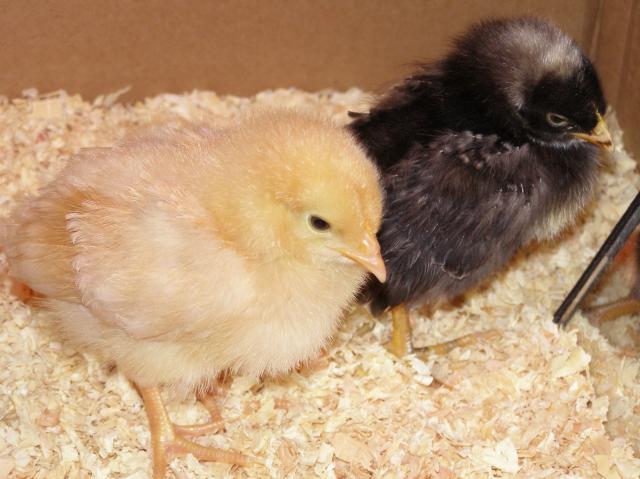 Ellie- Buffy-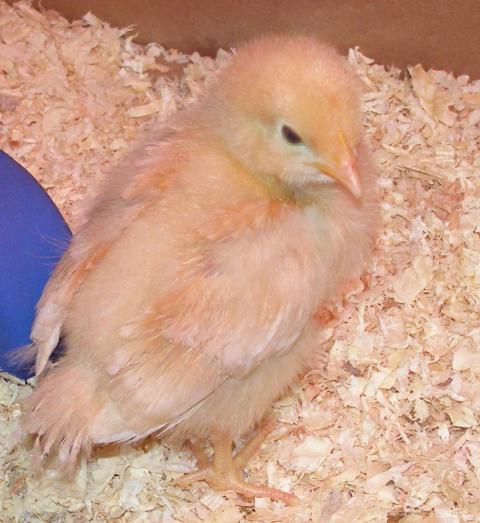 6-4-
2 new babies!!! Buffy (Buff Orpington) and Ellie, the Barred Rock (for Ellie in "Contact") I haven't had chicks for a year, I forgot how much fun they are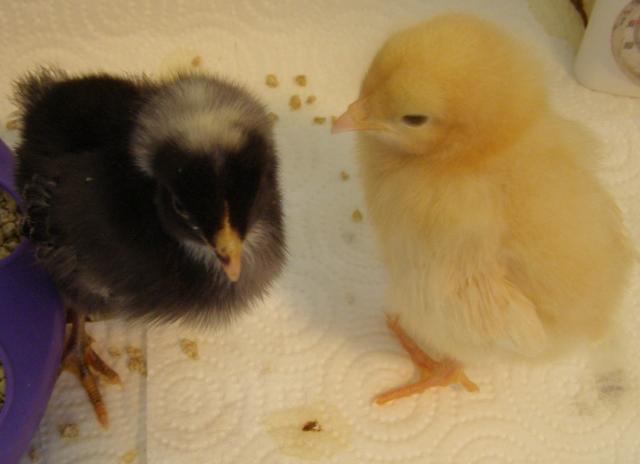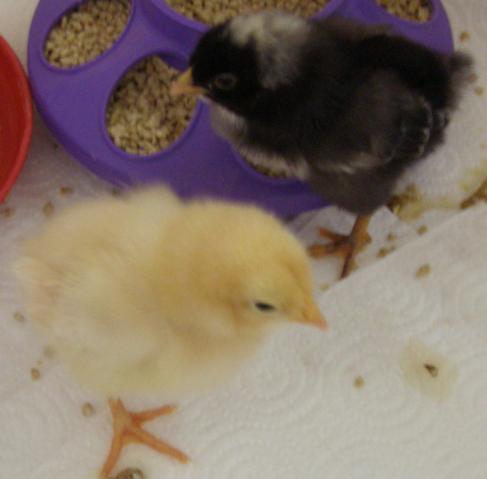 6-3-
Henny has moved onto a small farm, was attacking poor Rosie. She had a bloody comb, ew. I gave her away. Will get 2 babies from a local hatchery tomorrow, oh joy! I love the babies!

5-30-
I lost my 2nd one today, Pru. She looked asleep in the bottom of the coop, was fine yesterday. I'm heart broken... Two in 6 weeks for no apparent reason...

5-28-
Henny did really well with her bath yesterday, she smells so much better! She almost fell asleep after I blow dryed her gently. Boy, does she lay BIG eggs!!!

5-25
- We bought a 2 year old hen locally, a Barred Rock, we named "Henny" for now. She in her own area for now til she settles in. Tried introducing them for a couple of hours last night, when all 3 were in the coop, she attacked the other 2. Theywere so scared, poor babies. But they recovered. So, now she's in her own adjoining mini condo, waiting for her disposition to improve
Hopefully this won't take too long. Seems calmer today. She's molting (maybe) or been pecked at some. She's pretty dirty, most the her white feathers look brownish. This girl needs a makeover, poor thing!!! I see a bath in her future!

Henny
5-20-
PRU- Rest in peace sweetie ROSIE- enjoying the sun
Snack time on the deck, oats and a sip
4-14-
Sarah passed suddenly today, here's a picture of her (on the left) and Pru around the winter yard. She was beautiful and had become a real sweetie-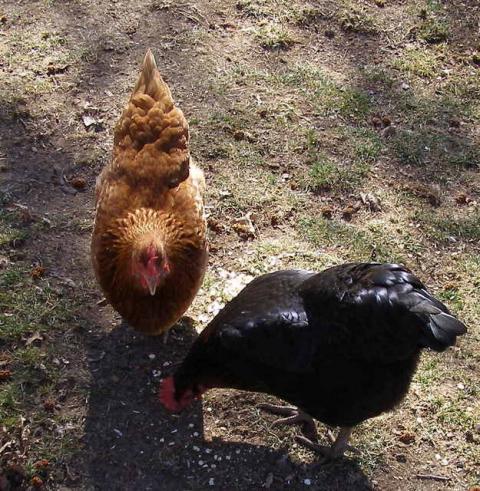 1-3
It's been cold and dry. Chickens were out and Samantha, our wonderful dog, actually shared her ham bone with the hens. I wouldn't have believed it if I hadn't seen it! Talk about patient!!!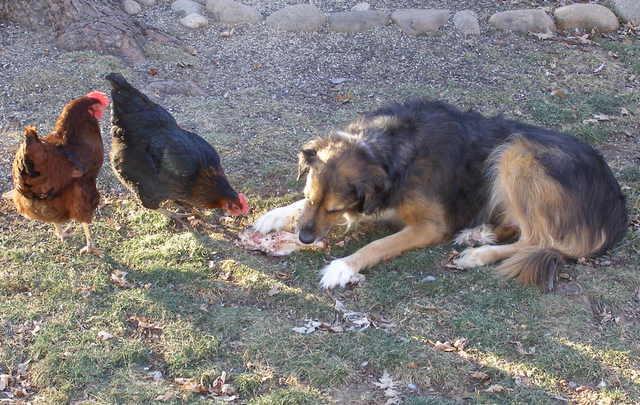 12-3-
I put down some scrap burlap for a walk way to get the girls. Snow's been really wet-2 came out to get some air and dig thru the leaves in the overhang area...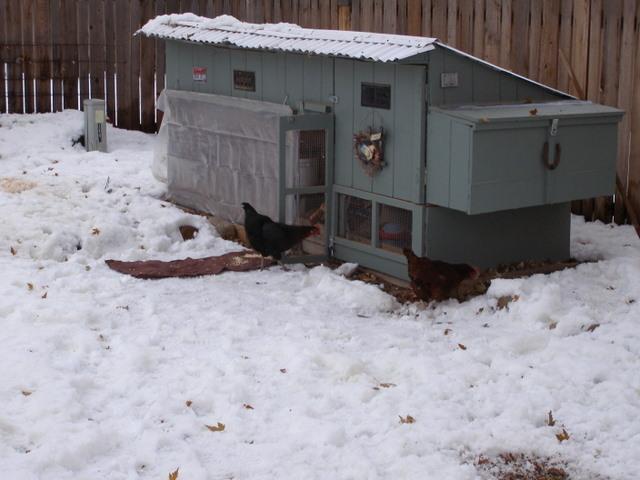 Rosie and Pru coming out. Sarah does NOT like snow!!!


Pru checking out the snow from her rock


12-1-
Snow day! Home for the day with 6" new inches, had to take some pics of the coop in the backyard-


11-27-
Well, autumn came and went, and it was too hot! 90 in Oct., ugh. Now winter hit hard and fast last week. The girls have a nice heat lamp in the upper condo area. When it hit 3 degrees, it was a toasty 34! We added a water heater base to keep the waterer from freezing. Photos below show the girls doing some short-term foraging in the back yard. They enjoyed the sun the one day. They like to hunt under the bird feeder for tasty treats! They did get extra "warming foods" when it was below 15 degrees- warm oatmeal with raisens, they loved that! Only 1 egg a day now, from Rosie, the other 2 are taking a break...

PRU below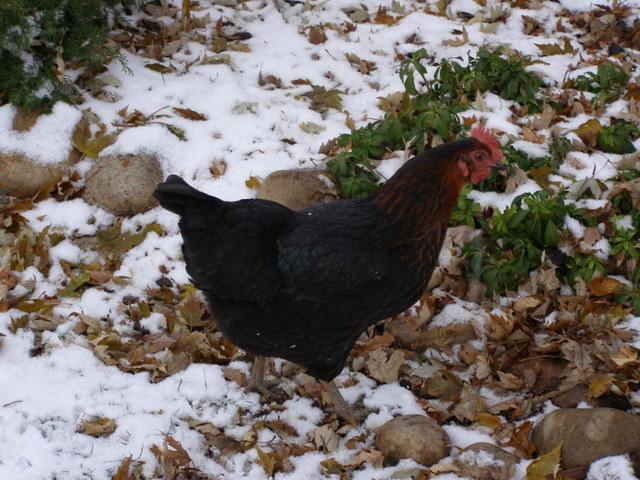 All 3 girls-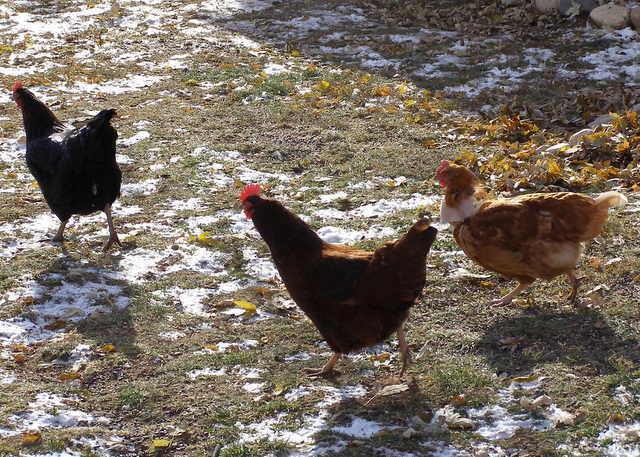 ROSIE with the sun lighting up her comb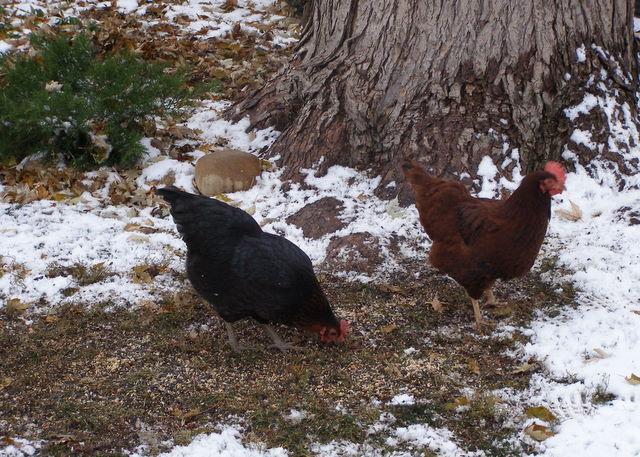 9-1-
All 3 girls are laying now! three eggs every day, just like clockwork....
8-21-
Rosie was finally ready! She was very restless, panting hard, kept hiding in the yard for an last hour or so, then went and scratched around in the nesting box. She then laid her first egg, after about 20 minutes! Drank lots of water, poor girl, it's so hot! We'll see when #3, Pru, starts...
8-15-
It's done! Decorated and the black pipe showing inside is our new gravity fed feeder for winter. Might have to adjust the angle. I added a horse shoe for our "lucky eggs"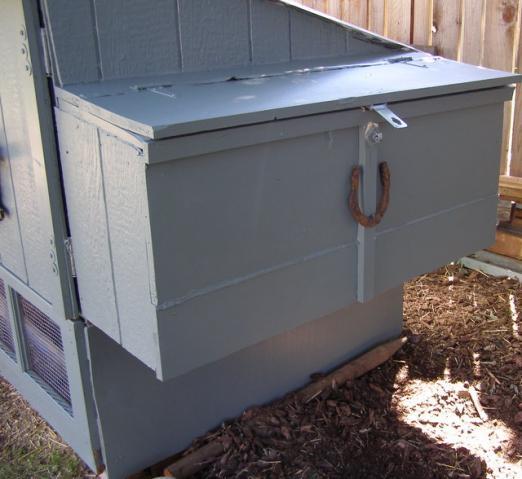 Upper area "condo, with nesting boxes-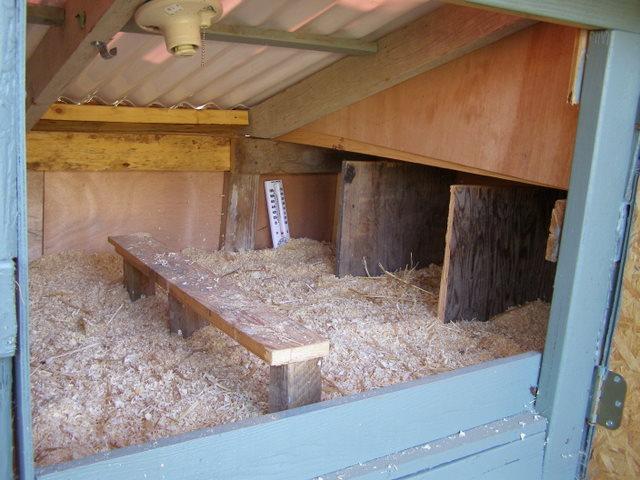 8-14-
I gave the girls some crushed ice today, in the 90's, and hot! They enjoyed it! Sarah had to put her foot it and find the perfect piece!!!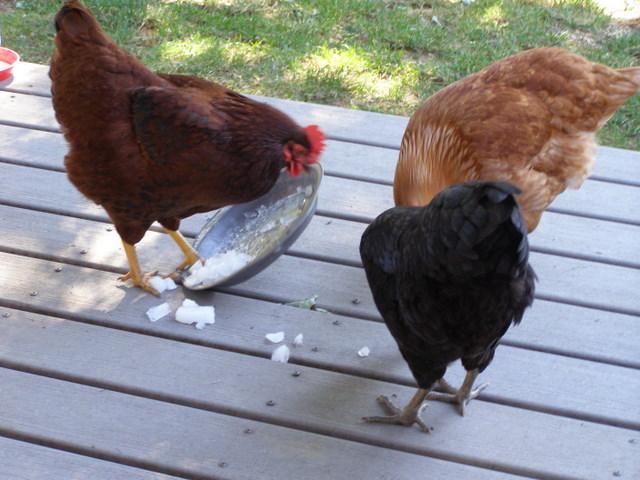 8-13
- No more rain! I finally did the painting today, tomorrow will decorate it! I love the sage, matches our house trim...
8-9-10-
Well our new "re-build" is about 95% done, just needs to have roof overhang finshed, and painted. We almost tripled the floor size, made it taller and added a seperate nest box. The girls love the new south window that they can see out of from their new perch (far left) and like the extra room! Sarah is using the nest box now. Will have finished in the next week, needs paint. Much easier to clean with removable walls and more doors, no more down on my knees! We added some electrical connections too for heated waterer amd heat lamp for winter. I siliconed the nest box and upper roost for warmth in the winter. Some of the vents can be covered with some foam insulation for the winter. I'll buy some panels to attach. Much better, we think with lots of free and recycled materials..



7-30- My one red sex link girl "Sarah" was squaking really LOUD while I was doing yard work and getting ready to leave. I had put her and the other 2 in the portable chicken tractor. So I gave them some snacks and she still kept yakking! So I decided to let them out for 15 mins. Sarah immediately went to the side of the house digging a hole to sit in, then somewhere else. Since I knew I had to go soon, I told then to "go inside" their cue to the coop. She RAN to the coop, dug a hole and was trying to make a nest. It was funny! She also pushing hard, I could see her feathers twitching. I felt so bad for her, it was hot (high 90's) and she was panting so hard, poor girl. An egg is on it's way! She was gathering little pieces of straw around her while she sat. Then, 10 minutes later, I found her sitting next to the egg!!! BUT right AFTER she laid the egg, exiting the coop, and back into the tractor she made the most LOUD, rhythmic cackling I've ever her her do. It was her "egg song", all hens do. She calmed down after that, drank some water and is ate, preened... Will be putting a nest box in the tractor fast!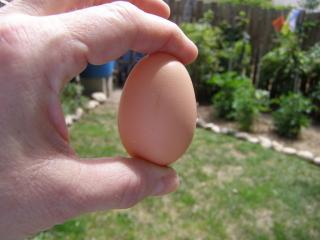 7-29 We got our first egg this morning!!! Beautiful and brown, slim. All the girls are about the same age 4/5 months, good hard shell. I'm happy!!! It was on the coop floor, not in the nesting box. Time to break out the golf balls


7-12 Girls are doing great, healthy, just waiting for eggs to start

Here they are asking to come inside!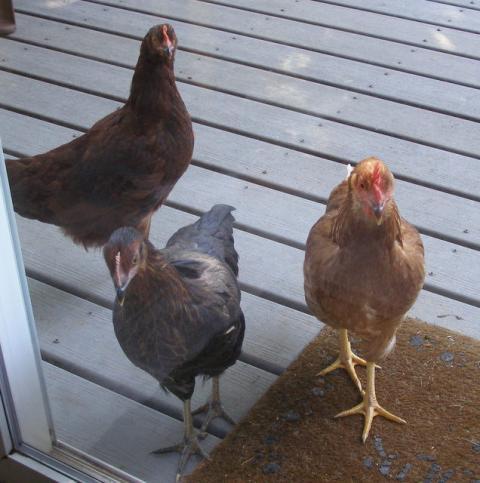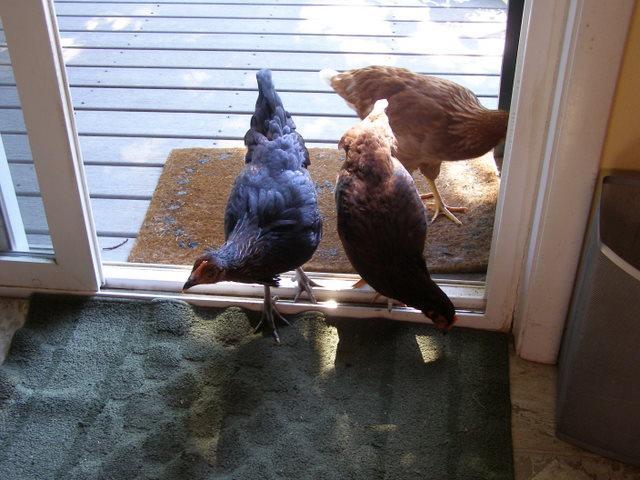 And Rosie finally posed!!! A classic Rhode Island Red!!!

6-All 3 have been starting to "free range" in the backyard really well. I only let them out supervised and they seem to love it! -

14-They will run into their tractor once in a while if they get too excited or the wind picks up. Here's yesterday-

All three- omg, bugs!!! Sarah on patrol...
In the veggie bed, working in the compost...
Pru, now if I can just get Rosie to stand still!
Pru has beautiful teal in her feathers!
5-23 The girls have done really well outside with their new digs. I keep a red 25 watt light bulb on at night, since we've had schitzy weather this month. They are still eating the chick crumble and will switch soon to the layer feed. New photos below, the finsihed coop, excpet for a few minor things, in tractor and enjoying the sun and an apple! They're about 90% full size now!
5-3 My girls did well last night on their first night out! I checked on them an hour or 2 after dark, all snuggled up over by the red 20 watt light, up this morning eating and peeping, seemed fine. Since we have record lows predicted the next few nights, I'm bringing them in at night for a while. 40 mph winds right now and supposed to be in the 30's! Pick a season already! Was 67 today, supposed to be 45 tomorrow (high)... brrrrrrrrrrrrr.....
5-1 Girls went out today during daylight, and I connected the 2 sections, to show what I can do in the winter. In the warmer weather I can use either and move the tractor around on its own.
I did realize today that the back of the coop, which faces S/SW, is where the prevailing storms come from and that the floor would get soaked in a heavy rain. Since half of the back is cedar pickets lined with hardware cloth, that's a problem. I temporarily added some clear plastic on the back. Tomorrow I'm going to build a "storm window" to cover the area, removable, out of new 1x2's with new clear plastic to keep the girls dry. I may add a wider roof if I can find more cheap plastic roofing. But I think the storm window will work great! Our feeders I bought ate up too much floor space, so I'm taking them back. Then my husband said, "why don't we make the coop bigger and bump out the back?" And this from a guy who didn't want chickens!!! Now I just need to paint the new 2x1's we added today to secure the bottom of the hardware cloth of the front. The girls had a blast exploring their new digs!

The design has worked well, nice and dry inside after huge rainfall yesterday.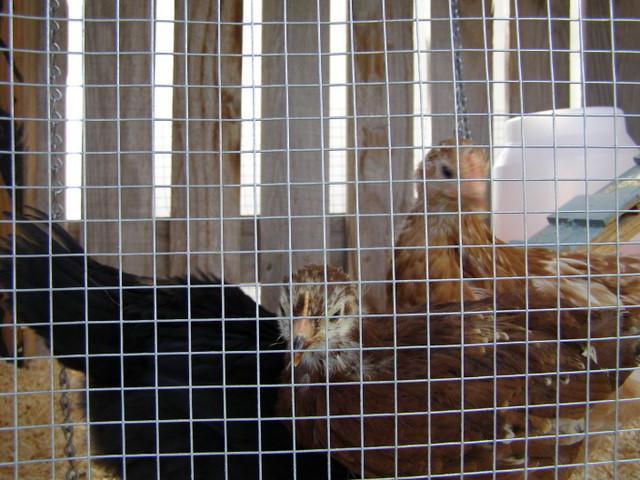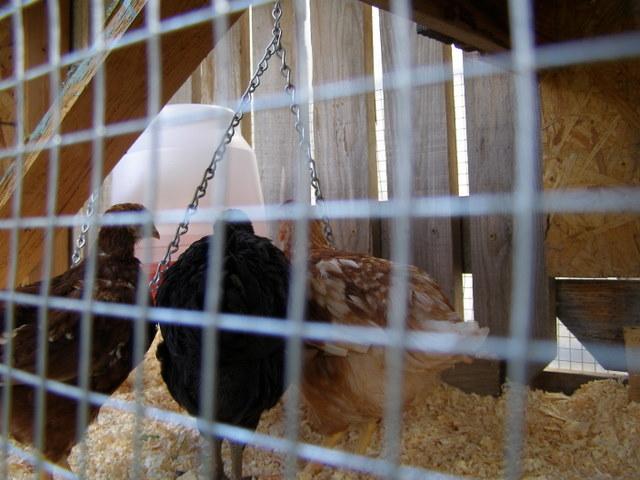 4-25 Coop is done! Both larger hardware cloth panels can be easily removed (by people) for cleaning, etc. Both roofs open for easy cleaning/access. I decided to use the hardware cloth front and back for protection. The ladder can be raised during the day for more floor space, and the metal strut on the top inside for hanging the big feed/water troughs. Perch and nesting boxes are done too. I haven't decided if I want to put a door at the top of the ladder or not. I might for the winter... and I'm not done DECORATING IT YET! I might add a micro-window box with flowers for the girls. I think it came out pretty good for a re-invented recycle bin garage!!!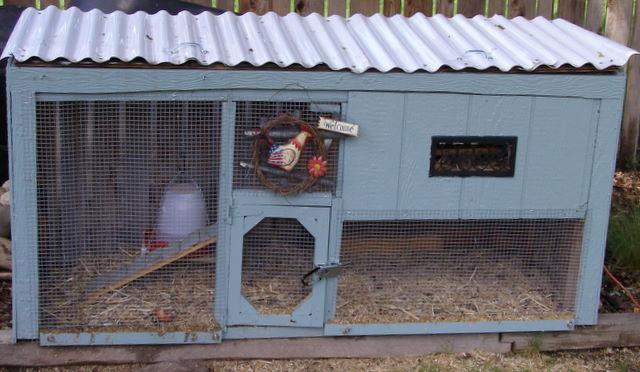 Pictures of "Pru", and I swear she posed for the camera! "look at me, I'm purty!"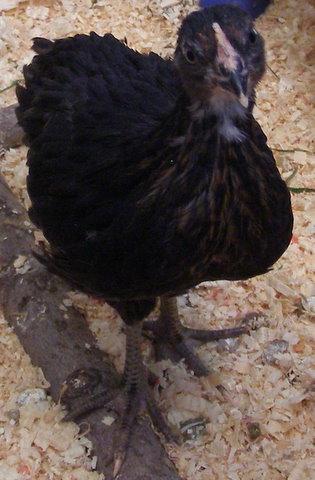 Getting Started-
We have just started building our first chicken coop/run and a separate tractor/run! Since we do organic gardening/some permaculture on our city lot in Boise, I really have wanted to do this and finally talked my husband Dave into it. My goal was to recycle and buy as little as possible. We had a "garage" for our previous recycling bins outside, but the city changed and now we can mix it all. Since it was nice and sturdy, 4x4's, nice siding, plastic roof, etc. my hubby suggested we convert it, great idea! The coop is about 80% complete: re-used some leftover cedar picket fencing for the nesting area floor and back (will line w/plastic chicken netting), scrap wood, took doors off front of garage to re-use as the walls, will add lower and side run areas. We also built a separate "tractor/run" to move around the yard (photos below!).
Our 3 new "girls"- a "Pru"- a Black Sex Link, "Sarah"- a Red Sex Link, "Rosie" (for Rosie the Riveter)- a brave, curious, little Rhode Island Red. I always wanted a R.I.R. as my Grandma Marshall (whom I never knew) raised them very successfully during the depression in Nebraska. They are busy growing in our spare bedroom. Cute! They have all fallen asleep in my hands, so sweet! They're eating, sleeping, resting well and getting more personality and individual appearance every day.
4-17/18-10
18th- Dave an build the door, door frame, ladder and roost, all done except the mesh and paint touch up. Will do this week, then done!
17th- Well, I added a fresh coat of paint today, painted the 2x2's for the front edge, added the black vent for some light and ventilation, nesting walls are in, back wall all done. We should be done soon, hopefully. Will add a front door frame, netting, ladder and house roost door. I must say I love the opening roof, my idea! Chicks are all out this afternoon enjoying the warm (70!) spring afternoon. They're really enjoying themselves!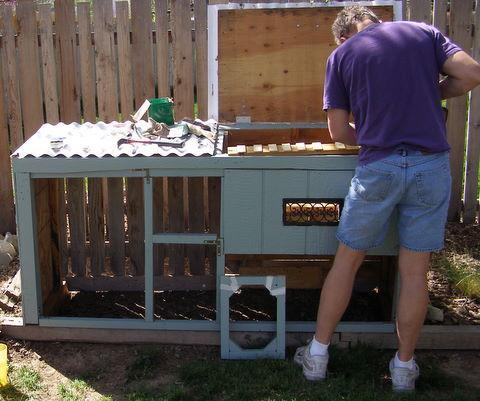 Really amazing, they seem to get bigger every day! Rounder, more feather definition. Pru flew to the top of the big, now double, box (6' long x 3' high) and sat there on the edge today. I trimmed her flight feathers a bit, safety first. Adding a mirror really livens things up! They sleep next to it, sing to it, OMG! Then they started cuddling the mirror and sleeping next to it! And they look so much bigger! Feathers growing in, etc...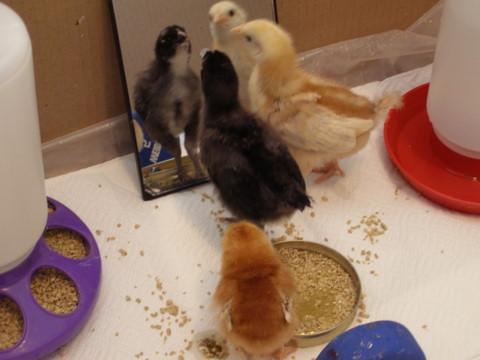 My husband Dave and I starting our portable chicken tractor/run made from eletrical pvc he got wholesale from his store. PVC glue is so much fun

Works great so far! It will be about 5' long x 2 1/2' wide x 2 1/2' high, my design size for max use of materials. Covered with mesh and a roof (in background, green plastic from SHIP, a used building materials store) will be nice for the girls...
FINISHED!!! Lightweight (about 10 lbs.), weather proof, durable, with roost and shelter from sun and rain. Area for food/water and maybe a mirror!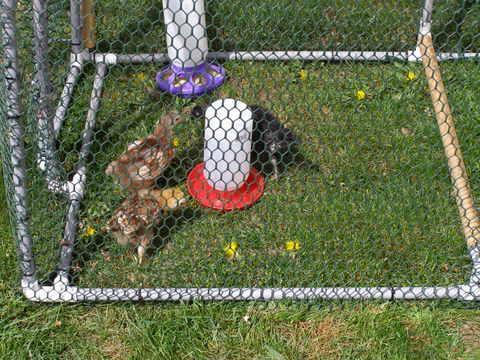 Ah, back when they were so little!
Pru (black) and Sarah (red) Rosie!

Coop started- formerly our recycling can "garage", which we didn't need anymore, now that the city takes mixed bins.