Here are some photos of my nipple watering system.
I connected the PVC pipe to Rubbermaid shelve brackets via hose clamps. I then attached the Rubbermaid track to the wall and now I can adjust the height if the system as the chickens grow. The blue valve on the right side of the PVC pipe can be used as a drain to change the water or it can be used as part of the water circulating system (see below).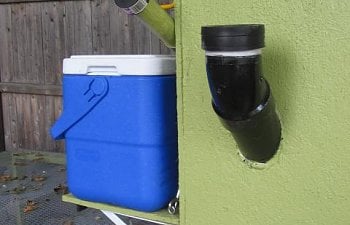 The cooler, or "water storage tank" is connected to the PVC pipe via rubber hose (threaded barbed fittings on bottom of cooler and end of PVC pipe). During the summer, I place a frozen water bottle into the cooler to keep the water cold. For the winter months (New England winters), I plan to add 2 items which should prevent the water from freezing. The first item will be heat tape to the PVC pipe. For the rest of the system (rubber hose and the storage tank), I plan to add the following device:
An In-line fountain pump powered by a thermacube will be attached to the end of the PVC system. The inlet and outlet on the fountain pump were modified with 1/2" double female threaded couplings along with a Watts quick connect male adapter to accommodate the rubber tubing that I will be using. The inlet will then be connected to the blue valve on the right side of the PVC system and the outlet will run back to the cooler. When the temperature drops, the device will power up and circulate the water to prevent it from freezing.