Welcome to my scrap coop building project!
​
This is the second coop I'm building. The first is an ark-tractor type, good for 2 chickens. Since I now have 5 chickens, I have to build, build, build!!!
The Problem:
I drew up plans for a new coop, 6'x10', half garden shed, half coop. I intended to enlist my husband to build this, but then my employer canceled my vacation, and here I am left alone for 2 weeks. I need to keep busy, so HERE WE GO!!!
I am somewhat disabled, so I can only do a small amount each day on my own.
Day 1:
I dug the holes for the footings, poured in the base rock and leveled the string around the footings so I can level the footing blocks tomorrow when I put them down (assuming I can still move).
I have very limited experience with construction, most of what I know comes from DIY shows. I don't have much money so I've been hoarding scrap wood and pallets and such for about 3 weeks. My goal is to build it with very little money out of pocket. Wish me luck!!
DAY 2
Today my sister came down and helped out for a bit. I decided to go with store bought wood for the foundation so I know it is mostly level, fresh, and sturdy. It took quite a while to get the foundation leveled. 5 bags of paver substrate, 6 cinder blocks, 4 2x6's, A little blood and sweat, but no tears!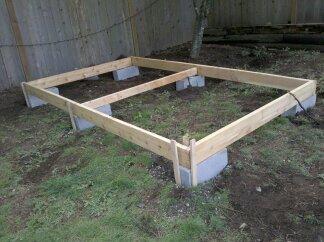 One thing I learned today, my brain is so ingrained in the metric system from work that I automatically assumed that subtracting 3 inches from 6 feet is 5'7in!!! SO, the sides are now 5'10, instead of 6 feet because I stupidly cut after measuring only
once!
I figured most of the rest of the wood I'm using is nonstandard sizes- being scrap and all, so, why not? Dumb standard measuring. Weren't we supposed to be 100% metric by now?
I'm sure I overdid it today, on the ground muscling those blocks around. I have to work on Monday, so I believe tomorrow will be a day of rest and recovery. I MIGHT install the joists, but really, that's it, I promise!
​