Our "Vase" to hold our bouquet!
For Daisy, Rose, Cosmos, Marigold, Sweetpea & Tiger Lily!
The best bunch of flowers around!

​
Well this is the final project! We still need to add the landscaping and a few more details but over all it is complete! My wonderful husband and kids did a great job. Since the chickens are originally our daughter Miriams, we let her go online and pick what she wanted. She saw a picture online and right away settled on what she wanted. Now, Here is what we came up with to make the coop the best that it could be for the girls!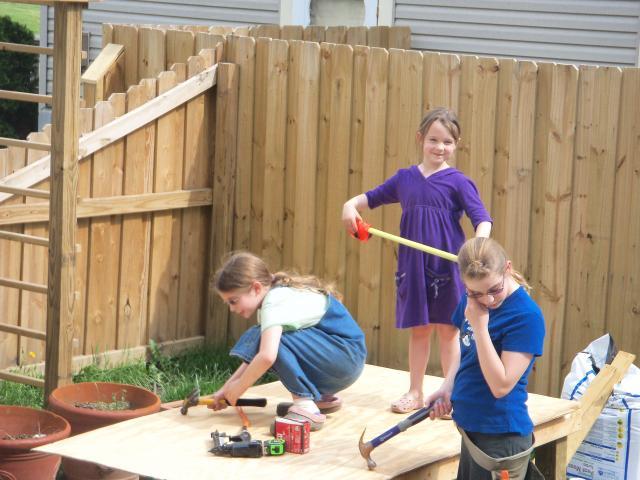 All Hands On Deck! Everyone helps in this house! My daughter Miriam learning how to work the power tools!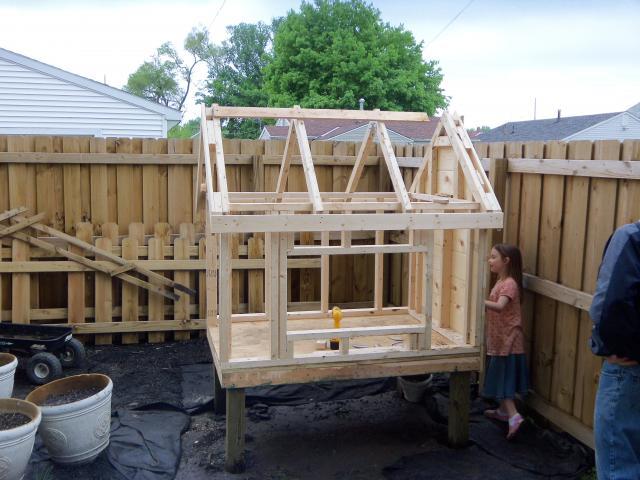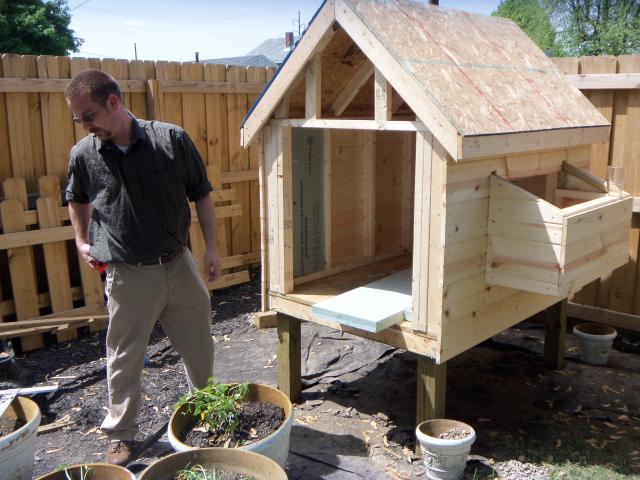 All framed and ready for inspections! Basic 2X3 construction. We have cold winters so we installed nice insulation to keep them warm.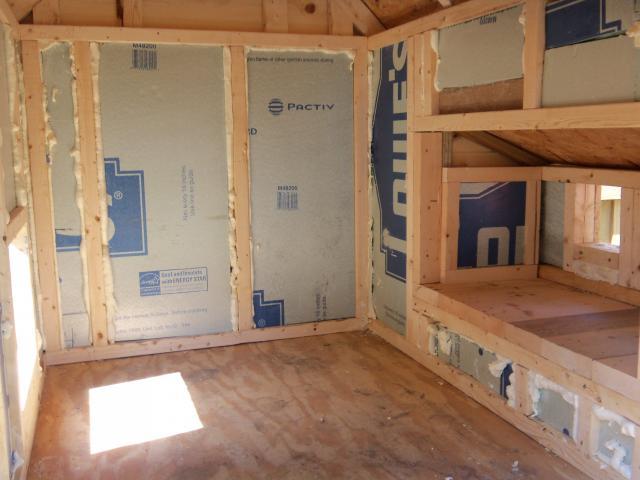 Completely insulated. Sheeted with plywood.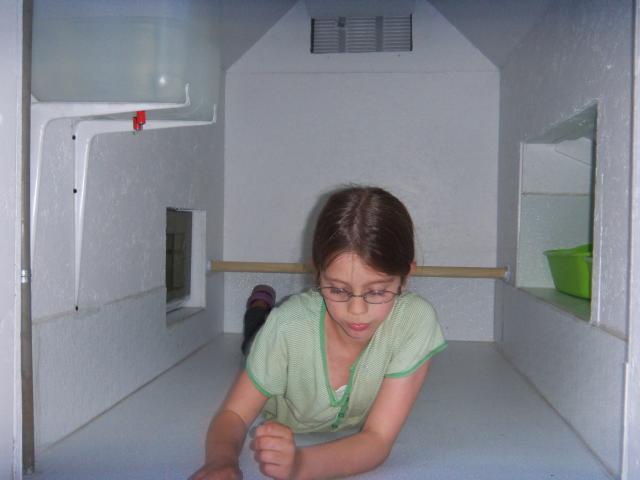 We painted the top section with 3 coats of exterior gloss paint. Then we lined the bottom and a foot up the sides with FRP! Now I can take a hose and spray the whole coop out and there is no mess left behind! LOVE IT!!!! It was really worth the extra $25 bucks to add the FRP! Then we added a poop-free waterer! I ordered the nipples from Tek Supplies online for a few bucks a peice and drilled a whole and put them in a 3 gallon BPA free water jug with cap. Now I only have to go out and water them once a week and there is no mess or smell!!!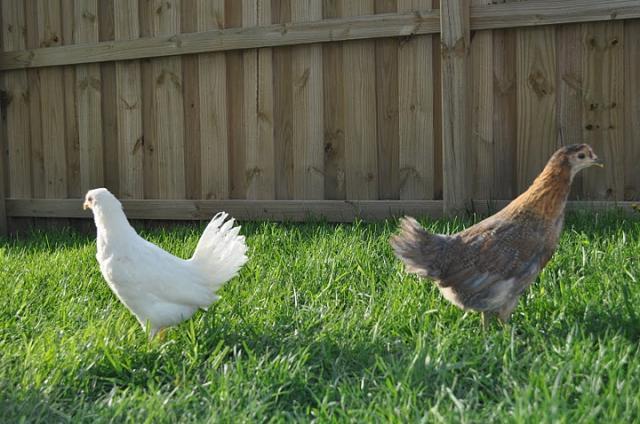 We also added a vent for air circulation, hooks for heat lamps and an electrical outlet so we can plug the lights and heated waterer in when it gets cold. We get lots of snow and the weather is bad. You want to add these now before the snow hits! There is nothing worse then having to climb in the nasty coop in the dead of winter to add things you forgot! (Ask my poor husband, We did this on the first coop we built and he was not happy!)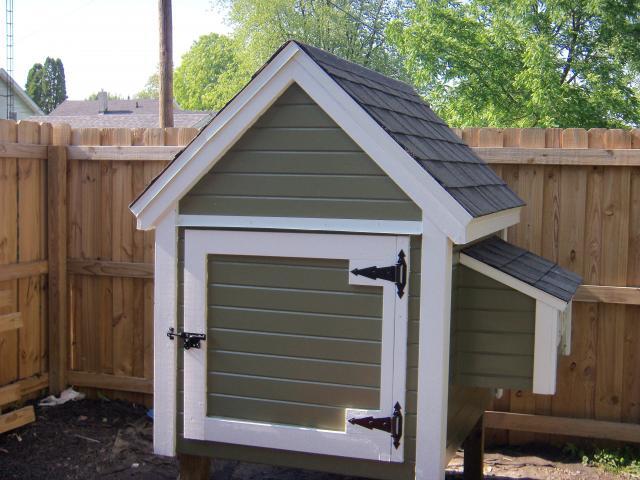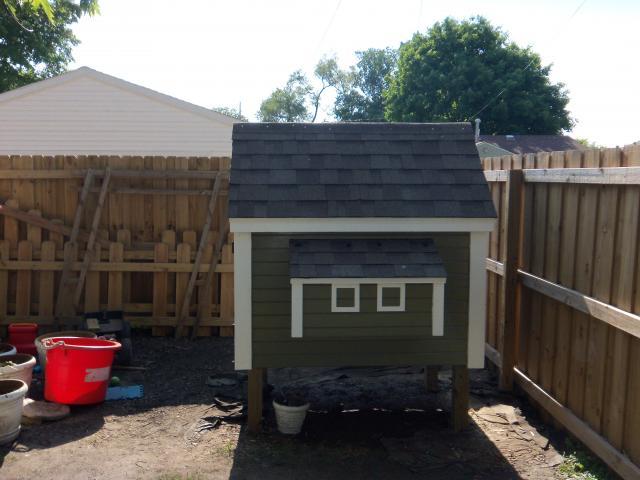 Nice wide door for easy cleaning. The floor is flat so all i do is put the wheelbarrel to the door and take a rake to it. Then a broom does the trick to finish it out and if it needs it, a water hose to spray it down! I have had other coops and this one is by far the easiest to care for! We also installed little egg doors so our daughters could collect the eggs. Just small enough for a hand. We used a cabinet hinge that was spring loaded for a nice tight close.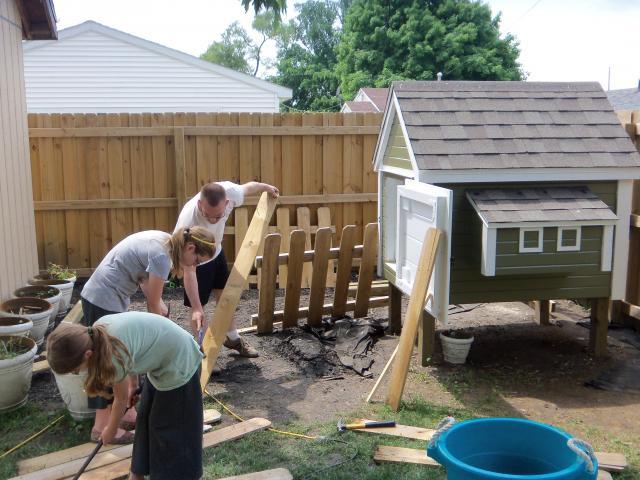 We took left over fencing from our fence install and lined the back with small mesh welded wire fencing. Attached it to the back of the coop for a nice run.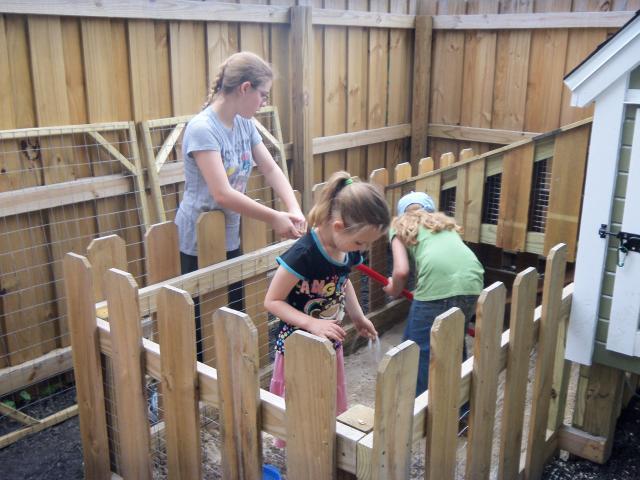 Ok... So our coop is finally complete. We added a little enclosed area off the back and then added fenced in panels over the top to keep out the dog and neighborhood pests. My husband made it so that I could remove the screens for easy cleaning of the base. We used 4 bags of play sand and 4 bags of mason sand mixed to make a nice, easy to clean out base. We lined a pitch fork with hardware clothe and it works like a big litter box! GREAT!!! I only have to clean out the coop every 2 weeks!
Over All this coop is very low upkeep! I wouldn't change a thing about the coop!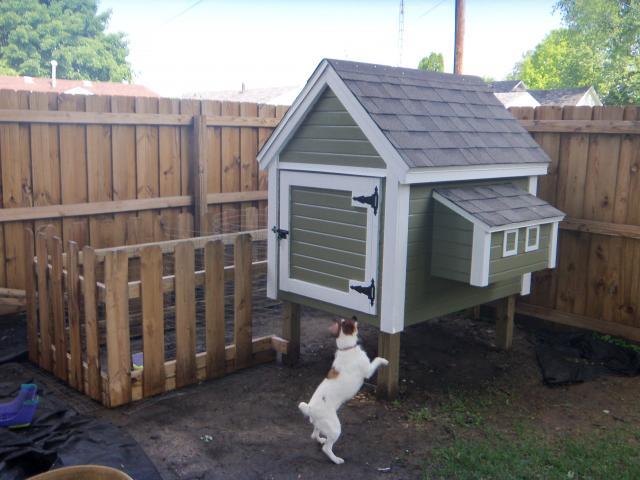 This is why it is important to have it so secure! Our dog Bell really wants to play, either that or she is jealous of the coop and wants her own!
Overall!
WE LOVE THE COOP!!! Great fit for 4-6 chickens. We put sand in the run to keep the smell down and for easy clean. This is by far the best coop design we have built and we have built a few in the past! Easy to maintain and cute to look at! Since we live in the city we wanted a coop that fit into the backyard and wasn't an eye sore! So in all it was a great choice for us!!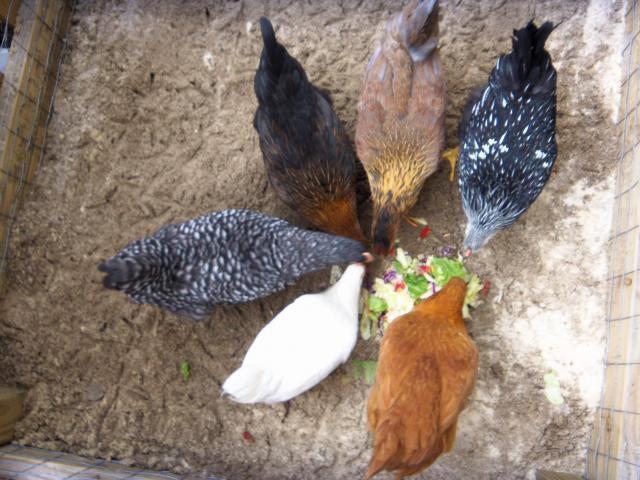 The Girls Love It To!!!!!​