Hi! We moved to central Florida 10 years ago from the Fabulous Florida Keys. We recently discovered chickens after visiting a local small farm, where hundreds of chickens free-range through their U-Pick fields and winery. We got the crazy idea to keep chickens for fresh eggs and diversion from normalcy. After researching all the great ideas on the BYC site, we came up with our version of a garden shed coop and attached run. We made the run 16' x 10', sinking the 4x4 posts 24" and trenching the entire perimeter for a wire and wood barrier against predators. The shed was ordered on-line. We chose wood over aluminum because of the heat factor. We're happy we did this because even on the hottest days the inside of the shed stays relatively cool. The biggest challenge was the roof of the run, which has had to be re-worked several times to provide additional weather-proofing. If we were to start all over again, the roof would be worked completely different. We would create a deeper pitch for rain run-off, and would add the proper ribbing at the beginning. We're into the dry season now, so the spring will tell if we've accomplished our goal of a leak-proof roof. We hope you enjoy the pictures of our humble efforts at chicken-house construction. UPDATE: We did rework the roof of the run completely. It now has tarpaper over plywood and stays very dry. One day when we have more time we'll tear it off and rebuild it to have a sloped peak, as water does pool in a couple places on top. When that day comes we'll update these pictures!
The wooden shed is assembled on its base, the predator barrier is trenched underground, and the run walls are up.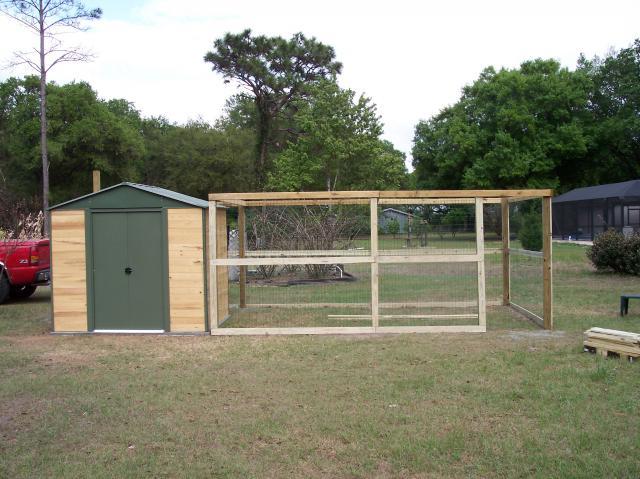 The ventilation is created, the first roof is up, their sandbox is in the corner, and some landscaping is in place.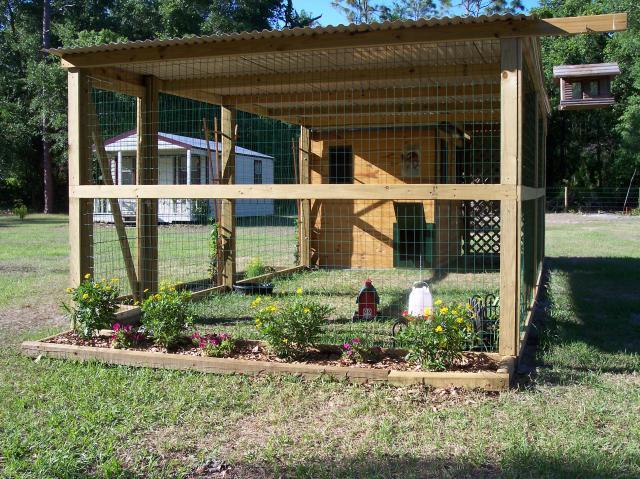 Daddy closed the gap above our heads and made us this cool roost. Pardon our fluffy butts.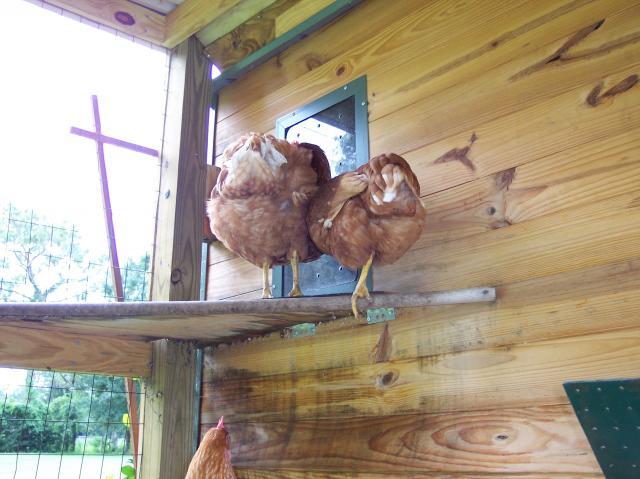 The flowers are all grown up and so are we!