Hi Everyone-
I am very new to Backyard Chickens. We have had alot of fun building the coop and getting the chickens. They are funny and the kids are having a good time with them. We are looking forward to eggs. Currently we have a Maran and 2 Silkies. I have 3 more coming next week.
Ha...now we are electrified. The second night a racoon got in a killed one of the original 2 (that is why we have 2 Silkies). The coop is sealed and now has an electic fence.
6/9/10: Added 3 more, a leghorn, a red star, and a golden laced wydonette. The Maran is named Pooter and the 2 Silkies are Peaches and Pear. We still have to pick out names for the new 3. New drama is getting all 6 to be together and play nicely.
They are not getting along. The Leghorn is a bully and mean to my Pooter...I think she may need to go.....

7/9/10: Well, a BIG chang in the coop. All 6 are getting along, we do have 2 distinct flocks, but all are friendly. We have the Maran - Pooter, 2 Silkies, Peaches and Pear, the Leghorn - Scratch, the Red Star - Donna, and a Golden Laced Wydonette - Samantha. I am excited that we just started to have eggs, so far Donna is laying - the others need to get going.....
First Eggs Donna, Scratch, Samantha Pear and Peach Pooter The grey we lost on day 2 of owning
chickens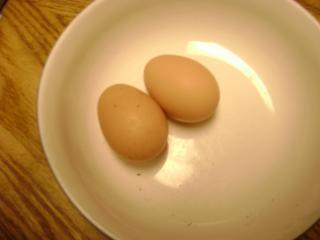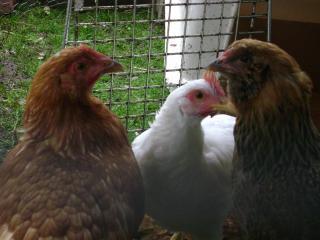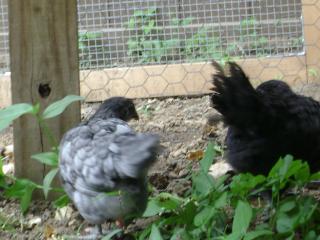 8/16/10
Well, surprise...Pear is a rooster.
8/17/2010
Peaches is sick...so am I.
8/26/10
Peaches has Wry Neck. We have been treating and she is slowly getting better...
4/21/2011
After all winter in the house, Peaches is an outdoor chicken, laying eggs, with her neck better.
The ohter six weathered the winter fine and are enjoying the spring.