Coutures Clucks
Home of Mickey and Mouse ​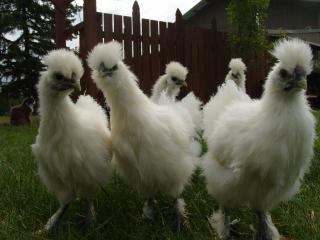 Mouse (or Mo for his Mohawk)on the left and Mickey on the right and at 6 hours old
Tyler 4 years Allison 13 years​
Welcome to the house of Couture (My daughters last name is Couture) We have 3+ Acres right on the city limits. I was raised around horses, chickens, ducks, pigs, cows etc. I showed horses since I could sit up starting out on a pony in a lead line class all the way to the Quarter horse circuit a couple of times. I continued to show Quarter Horses after moving out of the house and my daughter has a Paint her Aunt let her use that she shows locally. We have two great cats and the kids have been driving me crazy to get a dog. My husand sugested chickens and a compromise was met. We hit the 4 feed stores in the neighboring towns picking out 7 chickens. 1 white leg horn-Gwen, 1 RIR- Brittany, two brown chicks with the long feathers on their legs-Hanzel and Gretel, 2 black ones-Oprah and Gail and a brown one the size of the leghorn- Julia. While researching BYC I came across Silkies and purchsed some eggs on ebay. Hence Mouse and Mickey (named by my four year old) I dont' know what the other chickens are exactly but I am in love with my little puff ball Silkies! We ordered 4 more Silkies -Donald, Minnie and Goofy, to replace the 4 eggs that didn't make it, so we have a total of 12 chickens as one had to go(Pluto) to silkie heaven because of a scissor beak! Sooo much fun to watch! Way better than a dog!
]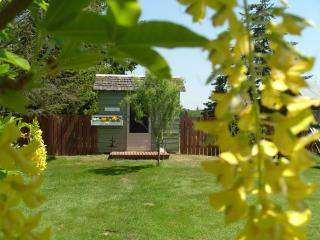 This used to be the playhouse. We put storm plastic over the screen door when the babies arrived.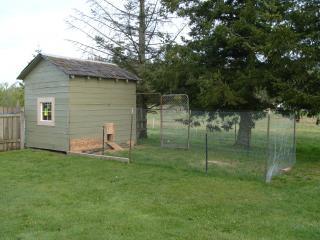 We started with a small run off the back but now they go out and wander around the field. See the leghorn?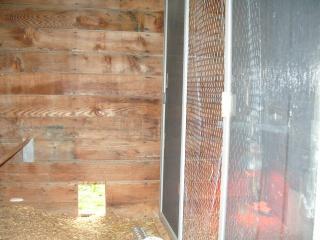 The start of our nesting boxes. They still need a roof but right now they like sleeping in them all crammed into one box. My Silkie babies are on the other side behind two sliding screens we got for free and chicken wire in the middle.
Gwen, Oprah and Gail. This is Julia she is the friendliest and the first to talk.
​