My wife and I visited the Delano Community Farm Market, in Polk County, TN, back in July to buy some fresh produce. It just so happened that weekend was their monthly animal sale. They had a calf, some goats, chickens, ducks, turkeys, quail and rabbits. My wife fell in love with a goat kid that seemed very friendly. She wanted to bring it home, but we have no room to keep a goat. Unless I put it in the dog lot, which I'm sure Cheyenne and Sienna wouldn't like at all. Nevertheless, the idea of keeping animals at home took root in our minds.
They also had a chicken coop for sale that we really liked. Now I know that it was a Lancaster/Quaker style coop for about 12-15 chickens, but then all we knew was that we liked it and thought it was a very clever design – being able to access the nest boxes from outside the coop. We didn't buy it, but we continued to think about it over the next couple of weeks.
​
Just out of curiosity, we bought The Backyard Homestead Guide to Raising Farm Animals at Tractor Supply Co.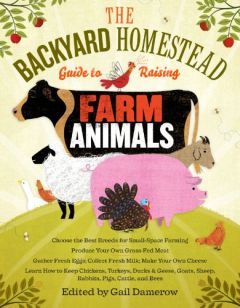 The chapter on raising chickens at home was interesting and made it seem relatively easy to do. The next week we went to the Fentress County Fair in Jamestown, TN. It was at the Poultry House that we thought, "Man, this is really cool. We should try to do this." On the way back home from the fair we stopped at an antique store and my wife bought an egg basket. Our goal had been determined.
We both hit the internet over the next few days; my wife researched chicken breeds, egg laying and the like, while I tried to figure out how we could house a flock of about 12. We went back to the Delano Community Farm Market, but unfortunately someone else had bought the coop. I thought I could build a reasonable facsimile for about $400 -$500, which was somewhat less than the Amish coop, and a fraction of the cost of buying online. It was then that I found Backyard Chickens and started checking out all the coop designs. Wow! I was blown away at how many people were keeping chickens, and who were willing to share information with others. With all these resources I thought, "We can do this!"
My wife began to be very excited at the thought of raising chickens and having fresh eggs at home. But she soon hit a snag. Our original plan had been to build a 5' x 6' coop and keep about 12 hens. I'll bet y'all know where this story is headed! Unwilling to wait until I had a weekend off to visit some nearby poultry breeders, DW wanted to order some online. She found some pullets from Murray McMurray Hatchery, but the shipping cost was going to be very high. But, she soon learned, shipping on newly hatched chicks was very reasonable. In no time at all she found that you have to buy a minimum of 25 chicks for safe shipping.

25???!!!

There was no way we would be able to keep 25 chickens in a 5' x 6' coop.
So I started thinking about building a larger coop. 6' x 8' would be doable, but would not provide the minimum square footage required. 8' x 8' would be better and not cost much more than the 6' x 8'. Then I read about how chickens that are overcrowded will sometimes become cannibalistic. Ugh, what a thought! Onwards and upwards it is. I finally settled on an 8' x 10' coop, but I became concerned that making a foundation hefty enough to lift it up off the ground would be tough.
I ended up buying the ebook "Building a Chicken Coop" by Bill Keene. It comes with several plans for coops, and his Chicken Barn coop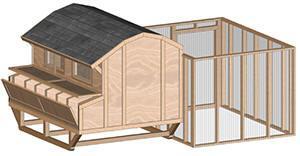 seemed to meet our criteria: it was on a hefty 4"x4" sled that put the floor about 1 ½ feet above the ground, it could be moved to another location in the future, and, most importantly, it was styled like the one Momma wanted! After looking over the plans, I could see that I would need to make some adaptations; I don't have a table saw or a router, so the Barn part would be problematic. Back to BYC's coop designs!
After a lot more research I settled on making a gable-style coop on top of the Chicken Barn's sled. I would also gain some more square footage by moving the nest boxes off the floor and hanging them off the wall under the windows. I also figure on adding some more coop features I've seen on other BYC members coops, such as: linoleum on the floor, a drop-down ventilation window on the back wall, and an automatic, self-locking chicken door (check out this thread: Self-locking, automatic chicken coop door. It's awesome!). I need to buy most of the lumber for the coop. I have used up my supply of wood in other projects this past year, including a squirrel rehab cage (which will be repurposed as a brooder when the chicks outgrow their RubberMaid tub), a squirrel nest box (yes, we raised two squirrels abandoned by their mother this spring – even though it's illegal in the state of Tennessee), 8 wooden crates, and a box for my Hitch Hauler.
In the meantime, our chicks arrived! We were supposed to get 25 Red Star chicks, and one free rare exotic chick, but we got 27 chicks all told and they all looked alike to us. Unfortunately, one was DOA and another died in my hands about an hour later. I was trying to give it water and Sav-A-Chick electrolyte with a needleless syringe. The rest seemed okay, but another died later that afternoon just before DW got home. I didn't know what was going on. We followed all the instructions, but they were dying anyway. Two more died that night, and three more the next day. Every time the little things started to go to sleep we snatched them up to see If another one was dying. But the rest seemed to just get stronger. We're down to 19, but they're doing well.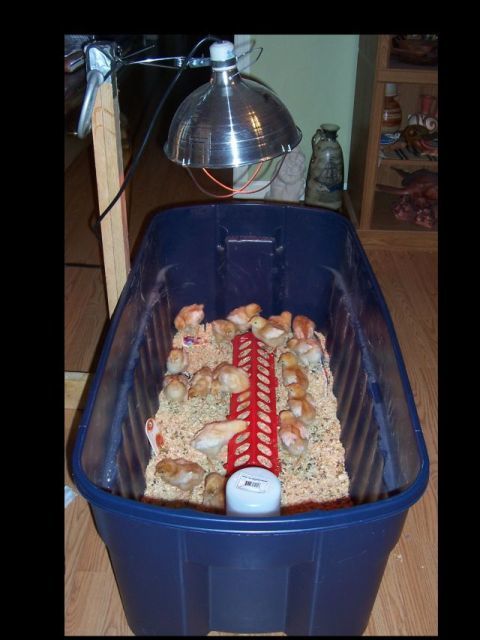 Now the next step is to build the coop. The clock is ticking! Check back for updates soon…