I'm in the process of building a run for my 3 week old chicks. I'll be posting as I go along and end with my finished product. When it comes to carpentry I'm all thumbs. I also had no help and did the whole thing myself. This project is a little more then I expected. But for a craftsman or a all around builder this would be a walk in the park.

If you have any questions you may contact my PM my user name is rstampa.

The run is made of 2"X4" frame. Plywood and asphalt shingled roof. It measures 8'x8'x6'hight. With a 4" slop roof running toward the left side of the run..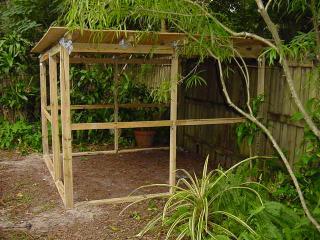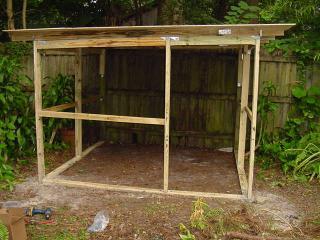 Here are some shots of the frame I built and plywood roof. It took 2 afternoons to build. Support post were doug 2' into the ground. I used the fence as my back and back post. Also I used all huricane proof hardward for my frame and roof.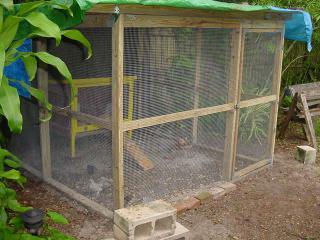 After a long afternoon and a long rain I finally put up the 1/2"X1/2" hardware wire. Not so much as to keep the chickens in but to keep the nasty predators out. The completion of the roof is next. Stay tuned.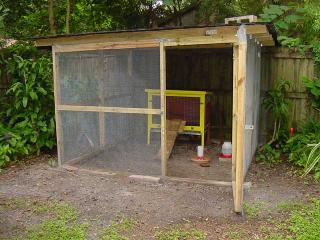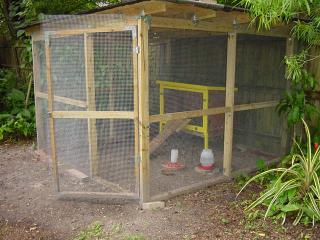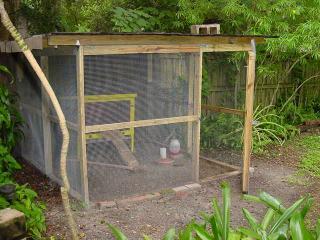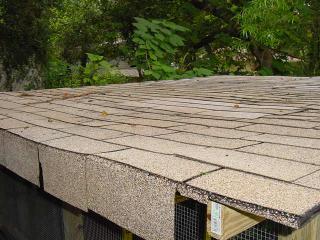 Finally finished. The block on the roof was up there because the plywood and a slit bow in it. The block has now corrected it.
Thanks for visiting.
Tampa Florida USA Update: Nov. 18, 2009 my girls have grown out of their little coop so I had to make a larger one. Here are a few pics.