Welcome to Fur and Feathers Urban Roost
I breed and show german shepherds, and have always had a love for all animals. When I used to bring stray cats home, my Dad started calling me Ellie May... I sheep herd with my shepherds, and my instructor has lots of chickens. It was suggested at school that I ask her if she had an incubator. So the hatching started right after spring break, and on Sunday, May 8th, 2011, Mother's Day, I was the proud "mother" of 13 barred rock, cochin bantam and mixed breed chicks. They stayed in school for 4 weeks, and I brought them home, having no idea what I would do with them. I decided to keep them.
Well, I've always tended towards self sustainability, and it just seems right. Later I decided that I wanted to raise one type of bird, Barred Rocks, and I kept a pair of bantam Cochins, one frizzle and one smooth, for pets. I've also acquired a breeding pair of New Zealand rabbits, and and waiting for a show pair of Satins. The eggs, chickens and rabbits are primarily to feed my dogs, who are on the raw diet.
The coop building was the best part. I build doll houses, so it was kind of like a large dollhouse. The first one was 3x4, and sat on top of an eight foot run. When I decided to keep the large fowl and sell the bantams, I relaised I need a bigger coup. The new coop is 4x6x6, and pretty much looks like a bigger version of the old coop, because I reclaimed many of the pieces. It started as two pallet bases, and I framed it like the sheds at home depot. The bottom 4 feet is double walled, so I can fill it with insulation. The top has windows all around, one side with shutters. I will probably get more shutters before wintertime, or plast th windows from the outside until i decide what to do. The aluminum siding was left over from my own house, the windows free on craigslist. The floor is a 4x8 sheet of plywood cut up, painted, cheap and easily replaced. I use a mix of sand, Red Earth and Sweet PDZ on the floor.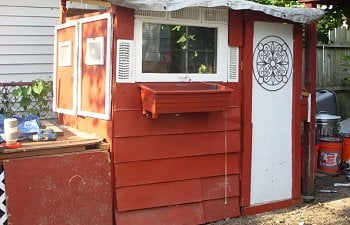 ​
Here's my mini flock--