Coop Condo ​
These are just a few pictures of my "Coop Condo." My son actually got me interested in the "chicken business" in April of 2008, when he bought 10 three day old chicks at the local feed mill. He originally bought five RIR and five Bard Rocks.
We have bought and sold here and there and we now have four Barred Rocks, two Buff Orpington's, three RIR, and two Silver Laced Wyandotte's.
The chicken coop started out pretty simple with basically a 4 by 8 plywood box that we put on 4 by 4 legs. Then, we decided to add the lower floor and put a hinged ramp that we can raise and lower to give them more room.
Later, we added an 8 by 10 run on the back. One thing led to another and before you know it…we had the paint flying and then the name came up. We tossed several names around before deciding on "Coop Condo." My wife found the letters and then I added the outside lights on the front and back.
We have three switches on the side that run the outside lights, a light on the inside (where we put the heat lamp), and a switch that turns the electric fence off and on.
This has been a "work in progress" for sure, but I have enjoyed the peeps more than I ever imagined! We have plans laid out for a larger coop in the near future. In the new pen, we will be able to separate our birds by breeds. We also want to add one or two more breeds to what we currently have...
I hope you enjoy the pictures...
​
This is the front of the coop...
​
I realized that I am going to have to "up" the price of these egss if I am ever going to recover some of the money that I have spent on this coop...

​
This is the "logo" that my wife found and we painted it white to match the other decor...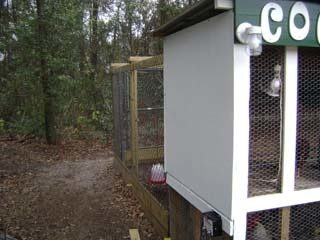 ​
Left side of the coop
​
Right side of the coop
​
Betty
​
Veronica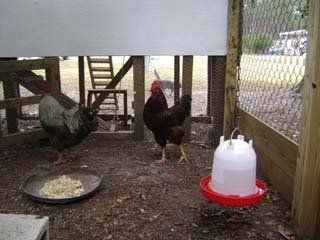 ​
One of the Barred's and the RIR Rooster
​
Two Silver Laced Wyndottes
​
Barred's and RIR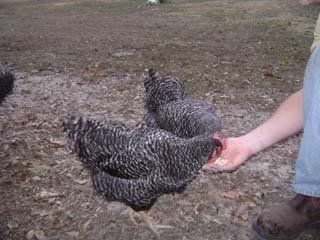 ​
My two Barred Hens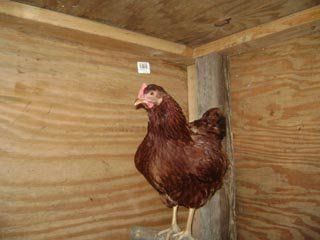 ​
This is "My Girl". She follows me around the yard like a puppy and if I stand too long, she flies up on my shoulder and will just sit there! When you hold her, she closes her eyes and nearly goes fast asleep... She is spoiled rotten and has the whole family wrapped neatly around her little finger... ummmm... toe (?) Well...you get the point!