San Diego Chick's Page of Chicken Love
​
I have chickens?? What? I'm a chicken farmer (and I use this term loosely)! Who knew? I brought 3 Buff Orpington chicks home one day and our home hasn't been the same since. Our laundry room has become a large brooder and our conversation has turned to coop plans, coop building materials, feed, predator-proof coops, runs, eggs, etc. Our whole family is hooked! We are learning so much about our feathered friends as a family. And our black lab, Bodhi, well, he is learning to keep his nose out of the brooder.
We live in WA state, outside of Seattle. Our chicken farming family consists of two sweet daughters (Lila, 3yrs and Lucia, 6 mos.), a very loving and resourceful hubby, a wild yet cuddly black lab and now 3 BO chicks (Camilla, Bawk & San Diego). My hubby is in the process of building a "bomber" coop in our backyard and has requested that I not bring home any more animals. God love him... if I had it my way, we'd have goats, a cow and a horse and maybe some bunnies.
I'll post some pics of the coop and the chicks soon.

Here are the coop (not painted yet!) and the chicks a little older...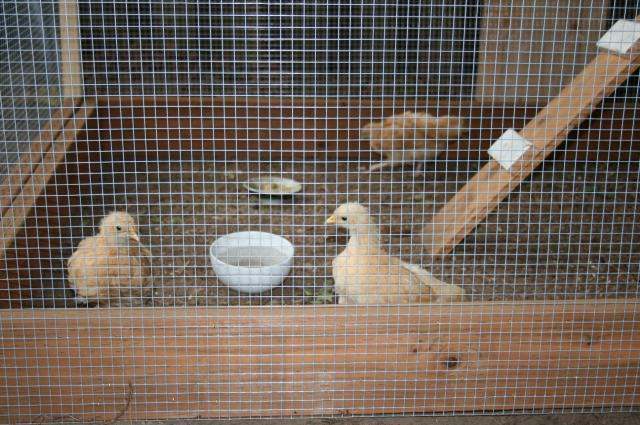 ​