My goal for this coop was to be as green (cheep) as possible. I had pretty much all the supplies I needed, minus the fasteners.
​
Lots of 2" brads- supplies on on hand

​

Box of 3" galvanized screws- $7.36

​

(2) 1/2" x 1" x 6' pine boards- $4.28

​

1 set of 1" inch hinges- $1.98

​

Box of 7/8" roofing nails- $2.09

​

2 pieces of recycled roofing tin- supplies on on hand

​

5 standard size pallets- free, craigslist.org

​

2 pints of metal paint- supplies on on hand

​

Scrap indoor wall paneling- supplies on on hand

​

Total= $15.71 (with a lot of fasteners left over)

​
Before I started construction I had spectacular designs. However, when I started to build I quickly realized that the wood from the pallets were various sizes and would make it hard to follow. I used the designs as a reference and did serve as a good "idea". I forgot to take a picture of the coop all framed out but, it did resemble the original design. When I got the girls they were already three weeks old, so I had to move fast on the build. I had to build the coop in several stages so they could be outside while I slacked on the construction.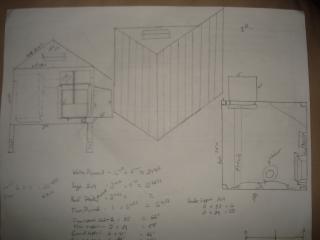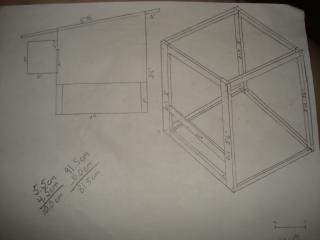 At this point I had the coop framed out and covered with the 70s style paneling. I also had a completely removable roof with a screen and plastic sheeting attached to keep them dry in the mean time . Later I attached the hinges for easy access.

After a few weeks I finally got the lap boards on and the window/door framed out.

Recycled Tin Roof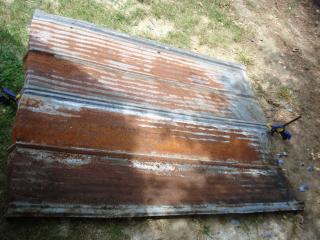 Done!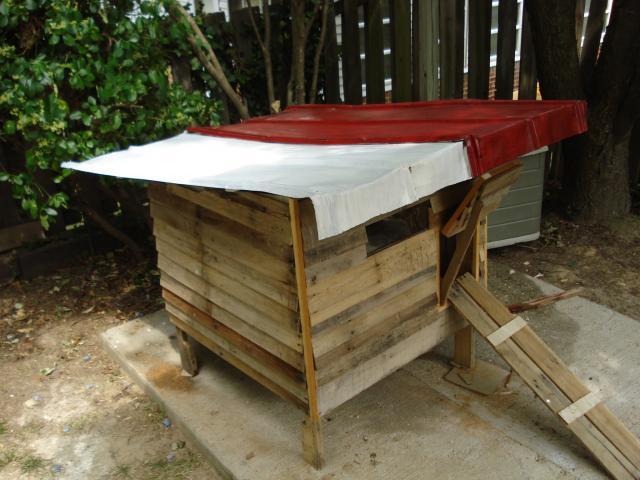 ​