I live in Morristown Arizona with my wife Barb, daughters Amanda (26) and Mikayla (13), 2 grand kids Dyllon (6) and Chandra (3)....
This is Mikayla with a pullet named Watermelon Head (long story about eating habits)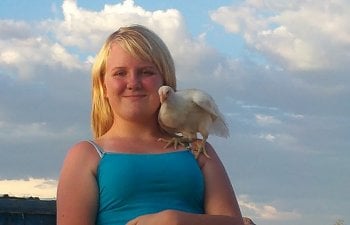 Chandra and Dyllon and Watermelon Head, she likes riding in the kids car....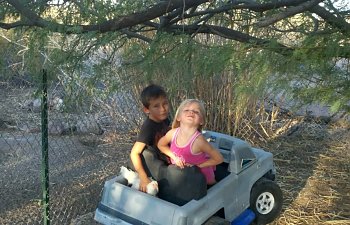 We have two flocks of chickens and I have been around chickens or keeping them most of my 55 years...
Not real fancy out here in rural AZ and our coops are both built from materials laying around the homestead and they are getting a little old, but our birds are happy and healthy and give us lots of eggs. They are also spoiled by the kids and we keep 30 to 40 birds split between two flocks that we rotate every few years. We are considering expanding one of these days, but so far have managed to resist the urge...
We are more farmers than pet keepers when it comes to our chickens, but they are still cared for as pets while with us and they bring the family much joy as well as some of the best eggs in Arizona!