The Hen Duplex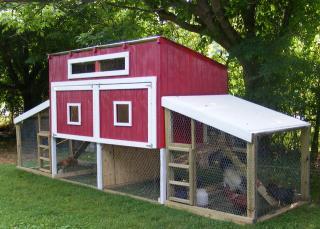 Step1:
Construction of the frame.
The boards on the bottom that touch the ground are treated. The rest are regular 2x4 studs. The coop part is 4ft wide, 8ft long and 6ft tall at the highest point in the front.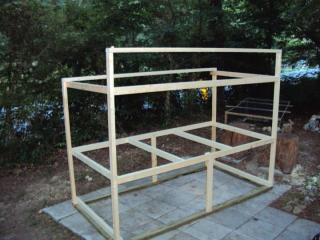 The Coop's Frame



Step 2:




The Walls




T-11 siding was used on the walls, doors and nest boxes.




T-11 siding is plywood sheets that are smooth on one side, and rough with grooves machine cut on the other side to give the appearance of planks. It requires more paint but is worth it cause it looks much nicer in my opinion. The shape of the walls, nest box holes, and doors were all cut out of the plywood before it was placed on the coop.




Step 3:
Roof and Nestboxes
After adding the walls the nest boxes and roof can be put on. We used a tin roof but you can use whatever type of roof you would like. Under the tin we added plywood for better protection against preditors, since tin can easily be bent.


Step 4:
Doors, Runs, & Paint.



Ok so I dont have photos of these steps. Sorry! >.<
2 Doors for the front of the coop was cut and a plexi glass window installed. They lock using at the top of each door.
The runs were made of treated 2"x4" boards with a door on each one in the front. (The ladder looking things)
The roofs on the runs are just treated plywood sheets, coated with water sealant and painted with outdoor primer. The white roofs will reduce heat and keep the birds cooler.
The runs extend under the coop to give them more space. Each run is 8x4 (32 square feet) of ground room. A total of 16x4 (64 square feet) outside and 32 square feet inside the coop.
Inside & Outside Coop Details
Inside the coop is a roost for the chickens to sleep on. It's water treated on the inside as well. Pine shavings is added to keep it clean.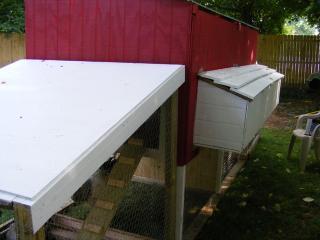 On the outside, in the back, you can see the nest boxes. They latch closed and there's also a latch above them so when you open then you can latch them to keep the doors open while you work with both hands.