During our search for the right hen house, we were invited to the home of Dr. D.S. Smith of Hillsborough, California to see the coop he had built and the chickens living in it. The moment my wife and I saw his coop, we knew immediately this was the coop for us. With a footprint of 36 inches x 90 inches, it was compact enough to fit nicely in our small, urban backyard, yet was very functional and large enough for the 3 hens we were planning on. The material list and construction are simple. We especially liked the efficient design that uses full sheets of plywood, with most of the cutout areas utilized for internal walls, floor, nest box and ramp, resulting in very little waste. Using all new materials, the henhouse cost about $200 to build, but could cost a lot less with salvaged plywood, etc.
[FONT=times new roman,times]Our 3 hens are now 5 months old and doing beautifully in the henhouse. Our two golden sex-linked started laying at 18 and 20 weeks, and our golden-laced wyandotte just started recently at 24 weeks. We're enjoying 3 eggs a day most of the time, almost always found in just one of the two nest boxes - we've seen them waiting in line while the other nest box stands empty! Recently, however, we opened the door to find chickens in both nest boxes. We know there are raccoons in our neighborhood but we've had no problems at all.[/FONT]​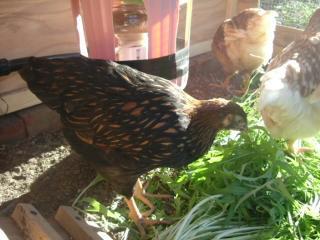 ​
Dr. Smith told me that this design originated in the Netherlands and that he found it on the internet some years ago. Alas, that site can no longer be found on the web, but recently a viewer named Tom told me the name of the originator, which he found on the web. So I'm happy to finally give credit to Joke Osinga, who originally posted this design on the internet. Thank you for a great henhouse!​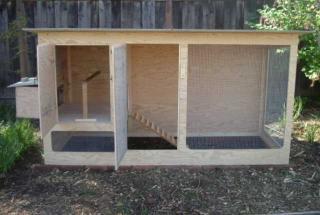 ​
Dr. Smith gave me the basic instructions and schematic drawings, but I found the plans rather difficult to follow, despite having a lot of experience in building things. So I decided to use my drafting skills to create more detailed drawings and step-by-step instructions so that even someone who has never built anything before would be able to build this henhouse. I also made several small modifications to improve the original design.
For a small fee, I'd be happy to provide you with 8 pages of detailed scale drawings, along with 16 pages of step-by-step instructions that include a list of materials and the tools you'll need, as well as lots of pictures showing the individual steps. Please note that this is a single-walled, uninsulated coop. If you live in an extremely cold climate, you may want to modify the roost area to make it double-walled or insulated. ​
​