[FONT=comic sans ms,sand]
"TGIF CHICKEN ALBUM"
[/FONT]
Jan. 24,2010
My Green Egger splash hen laid her first eggs this week!!
The eggs are a soft aqua color.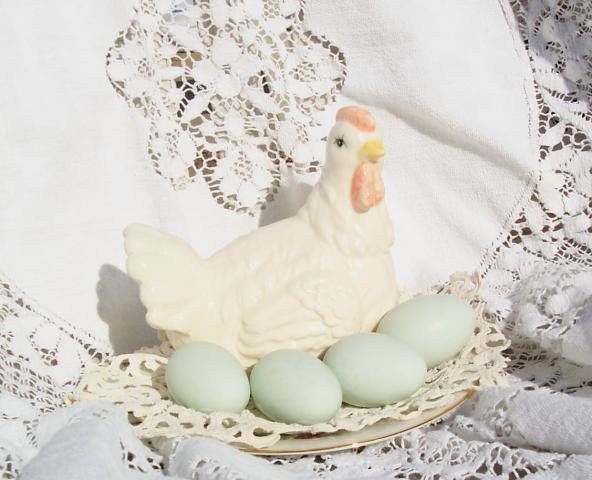 ​
Nov. 2009 New hens! A Green Egger and a Serama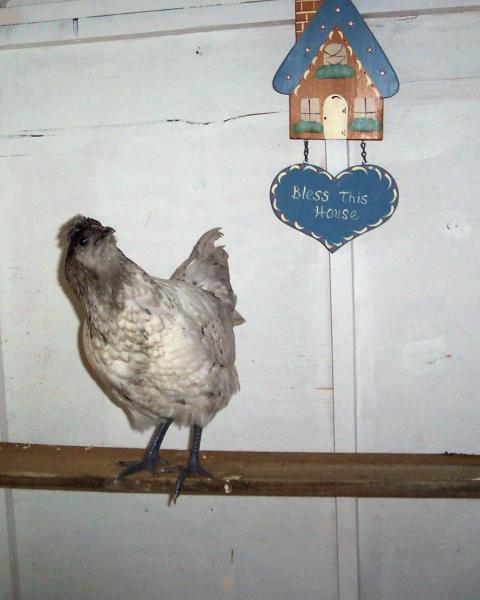 ***Green Egger,named "JELLY" is a
(Silky x Naked Neck) x (Amercauna),slate legs, black skin. Lays a mint green egg.
This little Wheaten Serama named "SHORTCAKE" fits in the palm of your hands, and lays a small creme colored egg.
​
OCT. 16,2009---
So far, I painted the inside, tiled the floor, & hung a few decorations.
[FONT=comic sans ms,sand]
​
CUSTOM BUILT PLAYHOUSE BY
BILL KENNEDY NEAR ATLANTA
404-319-2646
[email]

[email protected]
[/EMAIL]

My new playhouse is fantastic!
Sept. 2009

August 19th, 2009 Double yolker!!
​
Aug. 1st, 2009 -2nd EGG LAID!
1ST EGG ON LEFT, 2ND ON RIGHT.
July 31st, 2009-
The 1st EGG WAS LAID!!!!
​
I can't be sure which one laid it, but I think it was the largr hen "Cookie". This week, she's been aggressive toward me when I go in the kennel. She did a good job; the egg is medium sized and a nice color w/ small brown flecks on it.​
​
June 1, 2009 *1

ST

POSTING INTO ALBUM
​
I am new to the chicken world and these r my 1st attempts at caring for chickens. I now have hens that were sold to me as Rhode Island Reds, but they turned out to be Golden Comets. Originally, I had 6 and gave away 4 to make it more manageable. My pen is a 5'x15' dog kennel it sits on a concrete slab. It has 2 boards over one end as a roof. Poultry wire covers the bottom 48" and the top. -Inside, there r treated timbers on the sides to form a sand pit. They r sleeping in a large tote w/ pine shavings & covered w/ a clear tote that's angled to form a roof.-The food is kept in a chick feeder. To keep the food dry and to contain it

( they love to knock it over)

another clear tote w/ a cutout door covers food. -
I enjoy tweeking the setup
dlfridie
​
The girls about 10 wks.

"Cookie"on the right and "Candy" on the left. Cuz' they r so darn sweet!
​
[FONT=comic sans ms,sand]Tearing up plum tree branches.​
[FONT=comic sans ms,sand]
Tasting a little banana for the 1st time.
​

~~~~~~~~~~

JUNE 2009 setup

~~~~~~~~~
Temporary sleeping quarters in medium size tote
​
​
They like to look for bugs in the sand pit.
​

[FONT=comic sans ms,sand]
Pine chips and sand in large saucer in original setup. It was always damp and smelly.
​





[/FONT][/FONT][/FONT][/FONT]