Well, today I finally did what I have been dreading for months: cull my first bird.
With my last shipment of 22 chicks I received in April, plus the additional four I purchased at
TSC
, as luck would have it I wound up with three (count them, three) accidental cockadoodle roos. That gave me a total of five cockerels. All will be 13 weeks old tomorrow, well, four of them will be, anyway.
You see, I knew what was awaiting me. At least two and possibly three cockerels would have a one way ticket to freezer camp. I had planned on waiting until the birds were 16 weeks old before processing them; however, one of the old boys just couldn't wait. He had to be the very first one. Pretty Boy Floyd (aka PBF) as I had so rightly named him, was a gorgeous white and black Turken. He was one I had hoped to keep, if I had kept three. PBF was the first of my cockerels to successfully crow a pretty crow. But, about a week ago he began doing things that quickly changed my mind.
I began to notice he was unusually interested...in me! If I was sitting out in the chicken yard or run interacting with the chickens, he would always hang around, really close, unnervingly close, making a kind of chattering noise while pretending to eat. If I happened to be up moving around, he would follow me - more like stalk me. The bird would honestly appear out of thin air! Then, one evening as I was standing in the coop watching the birds file in to roost (I've done this from day one in the coop), his "closeness" escalated to an intentional bite on my foot. He nailed me on the top of my foot and hung on - and it hurt like hell. That was his "Three strikes and you're out" move. He sealed the deal for me that evening. The only question remaining was could I wait 4 more weeks to butcher him? (My goal week for slaughtering the extra cockerels was 16 weeks old.)
My intention for the next few days was to watch his every move, but I must note that I carried a good sized stick with me. Any time I would step outside my house he would appear, out of nowhere. I knew he had it in for me.
PBF continued his little soirée with me the next few days, but I was always on guard, literally. I'm not sure why, but his next aggressive move was towards the pullets, multiple times. He would grab their feathers, anywhere on their bodies he could grab and drag them across the yard. My little Leghorn, Chickaletta, was grabbed by her wing and literally slung around in a circle. Did I mention this cockerel is more than twice the size of any of my pullets? The sound that came out of my poor babies was more painful to me than any pain he could have inflicted on me.
His abusive behavior towards the other chicks earned him complete lockdown in the coop all day while they peacefully roamed about the yard. He could still see them out the windows and out the front door. I did this for three days. However, I would have to let him out for about 10 or so minutes when the birds were ready to go to roost and last night it was during this time that he did the most damage, mainly to my heart. Hindsight being 20/20, I should have locked him in my little cage so he would have had NO contact with any of the birds. He attacked my favorite, my Welsummer cockerel, who had been, up until this time, the roo showing the most promise of being top dog. PBF rode him all over the yard hanging on by a beak full of feathers. My little Welsummer was running wild trying to escape his grasp and crying out. He finally escaped and lost quite a few feathers to boot, even some pin feathers. That incident was my LAST straw. I knew right then that today was the day.
This morning I turned all the birds out in the run while I cleaned the coop. (We had some possible new chicken keepers coming to visit our birds and coop in hopes of encouraging them to start their own backyard chicken fun.) That dang bird stalked and attacked my Welsummer again, this time re-injuring the Welsummer's left leg, badly.
I stopped my cleaning, caught the "dirty word" bird and put him in a cage inside the run. (The coop was in disarray and my Welsummer was hiding out in there.) I gathered up everything I thought I needed (too bad I didn't already have a "kit for killing" like I have my first aid kit), and set up a spot in the yard to put an end to this nightmare of a bird. His aggressive behavior had escalated so quickly and violently that I knew something had to be done...right then. No more waiting.
I didn't have a kill cone, or a scalder, or a plucker, but I did have a sharp knife and my hands. As I walked to the cage he crowed. This was a territorial crow. I calmly reached in and got him and carried him to my designated spot in the yard. I wrapped him in a towel and laid him in my lap. It was a very calm time, for me and him. My anger towards him had subsided. I told him I was sorry that he had turned out to be an aggressive boy and thanked him for what he was going to provide for my family.
The deed was done. He made no noise. He simply went to sleep with one slice to the artery. I felt his life leave his body. No more territorial crowing, no more bullying, no more hurting others. He was my first.
My flock is now at peace and our friends are so excited to begin the wonderful journey of backyard chicken keeping. They had no idea that where we were sitting and talking had been the sight of my first culling only an hour prior to their visit...but I did tell them.
ETA: There is nothing worse than an aggressive rooster. Life is too short and I like to eat!

That'll be the name of my book, when I write one.
Pretty Boy Floyd before his aggression struck (with friends: Boris, Barred NN, and Tuff, the Catahoula, resting under the playhouse):
To be only 13 wo, he made a nice carcass:
(The breast was flat because it had been resting in the fridge for a few days.)
My favorite chicken casserole: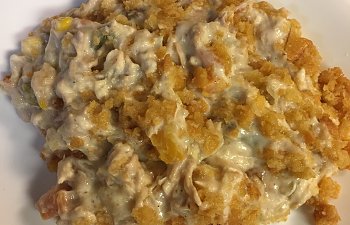 My old, family favorite chicken casserole recipe (turned sideways to capture entire recipe):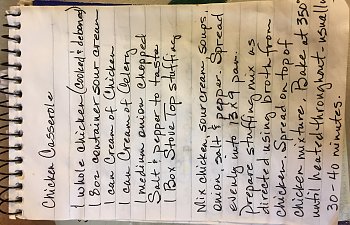 Most of the time I will add a can of Vegetable Medley to the recipe and change the topping. Instead of the Stove Top Stuffing, I use 1 1/2 sticks (3/4 c) melted butter mixed with 1 1/2 sleeves of crushed Ritz Crackers.
Enjoy!