It all started with five girls in 2014 that we totally fell in love with. Their original coop was 6x3 ft not including the three nesting boxes. In 2016 we added three chicks, however one turned out to be a little boy that we had to rehome. While this coop was small, they really didn't spend much time in it other than for laying and sleeping, except I noticed that as some of the girls were getting older, they liked to spend more time in there during the winter even though their run gets wrapped in plastic and is protected during the winter season. Given it was our very first coop and there were things I wanted to change, or add, it actually served us well and was a really good, sturdy coop that was completely predator proof with plenty of ventilation.
Original coop with attached run and an addition we made to the run in 2016 that can be sectioned off from the main run. Total run size is about 90 sq ft.
Spring 2019 with original cheery yellow coop.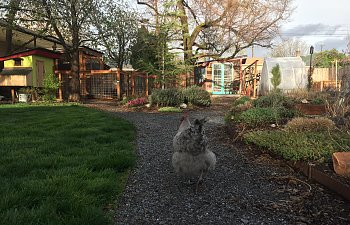 Fast forward to spring of 2019 and after losing three of our seven girls over the five years, we decided to add five chicks after not adding any for several years. Therefore, it was time to build a new bigger coop and to add the things I always wanted. Luckily, I have an amazing and supportive husband who was willing to build this for me!
I knew I wanted a walk in coop with lots of windows for light and summer ventilation, a waist level poop board that would make scooping up their poop every morning easy and I wanted an area where new pullets could sleep once they outgrew their brooder box, but weren't fully integrated yet. I also wanted to keep the same style ventilation we had on our original coop with the slanted roof with the ventilation along the front and back eaves. We decided on 8x6 ft for the size of the new coop.
8x6 ft floor started. Winston our little handyman oversees every project that takes place!
Floor covered with linoleum. We had linoleum in our old coop and it makes for easy cleaning.
Construction starts!
Ventilation under the front and back eaves and eventually covered in 1/2 inch hardware cloth along with the windows. Our awesome neighbors had two old large windows laying around that they gave to us to use for the coop.
We decided to use shiplap on the outside. Still trying to decide on color at this point.
Coop finished!! We had a hard time deciding on the perfect door and eventually took an old door that we had and covered it with old barn wood that my parents had brought out from WI.
This next summer we still need to finish up along the base of the coop.
The Inside Tour:
This is the north side wall with the ventilation all along the top of the wall. Their roosting area is one long 2x4 roost that is 8 feet long with the poop board underneath (extends out 22 inches) to make for easy cleaning. We chose to cover the plywood with wallpaper along that wall and sides of the roosts for easy wipe ability, which so far has worked and held up extremely well. I can just use a damp rag to wipe the wall clean if need be. Luckily we haven't had any big wall messes!
Underneath the roost/poop board is a sectioned off area where our young girls slept before they were fully integrated. We made the door and the one panel removable when that area is not in use.
We added lots of ventilation with the two large south and west facing windows and one smaller window on the east wall that looks into their run. Along the front and back eaves is all open ventilation, so there's plenty of ventilation during the winter when all the windows are closed up. All openings are covered in 1/2 inch hardware cloth.
We only chose to do 3 nest boxes for now and have the ability to add another, or more if needed. Some of our girls are older and don't lay as frequently anymore, so it's worked so far. We made the nest boxes in this coop larger than our last, since we added a few bigger breeds. The nest boxes are 14x15 inches.
During the summer, their coop/run is under a canopy of shade, so they get no beating sunshine inside their coop and it actually stays a fairly reasonable temperature with the large open windows and fan going. In the winter, they get lots of sunshine and it does heat up quite nicely in the sun, however most of that heat is eventually lost during the night. We choose not to add any supplemental heat during the winter.
Window on east side and entrance into their run and of course some lavender from the garden.
Open ventilation along the top back (north) wall.
Ventilation under the eaves.
Top ventilation along front (south facing) of coop.
South facing window
Pumpkin soaking up some sunshine in the coop on a cold winter day.
Anamelia posing proudly after she laid her first egg. Check out those dainty little birdie legs!
A small shed area that we built onto the backside of the coop where we store the bin of pine shavings, straw and yard tools.
The inside of their run. The back north wall is corrugated plastic and we used wood on the back wall of the addition.
That opening can be sectioned off and this is what we use to integrate the "Littles".
The Hennie's yard during the summer. We always joke that they have the best real estate on this property, since they are under that nice canopy of shade during our hot summers. We prop their run doors open during the day and let them have access to their yard and then when we're home, or on the weekends, we do let them out into our yard/gardens. This area has served us really well though because it helps keep the yard/garden damage to a minimum and plus, they still have their own space to roam around. The colored door to the far right is a tiny separate shed space where we store their food bins.
Out of jail and freedom to roam in the garden.
Fern Meadow...my number one assistant and always by my side.
Coop and winterized run. We wrap the entire addition in plastic, but have always used outdoor rugs from Costco on the door and front part of the run. We typically don't get the nasty winds that some areas do and still get a lot of sunshine in the winter, so this has worked well with keeping them folded up most of the time to let fresh air and sunshine in. If we happen to get some bad weather, we pull those down.
Our sweet flock of nine girls.
And of course the girls got some holiday love.
If you're still reading this...thank you so much for taking the time and I hope you enjoyed!
-Tarah