THE QUAIL CONDO!
THIS PEN IS EASILY MODIFIED FOR BROODERS, OR SMALL TRIO PENS AS WELL AS QUAIL PEN, OR CHUKAR PEN, OR PHEASANT PEN..... IN OUR ORIGINAL DESIGN 1 SIDE CONSISTS OF 8 "HONEY MOON" SUITES FOR BREEDING TRIOS OR PAIRS. THE OTHER SIDE IS DESIGNED TO BE 1 BROODER AND 3 COMMUNITY BIRD PENS. IT WAS SIMPLE 2X3X8FT CONSTRUCTION WITH CENTER DIVIDER THAT SEPERATES THE 2 INDIVIDUAL SIDES IS MADE OF 1 SHEET OF PLYWOOD, UNCUT---4FTX 8FT. SINCE WE LIVE IN A TROPICAL CLIMATE I OPTED FOR HARDWARE CLOTH OVERALL EXTERNAL WRAP, FOR COLDER CLIMATES I'D RECOMMEND PLYWOOD. LIGHTS AND AUTO WATERING SYSTEMS ARE EASILY ADDED FOR EASING BIRD CARE DUTIES.
START BY MAKING FRAME WORKS OF RECTANGULAR DESIGN= 2FT WIDE, 8FT LONG----- 6 TOTAL. LINE 4 OF THE 6 WITH HARDWARE CLOTH FOR PEN FLOORING, THE REMAINING 2 ARE COVERED WITH 1 INCH CHICKEN WIRE OR OTHER SUITABLE MATERIAL THAT WILL ACT AS A BARRIER TO 1. SECURE BIRDS IN PEN, & 2. PROTECT THE BIRDS FROM THREAT OF OVERHEAD ATTACK. AFTER FRAMES ARE MADE AND COVERED SET ASIDE.
TAKE 4 8FT LONG 4X4 POSTS AND CUT TO 7FT LENGTH
FOR ASSEMBLY LAY 2 4X4 POST AT DESIRED WIDTH, EITHER 6 OR 8 FT WIDE. START AT THE TOP OF THE POSTS AND SQUARELY ATTACH 1 OF THE 2 TOP FRAMES COVERED WITH 1 INCH CHICKEN WIRE. 24INCHES DOWN THE POSTS ATTACH ANOTHER FRAME( HARDWARE CLOTH COVERED. AND REPEAT FOR THE 3RD FRAME ANOTHER 24 INCHES DOWN FROM THE LAST FRAME THE FINALL ASSEMBLY SHOULD BE 1. THE 4X4 POSTS, 2. THE TOP FRAME, 3. THE FLOOR OF THE TOP PEN, 4. THE FLOOR OF THE BOTTOM PEN. REPEAT FOR THE 2 REMAINING POSTS AND 3 FRAMES SO YOU NOW HAVE BOTH HALVES OF YOUR PEN! ATTACH A 4FT X 8FT PIECE OF PLYWOOD TO 1 HALF OR YOU PEN, OPPOSITE OF THE 4X4 POSTS. WITH A HELPER STAND BOTH HALVES UP TOGATHER AND FASTEN THEM SQUARELY AND SECURELY. FOR DIVIDERS I USED "C"CHANNEL CUT TO LENGHT TO RUN FROM THE OUTSIDE EDGE TO THE CENTER DIVIDER PLYWOOD. FOR INDIVIDUAL PEN DIVIDERS I SIMPLY CUT PLYWOOD TO FIT IN THE "C" CHANNEL TRACKS WHICH ARE MOUNTED TOP AND BOTTOM. SO AT A LATER DATE IF I WISH TO DECREASE THE NUMBER OF PENS AND INCREASE THE FLOOR SPACE OF EACH ALL I HAVE TO DO IS REMOVE THE INDIVIDUAL DIVIDERS SO THAT 2 SMALL PENS CAN BE EXPANDED TO 1 BIGGER PEN....
ONCE ALL DIVIDERS ARE IN PLACE WRAP ENDS WITH WIRE OR PLYWOOD. CUT 6, 4FT LENGTHS OF 2X3. ATTACH 1 LENGTH UP AND DOWN ALONG CENTER OF SIDE 1. REPEAT FOR SIDE 2. 2FT OUT FROM CENTER TO LEFT AND RIGHT OF CENTER SUPPORT ATTACH 2 MORE 4FT LENGTHS UP AND DOWN. BUILD 2X3 FRAMES FOR DOORS AND WRAP IN WIRE. ATTACH TO PEN OPENINGS WITH HARDWARE OF CHOICE. ADD DIAGONAL SIDE SUPPORTS TO INCREASE STABILITY.
IN OUR MODEL ALL FATENERS WERE 3" DRYWALL SCREWS. ALL HINGES WERE STANDARD 3" GALVANIZED HINGES AND ALL DOOR FASTENERS ARE 3" BARREL BOLT LATCHES (RACOON PROOF!) WE ALSO ADDED SMALL FLOURESCENT LIGHTS FOR LIGHT TIMING TO INCREASE OUR BREEDING LENGTH THROUGHOUT THE YEAR AS WELL AS PROVIDE LIGHT TO TEND TO BIRDS AFTER DARK. WE ALSO ADDED A GALVANIZED METAL ROOF BY LAYING 2X3'S ACROSS THE PEN DIRECTLY OVER THE TOP OF THE 4X4 POSTS AND THE CENTER SUPPORT FOR PERLINGS AND ADDED THE ROOFING MATERIAL TO COVER THE BIRDS AND PROTECT FROM OUR EXTREME SUNNY HEAT AND TORENTIAL TROPICAL RAINS. ANY OPENINGS NOT COVERED BY DOORS WAS FENCED WITH HARDWARE CLOTH.
THE "HONEYMOON SUITES" DOUBLE NICELY AS ISOLATION ROOMS FOR BROODY HENS IN NEST BOXES, INFIRMARY FOR INJURED STOCK, PENALTY BOXES FOR AGRESSIVE "PECKERS" AND CAGES FOR TRIOS OF BANTAMS OR YOUNG BIRDS. OUR BROODER DOUBLES AS PENS FOR TRIOS OF LARGER STOCK, COMMUNITY PENS FOR SMALLER BIRDS AS QUAIL OR CHUKAR. THE COMMUNITY PENS CAN DOUBLE AS BROODERS IF NEEDED. AUTO WATERING SYSTEM CAN BE ADDED EASILY AS CAN EXTERNAL NEST BOXES ON SIDE PENS OR USE THE "RABBIT" STYLE FEED TROUGHS FOR YOUR STOCK.
SORRY WE DIDNT GET CONSTRUCTION PHOTOS BUT UNFORTUNATELY IT WAS BUILT AND PLACED INTO SERVICE ABOUT 6 WKS AGO AND WE HAD NO IDEA OF THIS CONTEST AT THAT TIME...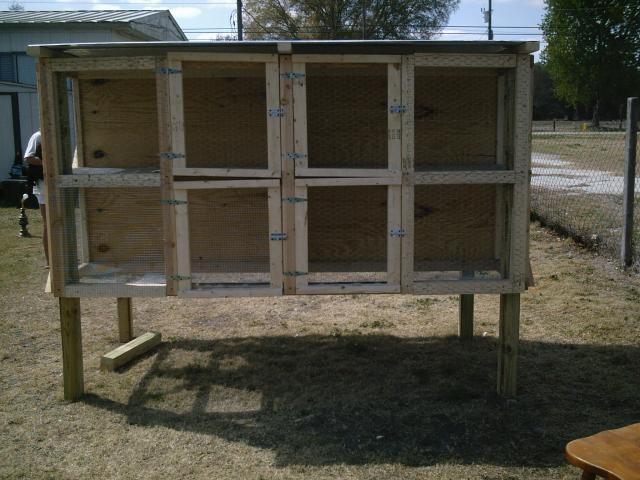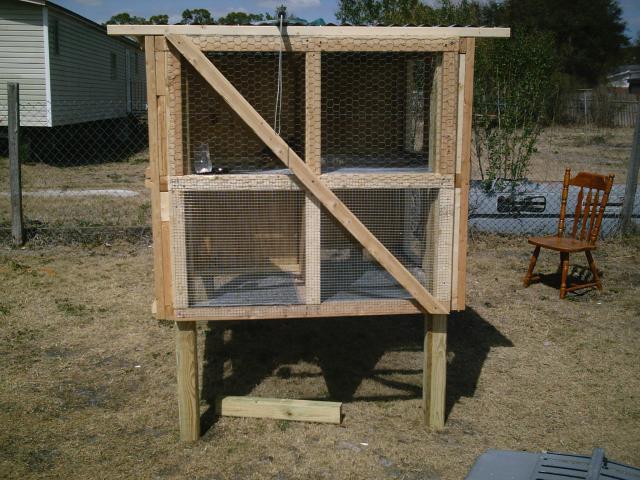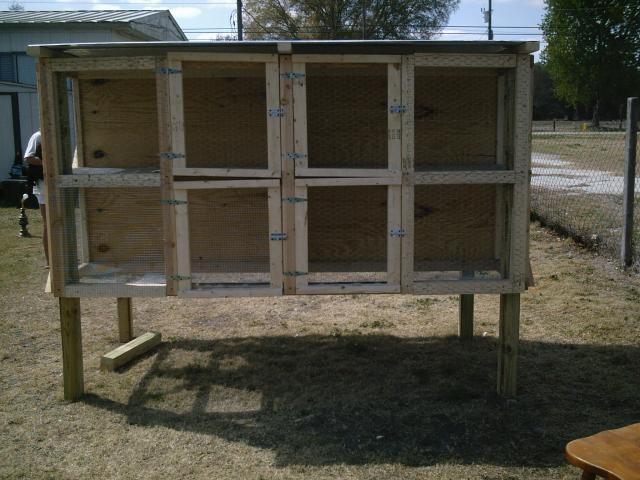 https://www.backyardchickens.com/forum/uploads/24122_birds_005.jpg