Well, this is my first "woodworking" project since making a cup holder in high school about 25 years ago, and since I'm not one to follow a plan and prefer to use my eyes rather than a ruler, it didn't quite look like it should have, but from my testing it seems this feeder seems like it will work just fine.

I still need to figure out how to get the lid to close a little more gently... if you have any ideas please feel free to PM me!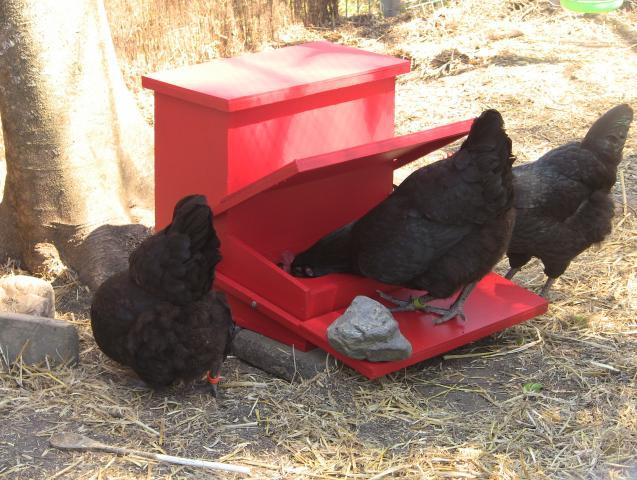 And here it is in action - after about a week of training! : *Click here*
Construction...
It took me two and a bit weeks to make, because I'm only able to work on it during my 1yr old and 2yr old's nap times, because they stick to me like glue whenever they're awake and would have got in the way of the power tools.
Total cost has been roughly $25 worth of materials, bolts and paint. I used a small (80cm x 1.2m) sheet of 12 mm plywood, some 17mm x 1.2m tomato stakes, and a bit of what I think is MDF I found in the scrap bin at the hardware store, they gave me for 50 cents. The paint was a mis-tint someone else didn't want so I got it for half price.
Many thanks to BYC member Gallo del Cielo whose plans gave me my starting point. I take full credit for all the mistakes, as I didn't copy the plans exactly, and have zero woodworking skiils, and my only tools are a jigsaw, a hammer, a hand saw and a cordless drill. I'm pretty darned proud of the outcome though and couldn't have done it half as well without those plans as a starting point.

This is the basic frame constructed.
Here's after I added the insert - it's in the wrong place really, and should have been angled, but I decided I didn't mind so I left it that way...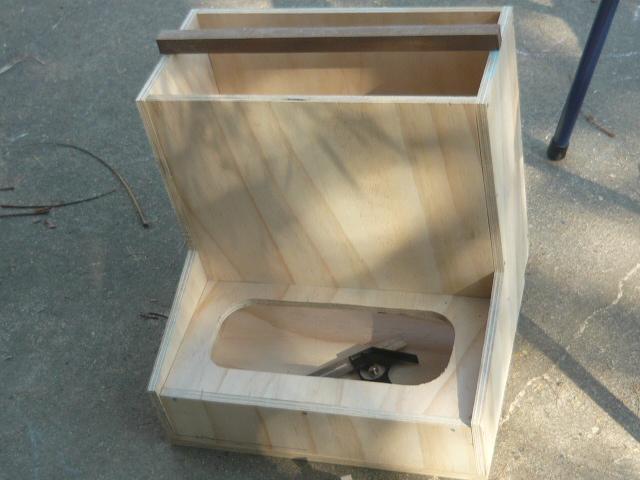 And after I added the lid and treadle board.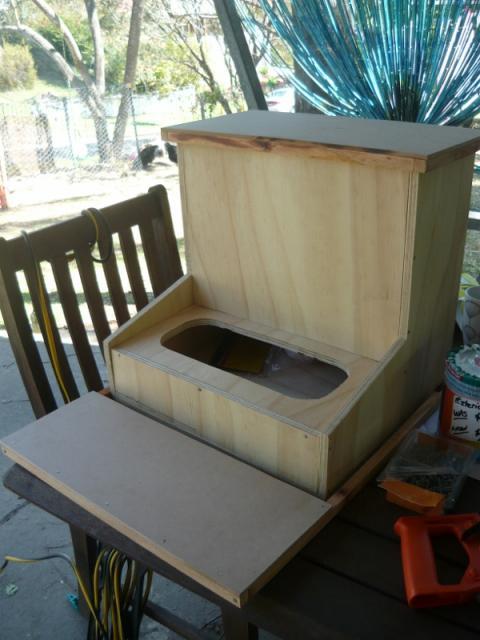 At this point I spent absolutely ages with little scraps of plywood and some nails trying out different pivot points and angles. Once I had worked it all out so that the treadle and lid worked in tandem I drilled the holes in the feeder and attached all the bits.
After adding the treadle cover and assembling it all.
Calibration...
These pics are me trying to calibrate it to the weight of our chooks. It originally took somewhere between 2.5kg and 3kg to open fully, but my lightest chook only weighs 2kg so I had to play around with adding bits of MDF under the treadle board to make it heavier.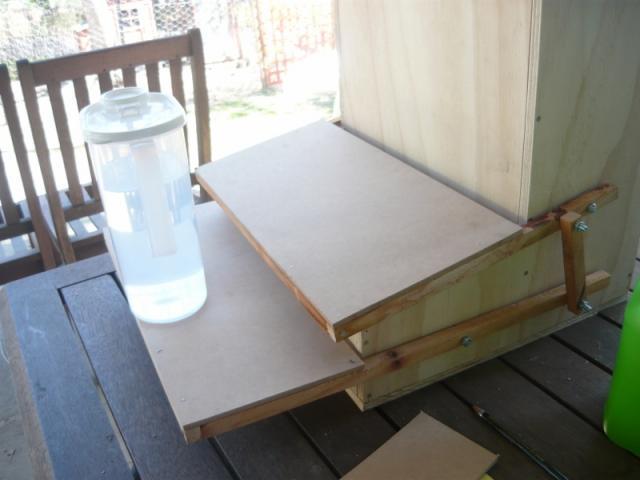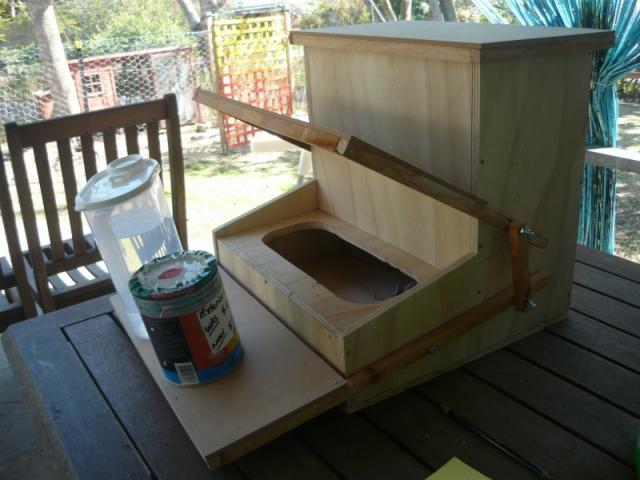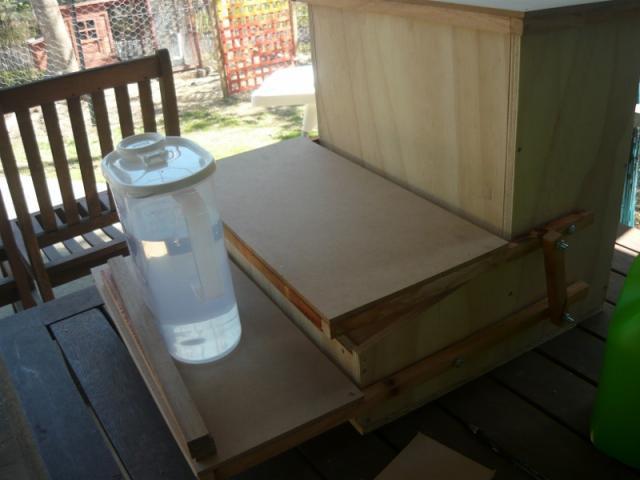 Calibration complete - here is the finished feeder shown in both open and closed positions.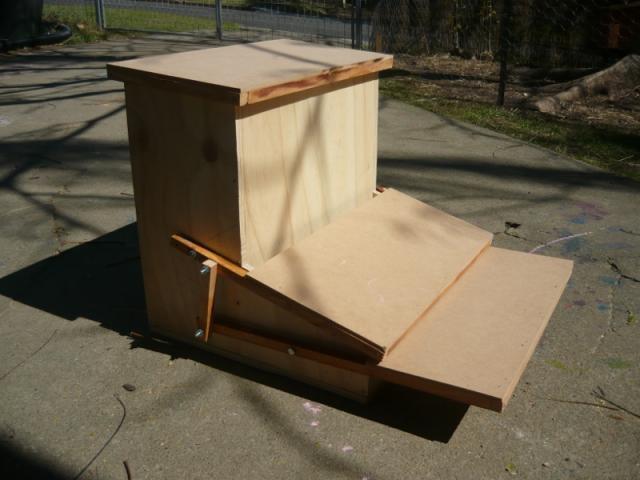 Training...
All in all the training went well. I started with it propped completely open for a few days until they were actively seeking it out for food. Then for a couple of days I stuck a longish stick inside the bit they feed from with part of it poking out, which meant the lid didn't close fully leaving about an inch gap they could see the food through. By day two on the "half open" setting they were happily standing on the treadle and waiting for the lid to open fully before feeding.
Then I decided it was crunch time, so I shut it compeltely and waited.... and waited.... and waited.... Chickens apparently have an "out of sight, out of mind" mentality, because as soon as they couldn't see the food, they forgot it was there and acted like I was starving them.
The solution: open lid, chuck in a handful of mealworms, shut lid, and stand back! Tuppence climbed onto the lid to try and jimmy it open, while the other two stood on the treadle. Eventually Tuppence hopped off the lid, it opened up, and they feasted on mealworms. After that I had to remind them a few times, by opening it in front of them and closing it again before they could start eating, but now they use it without any prompting at all.
Next project - a new coop! Wish me luck.