I got my first chickens on April 15, 2009. They have a wonderful pen with lots of air circulation and sunshine, complete with a juniper tree branch that they roost on every night.
​
And a beautiful grouping of laying boxes built by my DH.
[FONT=comic sans ms,sand]
Actually they only use one box -top right one, so we took out the divider wall so there is now 5 boxes - two on top and three on bottom that never get used.
[/FONT]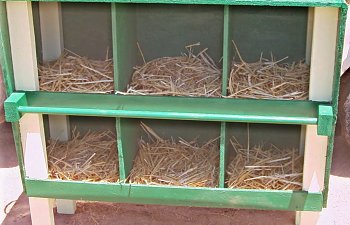 ​
[FONT=comic sans ms,sand]
On June 16th I was to take delivery of 4 guinea fowl. When I arrived at the meeting place the man had brought me 5 instead. So my DH and I got busy building another pen.

​
[/FONT]